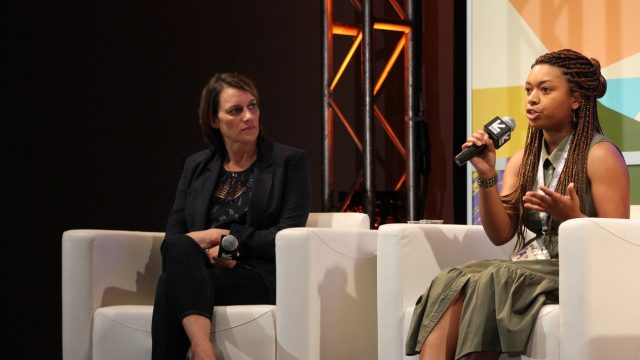 The Film & TV Industry Track dissects the current and future states of film and television. Sessions in this track cover topics such as distribution, financing, representation, technological advancements and the ever-changing nature of film and television.
"The Film & TV Industry Track looks through the independent and cultural lens of SXSW," said Film Conference Programming Manager, Austin Nauert. "It surveys important industry trends, developments, and business practices, including distribution strategies, marketing, technological advancements (such as machine learning), inclusion and diversity in the world of entertainment."
Take a closer look into the Film & TV Industry Track as we showcase different sessions that highlight social justice, film hubs outside New York and LA, social media campaigns, and more. Film & TV Industry Track sessions are held March 9-12 with primary access to Film and Platinum Badges; secondary access to all other badges. This track also offers one-on-one access with experts via our mentor and round tables sessions.
Film & TV Industry Session Highlights
Crazy Rich Wakanda: Building Buzz & Selling Seats
Speakers: Joi Childs (KTF Films), Christine Hoang (Color Arc Productions), Frederick Joseph (We Have Stories, Inc.), and Nancy Yeun (Biola University)
From creating viral social media movements like the #BlackPantherChallenge that crowdfunded $950,000 to send 73,000 kids to see the Black Panther movie worldwide, to organizing the largest Crazy Rich Asians Activation Event in the United States, this panel will discuss how they did the grassroots work to advance the #RepresentationMatters movement with calls to action that mobilized the community to buy tickets & sell out theaters for Black Panther and Crazy Rich Asians. Discover the creative and operational tools these panelists used to partner with movie studios and movie theaters to support these films with all-black and all-Asian casts. Leave with practical tips for creating your own viral movements that shine light on underrepresented stories.
Creating Pop Culture Stories for a Just World
Speakers: Maytha Allhassen (Sr. Fellow at the Pop Culture Collaborative), Heidi Boisvert (futurePerfect lab), Maurico Mota (Wise Entertainment), and Christine Tzintzun (Jolt)
With the current political climate attacking immigrants, Muslims, women, people of color, and more, Hollywood's role in creating the stories and portrayal's that shape the way society views these communities is more crucial than ever. This panel will bring together social justice advocates, entertainment industry experts, artists and scientists to discuss the pop culture tropes and traps dangerously portraying these communities, as well as how through a combination of science and research, they are gathering compelling data and insights on audiences' beliefs and behaviors that will powerfully inform the design and creation of authentic and just stories with the power to change the hearts and minds of tens of millions of people.
Film Hub, USA: Building a Hometown Film Ecosystem
Speakers:Holly Herrick (Austin Film Society)
Outside the industry centers of New York and Los Angeles, several cities across the United States are successfully building film communities that are growing film culture and attracting independent filmmakers, industry and production. What are the elements of a thriving film eco-system, and how can individuals and communities influence the growth and development of their hometown film scenes? Leaders from robust film communities including Austin and Seattle discuss the building blocks of their film ecosystems during this session. Filmmakers can learn about the opportunities that exist beyond New York and Los Angeles, and city and community leaders about strategies for investing in and growing film culture in your town.
From Zero to Showrunner in Five Years
Speakers: Suzanne O'Malley (Law & Order UK) and Roshan Sethi (The Resident)
Six years ago at Yale College I taught 15 students how to write episodic television and become showrunners/executive producers in network television. This year, more than five are leaders in their industries. Three have their own network series: Roshan Sethi MD (creator The Resident); Alexander Maggio (Madam Secretary); Justin Noble (Brooklyn 99). This panel reunites the four of us to share the remarkable stories of how each one of these former students "made it"–and exactly how my mentoring and experience at Law & Order helped them achieve their goals. What exactly is it that made them so successful in achieving their goals so early in their careers? What can aspiring writers and producers can learn from their diverse experiences?
LatiNext for the General Market
Speakers: Xan Arnada (The Independent) and Jorge Gutierrez (Nalip – National Association Of Latino Independent Producers)
Writers, producers and executives share insights on how to assemble all these components for the perfect package and how Latinx content is the market's next important move. In order to maximize appeal of an expansive market, one must understand the context to recognize the package matters from writing sensibilities, cross-cultural talent, producing rebates, marketing and how each one interconnects to yield a standout piece.
Browse All Film & TV Industry Sessions
Join Us For SXSW 2019
Register and book your hotel now to save! The Film Badge gets you primary access to all SXSW Film events including Film Keynotes and Featured Sessions, world premieres, round tables, workshops, parties, and more. Over the course of nine days, the SXSW Film Festival hosts over 450 screenings! Film registrants also have primary access to Convergence events, including the Comedy Festival and nine unique Conference tracks, as well as secondary access to most Interactive and Music events.
Follow us on Facebook, Twitter, Instagram, and SXSW News for the latest SXSW coverage.
Female Gaze: Alternative Fact or Actual Movement – Photo by Nicole Burton