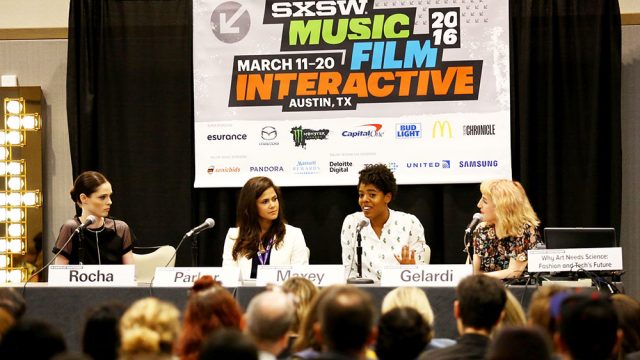 Want to help shape the SXSW 2017 programming? PanelPicker is your chance to have a voice in our daytime conference programming. Browse submitted ideas, leave comments, and vote on what you want to see at the March event starting on August 8, 2016.
New for 2017, the SXSW Conference includes nine Interactive-related tracks presented in a variety of session formats. Each track explores its close relationship with technology and allows attendees to delve into the latest advancements and ideas from the worlds of business, government policy, healthcare, design, and beyond.
Interactive Tracks
Brands & Marketing (March 11-16) – Explore the constantly evolving world and work of agencies and their clients. From native advertising to brand storytelling to predictive analytics, there's something for everyone.
Design (March 10-14)– Whether online or offline, it is imperative to examine design's role and purpose in technology, and how it shapes our interactions. Through hardware or software, how we approach each element through design is crucial to its success or failure.
Development & Code (March 10-14) – Covering the process of development in every aspect, this track provides insight, instruction, and inspiration for engineers and developers. All skill and experience levels are welcome.
Government (March 10-13) – The Government track focuses on areas related to government policy on all levels as well as privacy issues on both the personal and corporate level. Specific topics include policy and civic engagement on the local, state, and federal level; the relationship between government and technology; big data tracking, and surveillance concerns.
Health (March 10-14)– The Health track focuses on innovations that build and support the ecosystem of patients, providers, payers, policy makers, designers, entrepreneurs, and investors to improve outcomes in health and healthcare.
Intelligent Future (March 11-16) – The Intelligent Future track embodies the realm of future possibilities where intelligence is embedded in every aspect of life with the goal for technology to empower and enable new possibilities like smart transportation and cites, augmented reality, and intelligent devices.
Style (March 11-13) – The Style track offers a platform for creatives in the fashion and technology community to converge, learn, and innovate while delving into topics ranging from the future of retail, wearable technology, sustainable fashion, and more.
Tech Industry (March 10-14) – Take a look at the business tech sector across industries and verticals. Explore the nuts and bolts issues, advances, and concerns within the technology industry. B2C, B2B, Enterprise, HR, and Entrepreneurship are just a few key areas of focus.
Workplace (March 10-13) – These sessions will tackle topics from career development, work-life balance, co-working and alternative spaces, future of work, managing decentralized companies, HR issues, and employee rights in an ever changing working environment.
For more information, visit the SXSW PanelPicker page to learn about the Community Voting process from August 8 – September 2, 2016.
Browse through our additional Convergence Tracks, including Experiential Storytelling, Food, Journalism, Social Impact, Sports, Startup Village, and VR/AR.
Mark your calendars – SXSW 2017 registration and housing opens August 1.
"Why Art Needs Science: Fashion and Tech's Future" session at SXSW 2016. Photo by Diego Donamaria/Getty Images.
---
Related News: