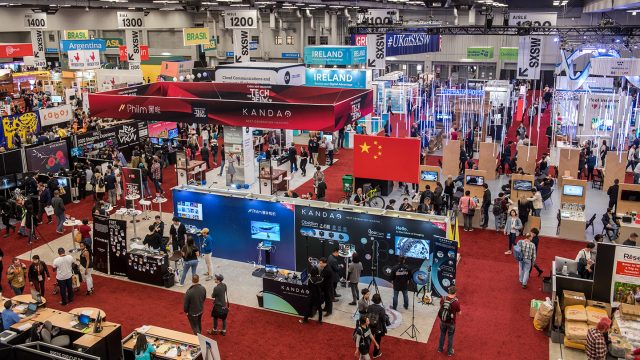 Looking to increase brand awareness, drive business, network, or gain exposure? Then join us and be a part of the 2019 SXSW Trade Show! This can't-miss event runs March 10-13 and is the largest exhibition at SXSW.
Last year's event saw a four-day attendance totaling 75,000 people and brought together over 250 businesses and organizations from 27 countries, all dedicated to forward-thinking innovation of all kinds. The exhibition was divided into several areas aimed at featuring different content, including — but not limited to — the Health & MedTech Pavilion, Style Lab, Startup Village, and many more. A full breakdown of all areas can be found on this page. The 2018 Trade Show included exhibitors of all sizes, with fledgling startups and established industry leaders alike.
For businesses and organizations, having a presence at the Trade Show is an unparalleled opportunity to network and promote your brand while experiencing the latest innovations from around the world.
Additionally, we're bringing an old SXSW favorite into the Trade Show: the Job Market. Now, companies and professionals can explore opportunities to partner up at this area on the show floor. Whether you're a company looking to add dynamic thinkers to your organization or a professional looking to join an top-notch company, you can find your match at the Job Market.
Last year, the Job Market attracted highly skilled candidates from 95 countries with 89% holding a bachelor's degree or higher. Similarly, 77% of candidates had at least three years of experience in their field, while 26% had more than 13 years of experience.
Don't miss out on this incredible opportunity to be a part of the SXSW Trade Show! Space is limited so apply to exhibit today!
Photo by Merrick Ales