SXSW Community Service Awards 2020: Deadline Extended to September 8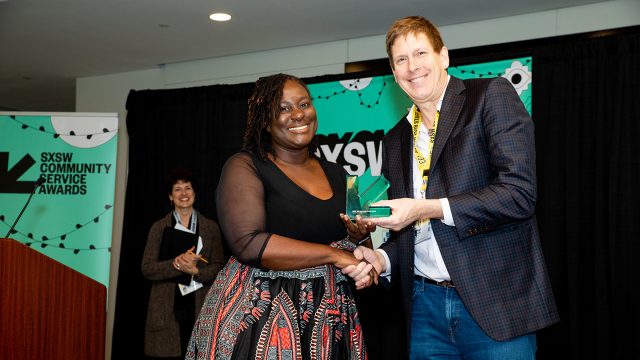 The SXSW Community Service Awards honors six individuals and six organizations for their dedication to maintaining a positive community impact. Each honoree receives a grant, complimentary entry to SXSW, and recognition at an awards ceremony during SXSW. We invite individuals and charitable organizations exempt from federal income tax under section 501(c)(3) to apply. See details for each category below.
Please email any questions about individual or organization Community Service Awards to communitygrant@sxsw.com.
The application deadline has been extended to Sunday, September 8.
SXSW Community Service Awards for Individuals
We are seeking individuals whose creative community service work bridges the digital divide, impacts the community positively, includes some degree of grassroots or hands-on organizing, and who has a body of work and track record of community service.
Six individuals will receive a grant to an eligible 501(c)(3) or eligible charity of their choice as well as a complimentary registration to SXSW 2020.
This community service award celebrates the life and work of SXSW Interactive co-founder, Dewey Winburne.
Apply Now for Individual Grant
SXSW Community Service Awards for Organizations
We select organization grantees based on their connection to one of the following aspects of SXSW: Interactive, Film, Music, EDU, or Gaming. We are additionally looking for projects and programs that generally serve the Austin / Central Texas community.
Six organizations will receive a grant to continue or begin their work and will be honored at the SXSW Community Service Awards. This grant process is goal and outcome focused. These grants focus on hands-on solutions to community issues, especially where they improve the lives of the underprivileged or disenfranchised.
To qualify, an organization must be a charitable organization exempt from federal income tax under section 501(c)(3) or be otherwise qualified to receive charitable contributions.
Apply Now for Organization Grant
Attend SXSW 2020
Planning to join us for SXSW from March 13-22, 2020?
Check out how to attend, plan your housing on August 1, and stay up to date on SXSW 2020 news by following us on Facebook, Twitter, and Instagram.
Featured Image by Errich Petersen