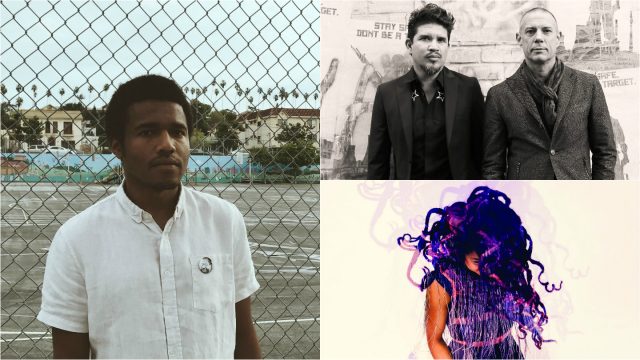 It's hard to believe SXSW 2017 is only two weeks away. There may not be much time left, but we still have so many new showcases and sessions to tell you about!
For our music-based Conference programming, learn about how music publications adapt to today's world of media in The Future of Music Mags: Print to Digital & Beyond. Meet with Bruce Solar, Dawn Holliday, and Steve Ferguson in Agents / Talent Buyers Peer Meeting! Jesse Young and Peter Lewis will be discussing Sorrows & Promises: Greenwich Village in the 1960s, and the secret to a successful electronic music fest will be revealed in Electronic Music in the Festival World.
First up, this week we're featuring showcases of specially curated lineups for your ultimate SXSW experience. ADE, in partnership with Dekmantel and Red Light Radio, is presenting the best of Dutch electronic, ATO Records is bringing their label's greatest, or you can hear the sounds of our hometown in the City of Austin's showcase! Other newly added showcases include 4AD (headlined by Future Islands), Crush Music (headlined by Weezer), and more.
We're so pumped to also announce the addition of artists like Bleached, Valerie June, Real Estate, Cosmonauts, Thievery Corporation, Rapsody, Robert Glasper, Wu-Tang Clan, Le Butcherettes, and many more. Find the rest of this week's featured artists below! While you're at it, don't forget The Avett Brothers will be performing at Austin City Limits Live at the Moody Theater on Wednesday, March 15. You're getting all of this, right?
Though I hate to think about the end of the festival, at least there's the SXSW Music Festival Closing Party to look forward to. Jonathan Toubin will be there to present his Soul Clap and Dance-Off, in which a $100 cash prize will be awarded to the best dancer, and the event is free for all to attend!
As usual, if you're not already, familiarize yourself with the sounds of the festival through our SXSWfm and our weekly Spotify playlist. We've got the perfect soundtrack for your day as you plan out your ideal SXSW schedule.
So you have the info and the sounds. All you need now is your SXSW Music Badge! Register today and reap in the rewards in March when you experience Music Festival showcases, parties, Conference sessions, most Film and Interactive events, and so much more.
New 2017 Conference Additions (Music)
Sorrows & Promises: Greenwich Village in the 1960s
Electronic Music in the Festival World
The Future of Music Mags: Print to Digital & Beyond
Agents / Talent Buyers Peer Meeting
New 2017 Showcasing Artist Additions
24HRS (Atlanta GA)
Active Bird Community (Brooklyn NY)
A Giant Dog (Austin TX)
All in the Golden Afternoon (Austin TX)
Arkansas Dave (Austin TX)
A$AP Twelvyy (New York NY)
The Avett Brothers (Concord NC)
AV The Great (Denton TX)
B1 (Austin TX)
The Bad Lovers (Austin TX)
The Baggage Boys (Austin TX)
BAYA (Kolsås NORWAY)
Bearson (Oslo NORWAY)
Big Star's Third (Memphis TN)
Blackway (Baldwin NY)
BLANG (Orange County CA)
Blank Range (Nashville TN)
Bleached (Los Angeles CA)
The Blind Owls (Corpus Christi TX)
Benjamin Booker (Virginia Beach VA)
Boyfriend (New Orleans LA)
Miss C Brown (Birmingham UK-ENGLAND)
Julie Byrne (New York NY)
Call Of The Void (Boulder CO)
Casper Skulls (Toronto CANADA)
Casper Tielrooij b2b Orpheu The Wizard (Amsterdam NETHERLANDS)
Chill Moody (Philadelphia PA)
Chrome Sparks (Pittsburgh PA)
Cosmonauts (Los Angeles CA)
Deep Creep b2b Malika (Austin TX)
Deltatron (Lima PERU)
Diamond Thug (Cape Town SOUTH AFRICA)
DJ Kaydence (Los Angeles CA)
DJ QuestionMark (Taipei TAIWAN)
DJ Speedway (Austin TX)
DJ Trauma (New York NY)
DJ Xanax (New York NY)
Drama Diablo (Toronto CANADA)
Duhrdy (Austin TX)
ELOQ (Copenhagen DENMARK)
Emoni (Nashville TN)
Fast Forward Austin (Austin TX)
femdot. (Chicago IL)
Flipp Dinero (Canarsie NY)
Future Islands (Baltimore MD)
Devon Gilfillian (Nashville TN)
Robert Glasper (Houston TX)
Gold Star (Los Angeles CA)
Grandaddy (Modesto CA)
Nick Grant (Walterboro SC)
Coco Hames (Memphis TN)
Hanson (Tulsa OK)
Annie Hart (New York NY)
Devan Ibiza (Bronx NY)
iLe (San Juan PUERTO RICO)
Ivy Lab (London UK-ENGLAND)
Jacques (Paris FRANCE)
Jay Dot Rain (Tuscaloosa AL)
Valerie June (Memphis TN)
Ken Blvd (New Orleans LA)
Khali Haat (Austin TX)
Kid Wave (London UK-ENGLAND)
Tim Kinsella (Chicago IL)
Krudas Cubensi (Habana CUBA)
Lawrence (New York NY)
Le Butcherettes (El Paso TX)
Lil Ronny MothaF (Dallas TX)
Little Simz (London UK-ENGLAND)
LOLO (Jackson TN)
The Lonesome Heroes (Austin TX)
Peewee Longway (Atlanta GA)
Matt Maeson (Norfol VA)
MAJIX (New York NY)
Mammút (Reykjavik ICELAND)
M.A.R. (Bridgeport CT)
Mary Magdalena (Austin TX)
Maybird (Rochester NY)
Frank McFly (Brooklyn NY)
Me And My Brother (Keswick VA)
Don Michael Jr (Camden NJ)
Mir Fontane (Camden NJ)
Mister Saturday Night (New York NY)
MKF KUNST (Houston TX)
mluna (austin TX)
Molecule (DJ) (Paris FRANCE)
Andreas Moss (Nashville TN)
Mr. Kitty (Austin TX)
Mt. Joy (Philadelphia PA)
Murdocks (Austin TX)
New Politics (New York NY)
The New Pornographers (Vancouver CANADA)
Nick & Sammy (Seoul SOUTH KOREA)
Nightly (Nashville TN)
NOOK Turner (Austin TX)
No Sleep (Pittsburgh PA)
The Octopus Project (Austin TX)
oddCouple (Chicago IL)
Omen (Chicago IL)
Pavo Pavo (Brooklyn NY)
Perera Elsewhere (Berlin GERMANY)
PJ SinSuela (San Juan PUERTO RICO)
Poliça (Minneapolis MN)
Justin "Dat Boy Supa" Poter (Austin TX)
Radkey (St. Joseph MO)
Rah-C (New York NY)
Rapsody (Snow Hill NC)
Lauren Ray (South Jersey NJ)
Real Estate (Ridgewood NJ)
Vockah Redu (Houston TX)
Rio Jordan (San Antonio TX)
Rome Castille (Los Angeles CA)
The Roomsounds (Dallas TX)
Frances Rose (New York NY)
Royal Trux (San Francisco CA)
The Shacks (New York NY)
The Shelters (Los Angeles CA)
Smoke DZA (Harlem NY)
Sneaks (Washington DC)
Ben Sollee (Louisville KY)
Supa Bwe (Chicago IL)
Sylvan Esso (Durham NC)
Tall Heights (Boston MA)
TankTop NYC (New York NY)
Théorie Ornery​ (Austin TX)
Thievery Corporation (Washington DC)
Jonathan Toubin (New York NY)
TRACE (Los Angeles CA)
Trapt (Los Angeles CA)
Unlike pLuTo (Los Angeles CA)
War Party (Fort Worth TX)
Nick Waterhouse and His Tarots (Los Angeles CA)
Weezer (Los Angeles CA)
Willtothe (Austin TX)
Zooey Wonder (Taipei TAIWAN)
Wu-Tang Clan (Staten Island NY)