House of Vans Returns to SXSW: Peep the Lineup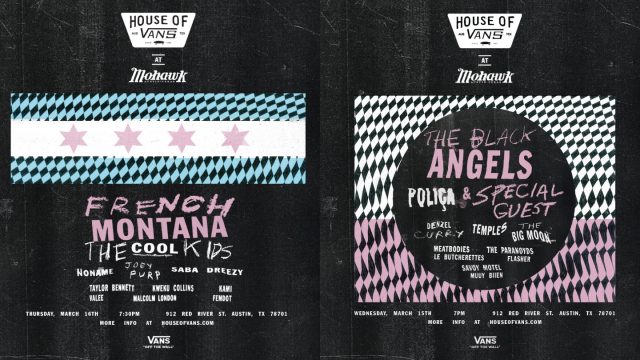 What would SXSW be without House of Vans? Much like their iconic shoes, House of Vans has become a classic showcase for fans and bands to share unforgettable experiences during the Music Festival.
This year continues that tradition as House of Vans returns to the Mohawk for SXSW 2017 with two eclectic days of music and special events. Partnering with other tastemakers like Sound on Sound Fest, Eventbrite, Fake Shore Drive, and the Paradigm Agency, this lineup features acts that are guaranteed to stand out.
On Wednesday, March 15, The Black Angels, Poliça, Denzel Curry, Temples, and many more perform. On Thursday, March 16, French Montana, The Cool Kids, Noname, and tons of other rad artists take the stage.
See the full lineup and details at houseofvans.com and add House of Vans to your schedule.
Image courtesy of Vans
---
Related News: