me Convention Starts Now: Follow the Festivities in Frankfurt from September 15-17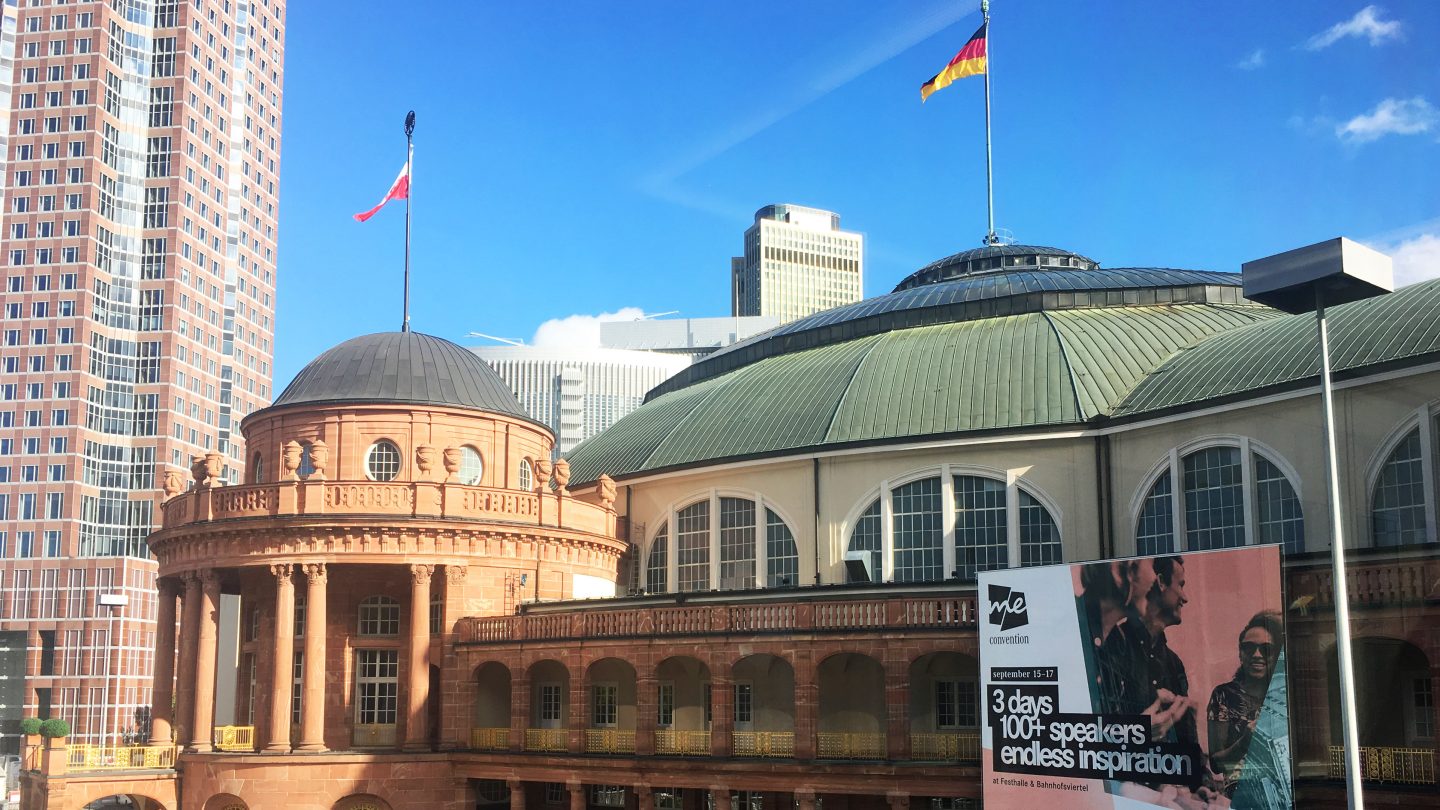 Join us all weekend in Frankfurt, Germany for the inaugural me Convention – a partner event hosted by SXSW and Mercedes Benz – featuring over 150 speakers across three days of workshops, expert talks, inspiring keynotes, plus an evening music and culinary program all within a festival-like setting.
An evolution of its mission to help creative people achieve their goals, me Convention brings together people across a wide set of disciplines to engage in a dialogue about the future through the lens of technology and design. This new, inspiring, and open platform creates an intimate space for international exchange and business in one of Europe's most vibrant cities.
Day one kicks off with a full day of inspirational talks and special events. Explore programming highlights below and follow the festivities with our live-streaming and social media coverage.
Day One: Streaming Schedule
Buzz Aldrin – Cycling Pathways to Mars: My Vision for Our Future in Space
Astronaut, rocket scientist, and second human on the moon Buzz Aldrin presents his latest project, "Cycling Pathways to Mars," an impressive VR simulation that allows us to experience his vision of a human settlement on the red planet. Watch here »
Sheryl Sandberg and Dr. Dieter Zetsche – Culture, Leadership, and Innovation in the Digital Age
Facebook's Chief Operating Officer Sheryl Sandberg will join Daimler CEO and SXSW alumni speaker Dr. Dieter Zetsche for a Keynote discussion on how the next generation of leaders can best employ, build, and develop their skills in order to achieve their full potential. Watch here »
Josh Rubin and Rana June – The Art of Emotion Data
Josh Rubin, Co-Founder & Editor in Chief of Cool Hunting, and Rana June, Founder & CEO of Lightwave, discuss using biometric data to visualize the human experience. Watch here »
More Programming Highlights
Startup Cities
A two-day gathering of 24 of the world's leading startup cities. Speakers from startups, cities in Europe, the Middle East, and Asia will discuss why their hometown is a serious player in the global startup ecosystem.
Katherine Maher – Who Do You Trust on Tomorrow's Internet?
Katherine Maher, Executive Director of the Wikimedia Foundation, the nonprofit behind Wikipedia, will explain how the world's free encyclopedia has built trust on the divided internet, and what lessons we might be able to carry forward in rebuilding for our future and the trends in technology, information, and access that lie ahead.
whurley – From Science Fiction to Science Act?
In this talk, whurley discusses the coming age of quantum computing and its effects on virtually every aspect of our life. Whether you're an entrepreneur or engineer, business leader or IT professional, you need to be prepared for one of the greatest paradigm shifts in the history of computing.
Brock Pierce – The Blockchain, Cryptocurrencies & Icos
Venture capitalist and entrepreneur Brock Pierce gives a peek into this fascinating world and shows new opportunities for the application of blockchain technology.
Beyond these inspiring talks, the evening is packed with special events throughout Frankfurt's hip Bahnhofsviertel community as well as the world premiere of the documentary film Conny Plank - the Potential in Noise and musical performances from Beth Ditto and Iggy Azalea.
Not able to make it to Frankfurt? Go behind the scenes with speakers and to the front row of all the shows this weekend – follow me Convention on Instagram and Twitter as well as SXSW channels for the latest coverage. Tune in each day for the live stream of select talks at me-convention.com.
Stay tuned for day two featuring Hans Ulrich Obrist, Neil Harbisson, and Guy Kawasaki.
me Convention venue Festhalle Frankfurt – Photo by Annie Forrest