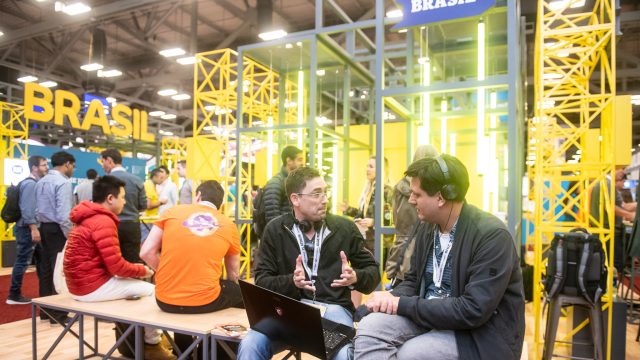 Every March, the SXSW Trade Show hosts an array of profound Exhibitors, cross-industry panels, and unique pavilions. Back for 2020, the Trade Show Meet Up Pavilion encourages attendee networking from a wide sector of industries and backgrounds. Expand your inventory of meaningful connections, and carve out some time to connect with fellow SXSW Trade Show attendees.
---
Meet Up Schedule
Sunday, March 15
11:00am-12:00pm | Panasonic: Game Changer Catapult Intrepreneurs Open Pitch & Talk
12:30pm-1:30pm | 21st Century Proteins In A Changing Climate Meet Up
2:00pm-3:00pm | The Future of Consumer Packaged Goods Meet Up
Monday, March 16
11:00am-12:00pm | Talk with Panasonic Startup: Future Tech for Well-being
12:30pm-1:30pm | Japan Meet Up
3:30pm-4:30pm | Covering Chaos: Video Verification from the Frontline
Tuesday, March 17
11:00am-12:00pm | Visit Costa Rica Champions Sustainable Earth Meet Up
Wednesday, March 18
11:00am-12:00pm | Puerto Rico: The New Creative, AI, & Tech Island
2:00pm-3:00pm | Immersive Technology & Entertainment Meet Up
3:30pm-4:30pm | Biohacking Mental Eliteness Meet Up
---
Stay up-to-date on the latest Trade Show news and subscribe to the official SXSW Trade Show Newsletter.
Photo by Adam Kissik