Cheesin' Around with Nick Offerman at #SXSWisconsin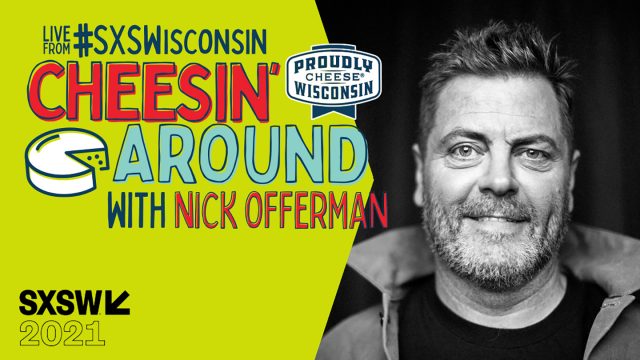 Wisconsin Cheese is taking 2,021 attendees on a fromage-filled escape with actor and comedian Nick Offerman (Parks and Recreation) and several surprise guests. Join the fun on Thursday, March 18 for the most celebrity-packed and cheese-stacked event in SXSW history.
While the event may be virtual, the sights, sounds, tastes and scents of Wisconsin, The State of Cheese®, will be very real. With exactly 2,021 spots available to join, select SXSW attendees will receive personalized cheese deliveries straight to their doorstep.
Wisconsin Cheese (who made waves at SXSW in previous years with the world's largest cheeseboard and the Cheeselandia state fair) will offer three 30-minute sessions at: 2pm, 3pm, and 4pm CT of the "Cheesin' Around with Nick Offerman" event, and trust us — if you're lucky enough to get in, you won't want to miss one minute.
Featured brands include Artisan Cheese Exchange, BelGioioso, Burnett Dairy, Carr Valley Cheese, Crave Brothers Farmstead Cheese, Klondike, Maple Leaf, Marieke Gouda, Prairie Farms, Roth Cheese, Saputo, Sartori and Schuman Cheese. Some of the varieties guests might receive include juniper berry infused blue cheese, black truffle flavored cheddar gruyere, cave-aged gouda, smoked fontina and of course, Wisconsin's famous squeaky cheese curds!
Stay connected with SXSW – follow us on Twitter, Instagram, LinkedIn, and Facebook for the latest SX news.
Image courtesy of Wisconsin Cheese