The me Convention box
Friday, March 8
11:00am–6:00pm Saturday, March 9
9:30am–6:00pm Sunday, March 10
11:00am–6:00pm Monday–Tuesday, March 11–12
9:30am–6:00pm Wednesday–Friday, March 13–15
11:00am–6:00pm Saturday, March 16
12:30pm–4:30pm
The me Convention box in the ACC is filled with inspiring ideas! Stop by our interactive installation and get the chance to vote on the future-proof skills that mean the most to you. You'll walk away with new perspectives on our shared future and a first glimpse of this year's upcoming me Convention.
Find the me Convention forest here: @ SXSW / Austin Convention Center Find our exact location on what3words: partied.routine.refers Austin Convention Center, 4TH Street Side, Atrium Area
me Convention 2019 in Frankfurt
With its debut event in 2017 in Frankfurt, a follow-up at SXSW and Stockholm in 2018, this year's me Convention returns to its base. The three-day program from September 11-13, will guide you from inspiration to realization with keynotes from international thought leaders, hands-on workshops, one-on-one mentoring sessions and guidance for the implementation in real life. Find out more about the festival-like conference on me-convention.com, and visit the me Convention booth in the Austin Convention Center to get a first impression and #createthenew.
Revolutionizing the Road: Harnessing Technology for Equity and Access
March 9, 11am-7pm, The Vaughn, 310 Colorado st. The way we move through cities is changing dramatically. From electric scooters to autonomous vehicles, wearable transit passes to last-mile mobility solutions, technology is fundamentally transforming how we navigate cities.
Who stands to benefit from this mobility revolution? How will these dynamics reshape public transit? How are commutes likely to change in the future? Can technology help eliminate urban congestion and improve the environment? Or are we creating a society of mobility haves and have-nots?
Presented by CityLab Insights and moovel (becoming REACH NOW)—with featured programming by Rocky Mountain Institute—this event will bring together leading voices reshaping cities and personal mobility.
For the schedule and speaker line-up, please visit https://connect.moovel.com/sxsw/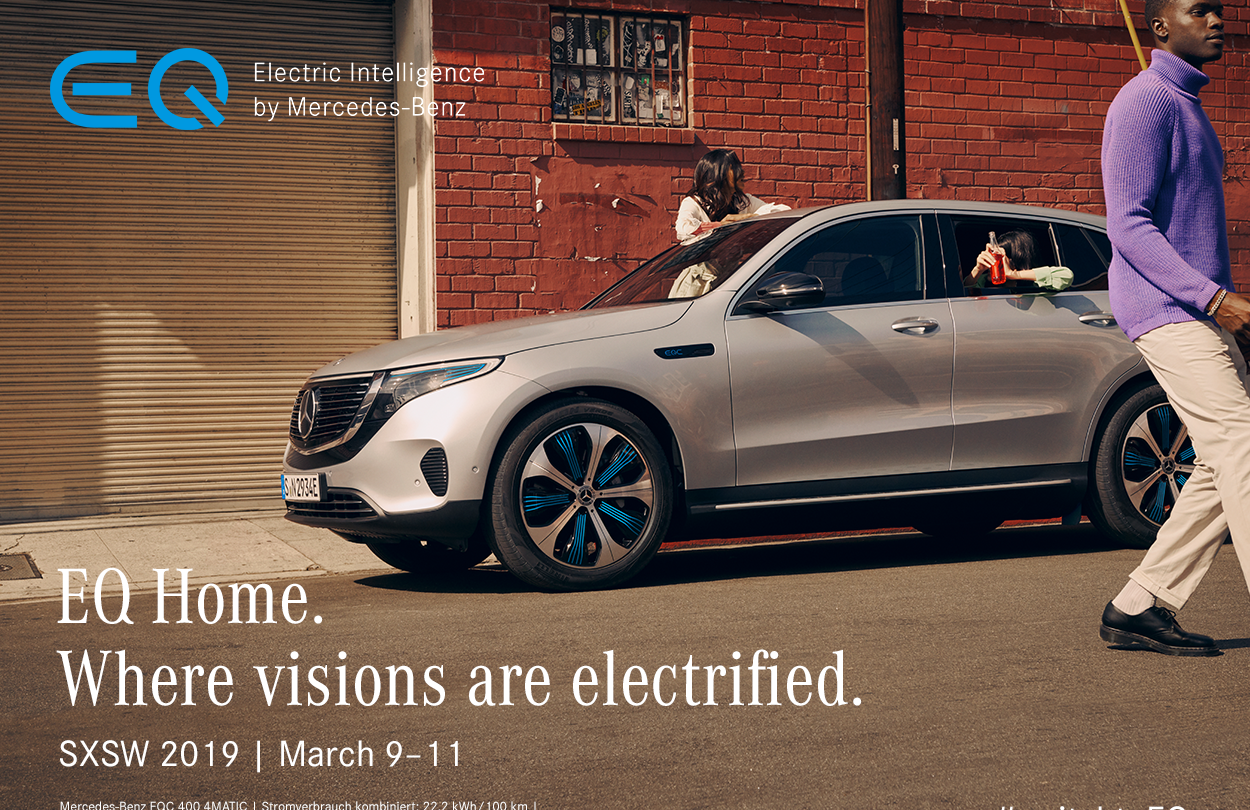 Mercedes-Benz EQ
The name EQ stands for "Electric Intelligence" and is derived from the Mercedes-Benz brand values of "emotion and intelligence". With the new brand EQ, Mercedes-Benz creates an electric mobility ecosystem for products and services.
Stress Inversion Transformer by Damian Kulash x Mercedes-Benz EQ
March 9th-11th, 10am-8pm, 6th st. and Neches st. This machine takes your stress and turns it into pure, positive energy. Scream and stomp inside the booth and custom designed piezoelectric transducers turn your sound pressure and kinetic energy into something useful: electricity.
A public service artwork by Damian Kulash.
Damian Kulash is the lead singer and guitarist of the GRAMMY award-winning rock band OK Go. He is a musician, singer, songwriter, visual, artist, and director known for his one-take music video masterpieces.
Mercedes-Benz EQ Home @ SXSW
March 9th-11th, 11am-12am, Atelier 1205, 1205 E. Cesar Chavez St. At this year's SXSW, cozy up to the EQ Home at 1205 E Cesar Chavez. Join us for three days of backyard BBQs hosted by global thought leaders. Prepare to be dazzled during EQ Nights where partying and networking unite. Get to know multidisciplinary innovators while you engage with new ideas at our Learning Labs or hitch a ride around town in the all-electric Mercedes-Benz EQC.
For the full schedule and speaker line-up, please visit HERE