As part of the entry requirements for SXSW 2022, all attendees must provide proof of vaccination or a negative Covid-19 test in order to enter, and to maintain credentials.
SXSW has partnered with CLEAR Health Pass to provide easy proof of your Covid-19 vaccination. For the most efficient entry possible, attendees who intend to share proof of vaccination should sign up for CLEAR and complete their screening before arriving. This service is only available for US based attendees.
Download the CLEAR app and enroll for free here:
Tap the white Health Pass tile.
Tap 'Events' and select SXSW 2022.
Easily enroll with a government issued ID or verify your identity with a quick selfie.
Follow the prompts to verify your proof of vaccination.
Before you arrive, reopen the Health Pass tile and produce your pass. Green means you're good to go!
Please note, some attendees may need to bring independent proof of completed health screening.
These include:
All attendees using test results must bring proof of a negative test result. Please see our Covid-19 Guidelines for more information on testing protocols.
International attendees using proof of vaccination must bring their vaccination card.
If you have any questions about enrolling in CLEAR, please reach out to memberservices@clearme.com or tap "Get In Touch" in the app for assistance.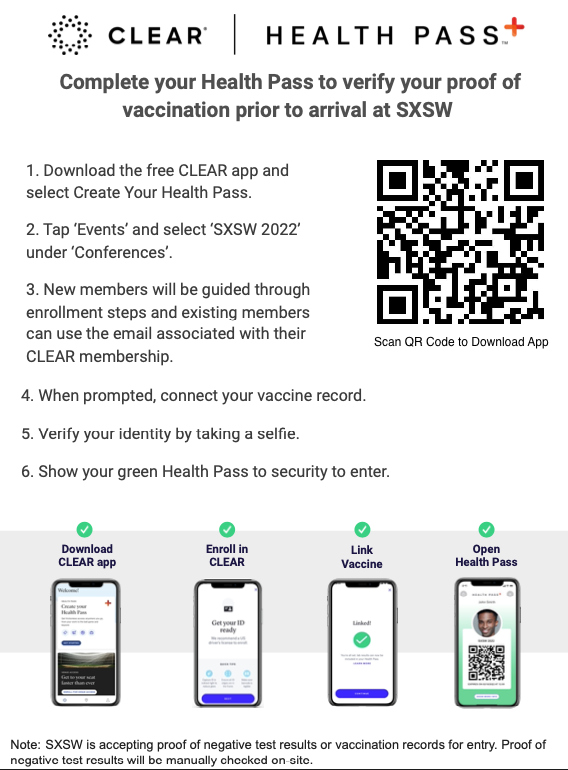 Trust and transparency are CLEAR's top priority, and with Health Pass, users are always in control of their information. CLEAR is an entirely opt-in service and verifies identity through a quick selfie on a user's phone. All information is provided by the user, and CLEAR never sells user information. You can read more details in CLEAR's Privacy Policy here.