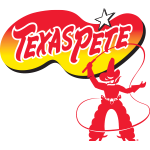 Free to all SXSW Music and Platinum registrants! The 2017 South By Southwest Closing Barbecue and Softball Tournament is sponsored by Texas Pete. Jerseys are provided by Majestic Athletic. This event is open to the public! Free food and drinks for Music and Platinum badges, and $10 a plate for all other guests.
Eat and Drink
The SXSW Barbecue is an authentic Texas spread, with all the trimmings (vegetarian options as well), prepared by Austin's own Ruby's BBQ, plus beer, water, and soft drinks.
Menu: Beef brisket, chopped beef, pork spare ribs, smoked chicken, sausage, vegetarian jambalaya, potato salad, beans, 2 varieties of coleslaw, bread, butter, pickles, onions, sauce, and a variety of cookies.
Drinks: Beer, water, and iced tea.
It's free to all Platinum and Music registrants (one meal per badge; you MUST bring your badge and photo ID—everyone gets carded), but the area is also open to the general public, with food and soft drink tickets available for sale.
Showcasing Artists: If you chose the registration packet, your artist packet envelope gets you one free barbecue meal.
Note: For insurance reasons, we cannot sell beer to non-registrants; however, you're welcome to bring your own (no glass containers, please).
There's plenty of bleacher seating, three rounds of usually entertaining softball to watch, and a great chance to catch up with other registrants in a relaxed setting to make plans for Sunday night's closing showcases.
Play in the Softball Tournament
Any SXSW Platinum or Music registrant can sign up to play in the SXSW Softball Tournament. Performing artists with performing artist wristbands can sign up and play as well; one player per band, please. There are three rounds of games: quarterfinals, semifinals, and a final that starts at 4:00pm, with live announcers and a rendition of "Take Me Out To The Ball Game."
We recommend you bring your own glove, if you have one, but we have a lot of loaners as well, which you can sign out with proper ID.
IMPORTANT: TO REGISTER FOR A TEAM IN ADVANCE, YOU MUST EMAIL BY MONDAY, MARCH 6. AFTER THAT DATE, YOU MUST REGISTER IN PERSON AT THE CONVENTION CENTER ON THURSDAY, MARCH 16, OR FRIDAY, MARCH 17.
Email softball@sxsw.com with your preference of team:
Musicians
Print Media
Mixed Media
Record Companies
Agents/Managers
Clubs/Talent Buyers
(SXSW Staff and SXSW Volunteer teams will be filled from within)
Our tournament staff will reconfirm with you closer to the event, and are available to answer any questions you may have. The in-person Player Registration Table is on the 4th floor of the Austin Convention Center next to the Day Stage, and occurs from 1-5pm on Thursday and Friday during the Music Conference.
Transportation
Krieg Fields are located at 517 Pleasant Valley, about a 10-minute drive from downtown, and about 15 minutes from Austin-Bergstrom airport. SXSW will run a van shuttle between the fields and the Hilton, Hyatt, and JW Marriott downtown hotels, beginning around 11:30am, and running every 20 minutes or so. With advance notice, we can also take you directly to the airport from the field; please report to Player Registration at the Austin Convention Center if you're going to need airport shuttle service.
Driving directions: From downtown, south of the river, take Riverside Drive east. Turn left on Lakeshore Blvd., a couple of blocks past I-35. Make another left on Pleasant Valley when Lakeshore dead ends, and then take the first right, at the traffic light, into the first parking lot for the Krieg Softball Complex. Follow the park road around until you can't go any further.
Rain plan: Barbecue will be served 1-4pm, or until it runs out, at the Fiesta Gardens Pavilion on Bergman Street and Lady Bird Lake. (From the Convention Center head east on Cesar Chavez Street about 10 blocks. Turn right on Chicon and the Fiesta Gardens Pavilion is on your left two blocks before Chicon dead-ends at Lady Bird Lake.) If the weather looks iffy on Sunday morning, call the SXSW Softball Hotline, (512) 467-7979, to find out whether the game is on or not.
Have questions? Email softball@sxsw.com.