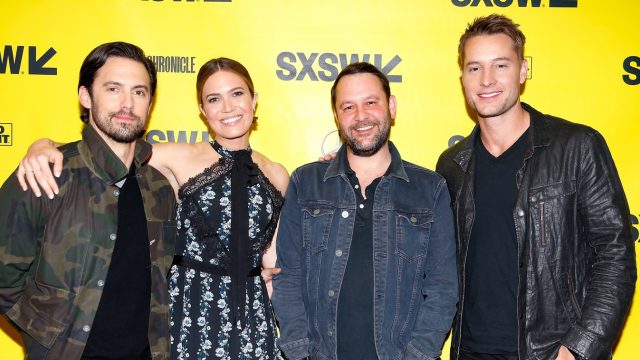 The Entertainment Influencers Track features inspirational talks from thought leaders, experts, and innovators, including conversations with high-profile speakers from around the entertainment, film, and TV industries.
"Our Entertainment Influencers Track houses a majority of our Keynotes and Featured Speakers," said Film Conference Programming Manager, Austin Nauert. "The main philosophical through-line is an important one: how artists continue to live a creative life. We can't wait to hear what this year's group of speakers have to say about this important topic."
Entertainment Influencers Track sessions are held March 9-12 with primary access to Film and Platinum Badges; secondary access to all other badges. Take a look at what we have programmed so far!
Entertainment Influencers Session Highlights
Film Keynote: Marti Noxon
With hundreds of hours of television under her belt, Marti Noxon is one of the most prolific writer-producers in television today. Noxon's most recent projects include the high-profile prestige series Dietland for AMC and Sharp Objects for HBO, both of which she serves as creator and showrunner for. Also among her recent television offerings are Bravo's Girlfriends' Guide to Divorce, Code Black for CBS, and the Peabody Award winning UnREAL at Lifetime. Over the course of her impressive career Noxon has worked on some of the most beloved and critically acclaimed series of the past two decades, including Buffy the Vampire Slayer, Mad Men, Grey's Anatomy, Brothers & Sisters, and Glee. Additionally, Noxon made her feature directorial debut in 2017 with the powerful film To The Bone, which she also penned the screenplay for. Loosely based on her own personal experience with eating disorders, the film premiered in competition at the 2017 Sundance Film Festival to strong reviews and quickly sold to Netflix for $8 million, making it one of the highest sales to come out of this year's festival. Noxon's previous screenwriting credits include, I Am Number Four and Fright Night.
Featured Speakers: Jason Blum & John Pierson
In 1993, John Pierson — a big shot who helped launch a number of first time American independent filmmakers including Spike Lee, Michael Moore, Richard Linklater, Kevin Smith, Rose Troche and Guin Turner — met Jason Blum, a kid fresh out of college, when they worked on a forgotten feature called My Life's In Turnaround together. 25 years later, Jason and his company Blumhouse Productions have conquered the universe. Blum is a two-time Academy Award-nominated and two-time Emmy and Peabody Award-winning producer. His multi-media company is known for pioneering a new model of studio filmmaking: producing high-quality micro-budget films. How the hell did he get from there to here and how do these two view that evolution?
Featured Speaker: Zoe Saldana with Shira Lazar
Actress and entrepreneur Zoe Saldana will join actress and writer Shira Lazar in a conversation on the importance of positive messaging and role models on social platforms for millennial and Gen Z audiences, and how her new media company, BESE, is addressing this issue and the imbalance that exists today in mainstream media.
Browse All Making Film & Episodic Sessions
Join Us For SXSW 2019
Register and book your hotel now to save! The Film Badge gets you primary access to all SXSW Film events including Film Keynotes and Featured Sessions, world premieres, round tables, workshops, parties, and more. Over the course of nine days, the SXSW Film Festival hosts over 450 screenings! Film registrants also have primary access to Convergence events, including the Comedy Festival and nine unique Conference tracks, as well as secondary access to most Interactive and Music events.
Follow us on Facebook, Twitter, Instagram, and SXSW News for the latest SXSW coverage.
Featured Session: The Cast of This Is Us - Photo by Steve Rogers Photography/Getty Images for SXSW</small