Announcing the 2019 SXSW Film Festival Jury and Special Awards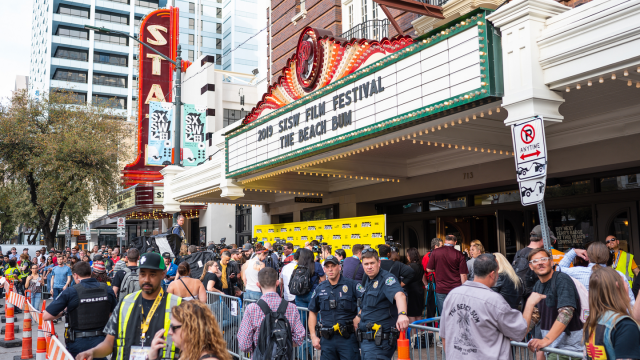 The SXSW Conference and Festivals announced the 2019 Jury and Special Award winners of the 26th SXSW Film Festival Awards at the historic Paramount Theatre. Feature films receiving Jury Awards were selected from the Narrative Feature and Documentary Feature Competition categories. Short films and other juried sections, including Film Design Awards were also presented. Films in competition, as well as all feature, short, and episodic categories (except Special Events) are also eligible for the 2019 SXSW Film Festival Audience Awards.
All Audience and Virtual Cinema Awards will be announced separately on Saturday, March 16, except for Headliners and 24 Beats which will be announced by Monday, March 18.
SXSW also announced Special Awards including the Karen Schmeer Film Editing Fellowship, the Vimeo Staff Picks Award, the Zeiss Cinematography Award, the Louis Black "Lone Star" Award, the Adam Yauch Hörnblowér Award, and the CherryPicks Female First Feature Award.
SXSW continues showing films through Saturday, March 16.
The 2019 SXSW Film Festival Juries consisted of:
Narrative Feature Competition: Barbara Chai, Trey Mangum, Jada Yuan
Documentary Feature Competition: Karen Han, Katie Walsh, Adam B. Vary
Narrative Shorts Program: Matthew A. Cherry, Laurence Reymond, Candice Wilson
Documentary Shorts: Sarah Lash, Anu Rangachar, Chris White
Animated Shorts: Jordan Askins, Michael Feder, Stephanie Gillis
Midnight Shorts: Emily Gotto, Thomas Nam, Meagan Navarro
Music Videos: Stephanie Bergara, John T. Kunz, Chris Toumazou
Texas Shorts: Alka Bhanot, Eugenio del Bosque, Sarah Harris
Texas High School Shorts: Alexandra "Alex" Mitchell, Susan Moffat, Bart Weiss
Episodic Pilots: Nicole Emanuele, Laura Kincaid, Kim Sherman
Louis Black "Lone Star": John DeFore, Victor Diaz, Ann Hornaday
Excellence in Title Design: Lisa Bolan, Ana Criado, Lola Landekic
Excellence in Poster Design: Barak Epstein, DeAnna Gravillis, Kevin Tong
Virtual Cinema: Eiza McNitt, Laura Mingail, Lori​ Schwartz

The 2019 SXSW Film Festival Awards:
Feature Film Grand Jury Awards
Narrative Feature Competition
Winner: Alice
Director: Josephine Mackerras
Special Jury Recognition for Best Ensemble: Yes, God, Yes
Director: Karen Maine
Special Jury Recognition for Breakthrough Voice: Saint Frances
Director: Alex Thompson
Documentary Feature Competition
Winner: For Sama
Directors: Waad al-Kateab, Edward Watts
Special Jury Recognition for Empathy in Craft: Ernie & Joe
Director: Jenifer McShane
Special Jury Recognition for Excellence in Storytelling: Nothing Fancy: Diana Kennedy
Director: Elizabeth Carroll
Short Film Jury Awards
Presented by Vimeo, an all-in-one video platform that provides creative professionals and businesses with tools technology they need to succeed with video– from hosting, to collaborating, to distributing and monetizing.
Narrative Shorts
Winner: Liberty
Director: Faren Humes
Special Jury Recognition: The Orphan
Director: Carolina Markowicz
Documentary Shorts
Winner: Exit 12
Director: Mohammad Gorjestani
Special Jury Recognition: All Inclusive
Director: Corina Schwingruber Ilić
Midnight Shorts
Winner: Other Side of the Box
Director: Caleb J. Phillips
Animated Shorts
Winner: Guaxuma
Director: Nara Normande
Special Jury Recognition: Slug Life
Director: Sophie Koko Gate
Music Videos
Winner: "Pa'Lante" - Hurray for The Riff Raff
Director: Kristian Mercado
Special Jury Recognition: "Quarrel" - Moses Sumney
Directors: Allie Avital, Moses Sumney
Texas Shorts
Winner: I Am Mackenzie
Director: Artemis Anastasiadou
Special Jury Recognition: A Line Birds Cannot See
Director: Amy Bench
Texas High School Shorts
Winner: Fifteen
Director: Louisa Baldwin
Special Jury Recognition: Double Cross
Director: Amiri Scrutchin
Episodic Pilot Competition
Winner: Maggie
Director: Sasha Gordon
Special Jury Recognition: Revenge Tour
Directors: Andrew Carter, Kahlil Maskati
SXSW Film Design Awards
Excellence in Poster Design
Winner: Daniel Isn't Real
Designer: Jock
Design Company: 4twenty limited
Excellence in Title Design
Winner: Spider Man: Into the Spider-Verse
Directors: Brian Mah, James Ramirez
Special Jury Recognition: The Darkest Minds
Director: Michelle Dougherty
SXSW Special Awards
Karen Schmeer Film Editing Fellowship
Presented to: Victoria Chalk
Vimeo Staff Picks Award
Presented to: Milton directed by Tim Wilkime
ZEISS Cinematography Award
Winner: Amazonia Groove directed by Bruno Murtinho
Louis Black "Lone Star" Award
Winner: The River and the Wall directed by Ben Masters
SXSW Adam Yauch Hörnblowér Award
Presented to: Tito directed by Grace Glowicki
CherryPicks Female First Feature Award
Winner: Alice directed by Josephine Mackerras
CherryPicks Special Recognition:
Winner: Days of the Whale directed by Catalina Arroyave Restrepo
World Premiere of The Beach Bum - Photo by Ann Alva Wieding