Director Andrew Hevia Talks About His Documentary Leave the Bus Through the Broken Window – SXSW Filmmaker In Focus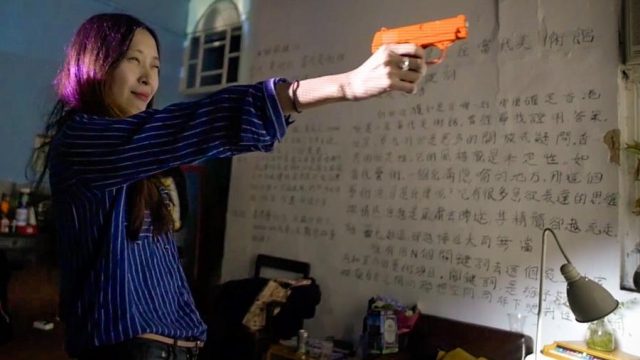 The 2019 SXSW Film Festival is almost upon us and we can't wait to have you here! Before you make your way down to Austin, TX get to know films from our lineup a little bit better with our Filmmaker In Focus series. Dive into our Q&A with director Andrew Hevia, as he tells us about his film Leave the Bus Through the Broken Window, which will world premiere in the Visions screening section.
In your own words, what does this film mean to you?
Andrew Hevia: To me, Leave the Bus through the Broken Window is about a personal journey coming to terms with and processing change.
What motivated you to tell this story?
AH: There are two answers to this question. The first is that this is a personal story that I created as a way to process what I was going through during an emotionally difficult time. I had just gotten out of a relationship that had gone completely sideways and I decided that I would not enter a new one until I had figured out how I could avoid repeating past mistakes. The act of crafting the film was how I came to understand myself. The second is that I was committed to making a documentary that was the inverse of every project I had ever made before. I had limited resources when I started the project and resolved to work within those limits to discover an unconventional approach to the film. The challenge inspired me to keep going and keep digging - both eternally and, more crucially, internally.
What do you want the audience to take away?
AH: I'd love for the audience to connect with the central character and empathize with that journey. Also, that Hong Kong is a beautiful, complicated city with a thriving community of artists.
How did you find your subject??
AH: I am the primary subject of the film, so that was the easy part!
What made you choose SXSW to showcase your film to the world?
AH: The first feature film I ever edited, a movie called No Matter What, premiered at SXSW nearly a decade ago. Since then, I've had a number of great experiences at the festival, mostly as a producer on other projects. For my directorial debut, there was no other festival in my mind that could support me as a filmmaker like SXSW. SX has been an essential part of my filmmaker journey and world premiering in Austin is a dream come true and a great full circle moment.
Add Leave the Bus Through the Broken Window to your SXSW Schedule. Stay tuned in the coming weeks as we share more interviews with our SXSW 2019 filmmakers!
Join Us For SXSW 2019
Register and book your hotel now to save! The Film Badge gets you primary access to all SXSW Film events including Film Keynotes and Featured Sessions, world premieres, round tables, workshops, parties, and more. Over the course of nine days, the SXSW Film Festival hosts over 450 screenings! Film registrants also have primary access to Convergence events, including the Comedy Festival and nine unique Conference tracks, as well as secondary access to most Interactive and Music events.
Follow us on Facebook, Twitter, Instagram, and SXSW News for the latest SXSW coverage.
See you in March!
Leave the Bus Through the Open Window - Photo by Andrew Hevia