SXSL Lineup Announced: Leonardo DiCaprio, The Lumineers, Stranger Things and More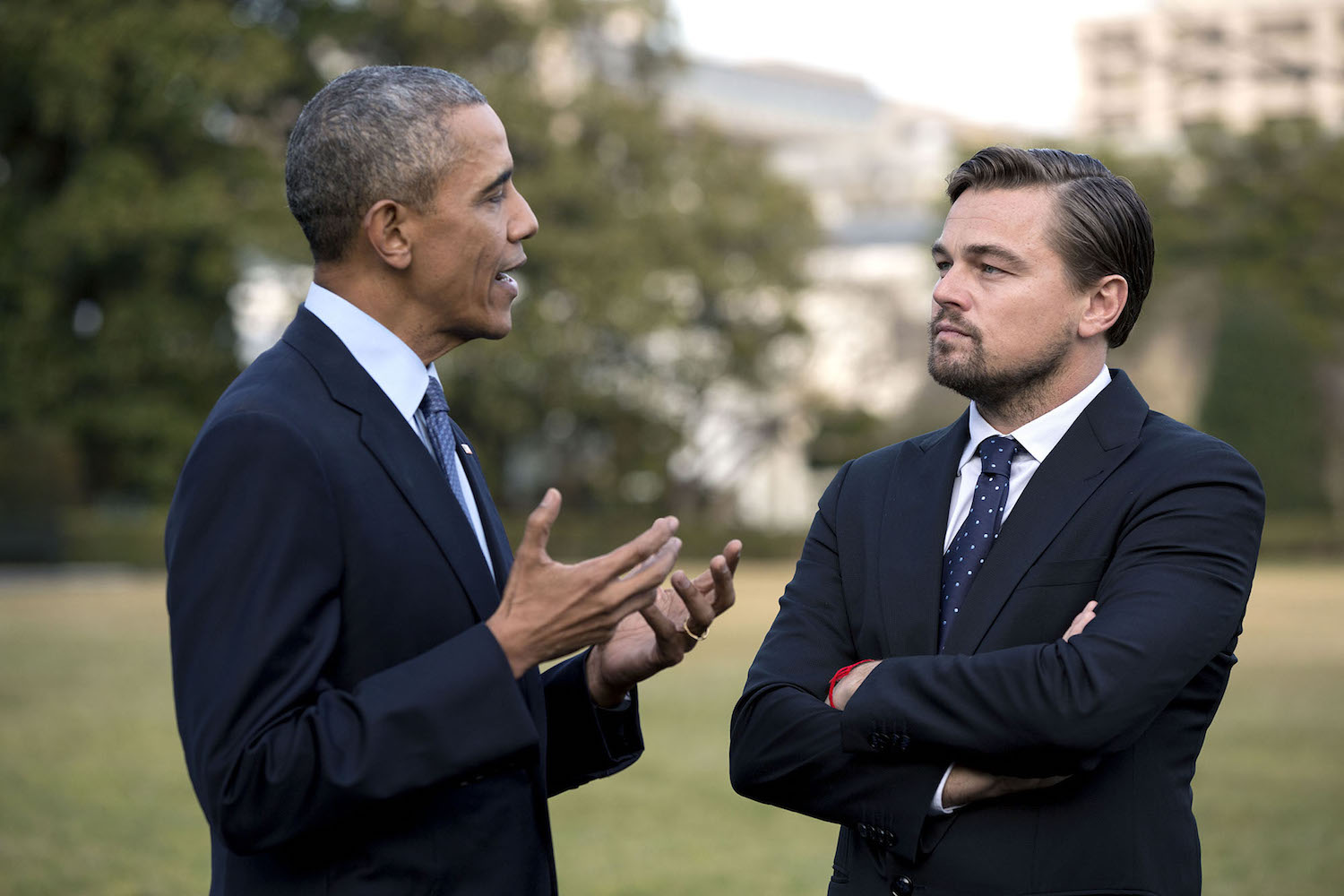 At this year's SXSW, President Obama was a Keynote Speaker. During his conversation he challenged creative thinkers and entrepreneurs from across the country to help tackle our toughest issues.
On Monday, October 3, inspired by SXSW, the White House will put on its first-ever festival, celebrating that spirit of innovation with sessions, musical performances, the White House Student Film Festival, and a group of interactive booths featuring hands-on exhibits.
Today the White House announced the lineup for South By South Lawn: A White House Festival of Ideas, Art, and Action with a compelling program that includes President Obama in conversation with Leonardo DiCaprio and Dr. Katharine Hayhoe; a discussion on pushing limits with James Turrell and David Adjaye; performances by The Lumineers and Sharon Jones and the Dap Kings; and appearances by The Duffer Brothers and the cast of Stranger Things.
SXSL calls on every American to discover their own way to make a positive difference in our country while celebrating the work so many Americans have already accomplished.
The festival, presented in coordination with the American Film Institute (AFI), the President's Committee on the Arts and the Humanities (PCAH), the National Park Foundation, and South by Southwest, will be streamed live at WhiteHouse.gov and Facebook.com/WhiteHouse.
Join the conversation using #SXSL to share your ideas and see what others are doing to help change our world. And stay tuned for more announcements regarding the event.
SXSL Schedule
FEATURE
President Obama in Conversation with Leonardo DiCaprio and the Domestic Premiere of Before the Flood
President Obama will join Academy Award-winning actor Leonardo DiCaprio and climate scientist Dr. Katharine Hayhoe for a discussion about the importance of protecting our planet for future generations.
Following the conversation, attendees will watch the domestic premiere of DiCaprio's new climate documentary film Before the Flood presented by National Geographic in a first-of-its-kind film screening on the South Lawn of the White House.
INTERACTIVE
SXSL will host panel discussions throughout the day that will explore how leaders in art, technology, food, innovation and social change are helping to move the country forward. Interactive booths will give attendees an opportunity to engage with and learn about new products and types of content that are transforming how we interact with our world.
Breakfast Session at the Newseum
Hard Things are Hard: A Conversation with James Turrell and David Adjaye (Newseum)
On the President's desk there's a plaque that reads, "Hard things are hard." For artist James Turrell and architect David Adjaye, taking on the hard work has never held back their ability to push physical limits, build audacious structures, and further redefine the standard of architectural art.
For over half a century, Turrell has worked specifically with light and space to create works of art that challenge the limits and wonders of human perception. Since the late 1970s, he has been working on Roden Crater, an unprecedented large-scale artwork created within a volcanic cinder cone in Northern Arizona. Adjaye, who has been recognized as one of the leading architects of his generation, has designed innovative structures around the world including London's Rivington Place, the Nobel Peace Center in Norway, and D.C's newest landmark, the National Museum of African American History and Culture.
To kick off SXSL, Turrell and Adjaye will discuss the challenges and rewards of taking on the "hard things" through their groundbreaking projects.
Afternoon Sessions on the South Lawn
Fixing Real Problems
How can we harness technology to solve our biggest, most stubborn challenges?
At South by Southwest earlier this year, President Obama called on the tech community to focus its attention on making America and the world more tolerant, fair, healthy, and full of opportunities. This panel will explore the work of entrepreneurs and social innovators who are leveraging new technologies to address some of our most critical issues – and ask you to think about how you might turn your daily tech habits into a bid for real change.
Moderator: Jenna Wortham, The New York Times Magazine
Panelists: Stewart Butterfield, co-founder and CEO of Slack; Jukay Hsu, Founder of Coalition for Queens; Chris Redlitz, Managing Partner of Transmedia Capital; Nina Tandon, CEO and co-founder of EpiBone
Feeding the Future
How will we sustainably feed ourselves in the coming decades?
Ballooning populations, evolving diets, and a changing climate present serious obstacles to our future food supply. This panel will introduce us to some of the people leading the charge in making food more accessible, sustainable, and healthy and will present some commonsense steps you can take today to best prepare for the future of food in your own community.
Moderator: Danielle Gould, Food+Tech
Panelists: Will Allen, farmer, founder and CEO of Growing Power Inc.; Maria Rose Belding, co-founder and executive director of the MEANS Database; Caleb Harper, research scientist at MIT media lab; Nikiki Masumoto, Organic Farmer and Agrarian Artist
LA, a Case Study in Innovation
How do we foster innovation, collaboration, and strategic planning in cities and local communities?
Los Angeles offers some important lessons. While the city owes some of its dynamism to the growing presence of new tech and media firms, its progress has been driven by leaders in business, non-profits, and government working together to transform the City of Angels. Find out how they're doing it, and what you can do to increase strength and resilience in your own community.
Moderator: Jonathan Gold, Los Angeles Times
Panelists: Krisztina 'Z' Holly, founder of MAKE IT IN LA; Oscar Menjivar, founder of URBAN Teens eXploring Technology; Brian Mullins, founder and CEO of DAQRI
How We Make Change
What role do citizens have in bringing real and lasting change to our country?
"America is not the project of any one person," President Obama said in Selma last year. "The single-most powerful word in our democracy is the word 'We.'" Indeed, unelected citizens seeking change—people channeling the power of "We"—have been behind some of the biggest social and economic movements of the past eight years, from achieving landmark victories in the struggle for LGBT rights to shining a new light on the enduring struggle for civil rights. These agents of change have transformed hashtags into movements and delivered real progress in our society. Find out how they did it, and what you can do to bring about the change you want to see in the world.
Introducer: The Honorable John Lewis, congressman and civil rights icon
Moderator: Anil Dash, tech entrepreneur and activist
Panelists: Brittany Packnett, educator and activist from St. Louis, MO; Carmen Rojas, CEO of The Workers Lab; Evan Wolfson, Founder and President of Freedom to Marry
MUSIC
SXSL will host musical performances from both well-known and emerging artists who are using their music to inspire. The lineup will include The Lumineers, Sharon Jones and the Dap-Kings, and DJ Beverly Bond.
FILM
The White House Student Film Fest: Workshop
On Sunday, October 2, the American Film Institute (AFI) will welcome the young artists of the 3rd Annual White House Student Film Festival with a day to premiere their work.
Students in grades K-12 submitted more than 700 short films on this year's theme: The World I Want to Live In. Some of these aspiring filmmakers from around the nation will be joined by professional artists who work behind and in front of the camera. Special guests will include Stranger Things creators Matt and Ross Duffer and President's Committee on the Arts and the Humanities member Alfre Woodard.
Three official student film selections will be screened along with appearances by members of the Stranger Things cast: Millie Bobby Brown (Elle), Caleb McLaughlin (Lucas), Finn Wolfhard (Mike) and Gaten Matarazzo (Dustin).
INTERACTIVE EXHIBITS
6x9: A Virtual Reality Experience of Solitary Confinement
This virtual reality experience places the viewer inside a 6-foot by 9-foot cell with little more than a bed and toilet. In the nine minute experience, people can begin to understand the psychological impacts of confinement like blurred vision, hallucinations, and a sense of floating that may occur after long-term sensory deprivation. The Guardian used game engine technology and The Mill worked from first-person accounts of cell design and spatial audio capture to create this groundbreaking and innovative documentary.
Cancer Moonshot
At the Cancer Moonshot exhibit, visitors will be able to interact with technology and experience the future of cancer care, share how they've been affected by cancer as part of a compiled video diary, and learn about volunteer opportunities in their communities. Visitors will engage with an "Internet of Things" experience that shows how wearable technology could enable greater collaboration between cancer patients, physicians, and scientists to improve cancer care delivery.
Chuck Close: Large Format Polaroid Portraits
Chuck Close, a President's Committee on the Arts and the Humanities member, is best known for his large-scale, photo based portrait paintings. He is also an accomplished printmaker and photographer whose work has been the subject of more than 200 solo exhibitions in more than 20 countries, including major retrospective exhibitions at New York's Museum of Modern Art, the Metropolitan Museum of Art and most recently at The State Hermitage Museum in St. Petersburg, Russia. At South by South Lawn, Chuck will capture life-size portraits using a 20-by-24-inch Polaroid camera.
David Garibaldi: Art with Passion and Purpose
Few modern artists have the ability to transform a blank canvas into an arresting creative work like David Garibaldi. Hailing from Sacramento, David turned his passion for graffiti into an explosive career by mixing the creative elements of street art and popular music and culture into a riveting painting performance in which he can create life-size portraits within six minutes. A finalist on America's Got Talent, David performs at shows across the country, including at events like the NBA Finals and several award shows. To him, every performance is an opportunity to give back, either through teaching young people to explore their talents or providing resources and support to the community.
Find Your Park Machine
The National Park Foundation has a new way to inspire the youngest generation of innovators to find their parks. As part of the National Park Service's Centennial celebration and the Find Your Park movement, the Find Your Park Machine is a digital wayfinding sign that gives visitors the opportunity to experience all of America's 400+ national parks in 60 seconds using audio, visual, and geo-location elements. Local National Park Service Rangers and National Park Foundation staff will be on site to speak with visitors and share commemorative pins made exclusively for SXSL.
Food + Future
Food + Future is a group of entrepreneurs, based in Cambridge, MA, that is exploring the future of food, solving major food challenges, and helping small food businesses transform what we eat and the way we think about food. At SXSL, the team is collaborating with Target, IDEO, and MIT Media Lab to showcase cutting-edge technologies that are helping people understand more about their food. The interactive space will feature three initiatives: POLY helps kids understand where their food comes from through fun, hands-on classroom experiments; Illuminate helps individuals and companies understand exactly what they are selling and buying, and how their choices will personally impact people; The Open Agriculture Initiative helps farmers of all sizes to understand the science of their environment in order to help them create healthier, more sustainable food systems.
A Startup in the White House
The U.S. Digital Service and the Presidential Innovation Fellows program are bringing top technologists into the federal government to tackle our nation's most important challenges. With tasks such as modernizing our immigration system, improving our veterans' access to benefits, and increasing access to clinical trials of new cancer treatments, these teams are using design and technology to build a better government for all Americans. Visitors can meet these tech gurus on the South Lawn to see demos of their work, meet the team, and learn how you we can all help bring public service into the 21st century.
Investigating Normal: Design for Every Body
Join Sara Hendren and the Adaption + Ability Group at Olin College for an immersive, interactive, and surprising look at technologies for human ability, disability, and body variation. From things you wear to the environments you live in, this large-scale installation invites people to test the basic assumptions we make about what counts as normal. Whether it's ramps for skateboarders and wheelchair users, adapted furniture or customized prosthetic limbs, visitors will investigate the designs that have helped and hindered atypical bodies.
Justice For Us
Through the signature Justicefor.us digital experience, visitors will be able to take an empathy-inducing look into the system through the eyes of those most entrenched in it. At SXSL, an interactive story-game will allow them to step into the shoes of a judge and make decisions that directly affect the lives of individuals and our society at large.
Park Bench Art by Nathan Sawaya
The White House South Lawn also happens to be a National Park. As SXSL visitors tour the grounds, they'll see some original art work from Nathan Sawaya, an award-winning artist who creates inventive works of art from LEGO® bricks. As you walk, you just might see a painstakingly crafted, life-size scale LEGO sculpture resting on one of the park benches that dot the South Lawn.
President Obama + Yosemite in 3D
Through the Ages: President Obama celebrates America's National Parks transports you on a journey to Yosemite with President Obama as he honors the legacy of our country's national parks. This first-ever virtual reality experience featuring a sitting president provides an up-close-and-personal look at President Obama's trip to Yosemite with his family over Father's Day weekend this year. Hear from President Obama firsthand as he reflects on the importance of conservation and combatting climate change while you explore every angle of the breathtaking surroundings, including El Capitan, the Cathedral Rocks, Mariposa Grove, Yosemite Falls and the Merced River.
Round Robots
This booth, run collaboratively by Black Girls Code and Sphero, gives participants the opportunity to paint, program, and play with spherical robots as they join with millions of others around the country who are exploring computer science to understand more about how our modern world works.
Seed to Stove
Attendees will have the opportunity to both see and taste the whole food cycle as they get first-hand experience with fresh food picked off of Green Bronx Machine's tower aquaponics systems and then cooked on clean-tech stoves with the celebrated Chef José Andrés and Bill Yosses.
The Latest Smart Wearables
DAQRI is the world's leading enterprise augmented reality company. DAQRI will be showcasing its revolutionary products and technologies. Founder and CEO Brian Mullins will also be sharing his insight on the future of AR during the panel discussion portion of the event. Attendees will have access to the latest information on wearables like DAQRI Smart Helmet™, next generation phase modulator displays, and cutting edge computer vision products.
SXSL Social Media Activated Sign
Created by Adam Savage with a team of makerspaces in Baltimore, the SXSL sign physically embodies the interactive nature of the whole event. The 8 feet tall letters are internally illuminated with LEDs that respond to social media activity throughout the day.
To-Do Note Installation
Identifying problem-solving ideas is only the first step. With the help of a sticky-note installation designed by Illegal Art, a collective of artists whose goal is to create participatory-based public art, and facilitated by IDEO, attendees can jot down the actions that they will take after South By South Lawn to continue to make a positive impact in their community, in the country, or the world.
The Up Next Lounge
The Up Next lounge will provide a place for attendees to relax and charge their devices, while also highlighting its mobile messaging platform, the Better Make Room campaign, and First Lady Michelle Obama's "Reach Higher" initiative. Up Next provides high school and college students and college graduates with information, encouragement, and assistance with college applications, financial aid, and loan repayment.
Upstanders
The Starbucks Upstanders Booth will offer an interactive experience that aims to inspire attendees by sharing stories of ordinary people doing extraordinary things to create positive change in their communities. Attendees will have an opportunity to record and share their own Upstander story. Participants' stories will be considered for the next season of the series.
SPECIAL THANKS
South by South Lawn is made possible thanks to support from National Geographic, CraigConnects, DAQRI, Hyatt, Sara & Evan Williams Foundation, Simons Foundation, Starbucks, and Target.
Official White House Photo by Pete Souza