Fighters Underground at SXSW Gaming 2017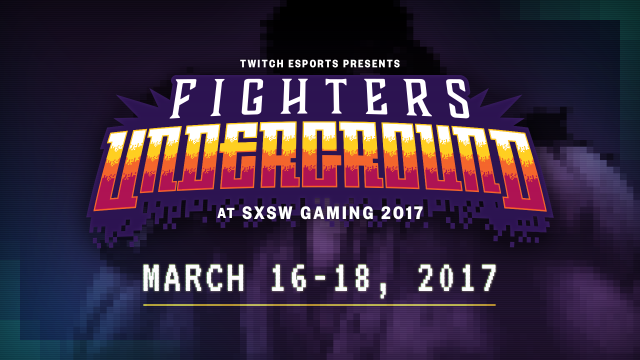 Street Fighter returns to SXSW Gaming with the Fighters Underground on the Esports Tournament Stage, presented by Alienware and Twitch Esports, from March 16 - 18 in Austin, Texas.
Following a recent tradition of featuring the greatest fighting games in premiere tournaments at SXSW, including Super Smash Bros. Melee at Battle of the Five Gods in 2016 and Ultra Street Fighter IV at the Fighters Invitational in 2015, SXSW Gaming is excited to reveal that this year's main event will feature the world's best Street Fighter V players competing for their share of a massive $20,000 prize pool in the Fighters Underground.
2017 Fighters Underground Competitors:
• Momochi
• GamerBee
• Filipino Champ
• Justin Wong
• Ricki Ortiz
• NuckleDu
• Snake Eyez
• Luffy
• K-Brad
• Phenom
• Fourwude
• Danke
• Punk
• Chris Tatarian
• RB
• Smug
Also joining this roster of professional Street Fighter V players includes casters and hosts UltraDavid, James Chen, Logan, F-Word, and Yipes.
With a history of tournaments full of epic matches every step of the way, SXSW Gaming is proud to feature the Fighters Underground on this year's main stage. Visit SXSW Gaming with a SXSW Gaming wristband or SXSW badge to enjoy this legendary event from Thursday, March 16 - Saturday, March 18.
Fighters Underground at SXSW Gaming
March 16 - 18 | 12:00pm - 8:00pm
Austin Convention Center, Ballroom A Access: All Badges (Platinum, Interactive, Film, Music) and Gaming Wristband
Add to your Schedule
Media material courtesy of Twitch