Day 3 at me Convention: Future-Focused Art Installations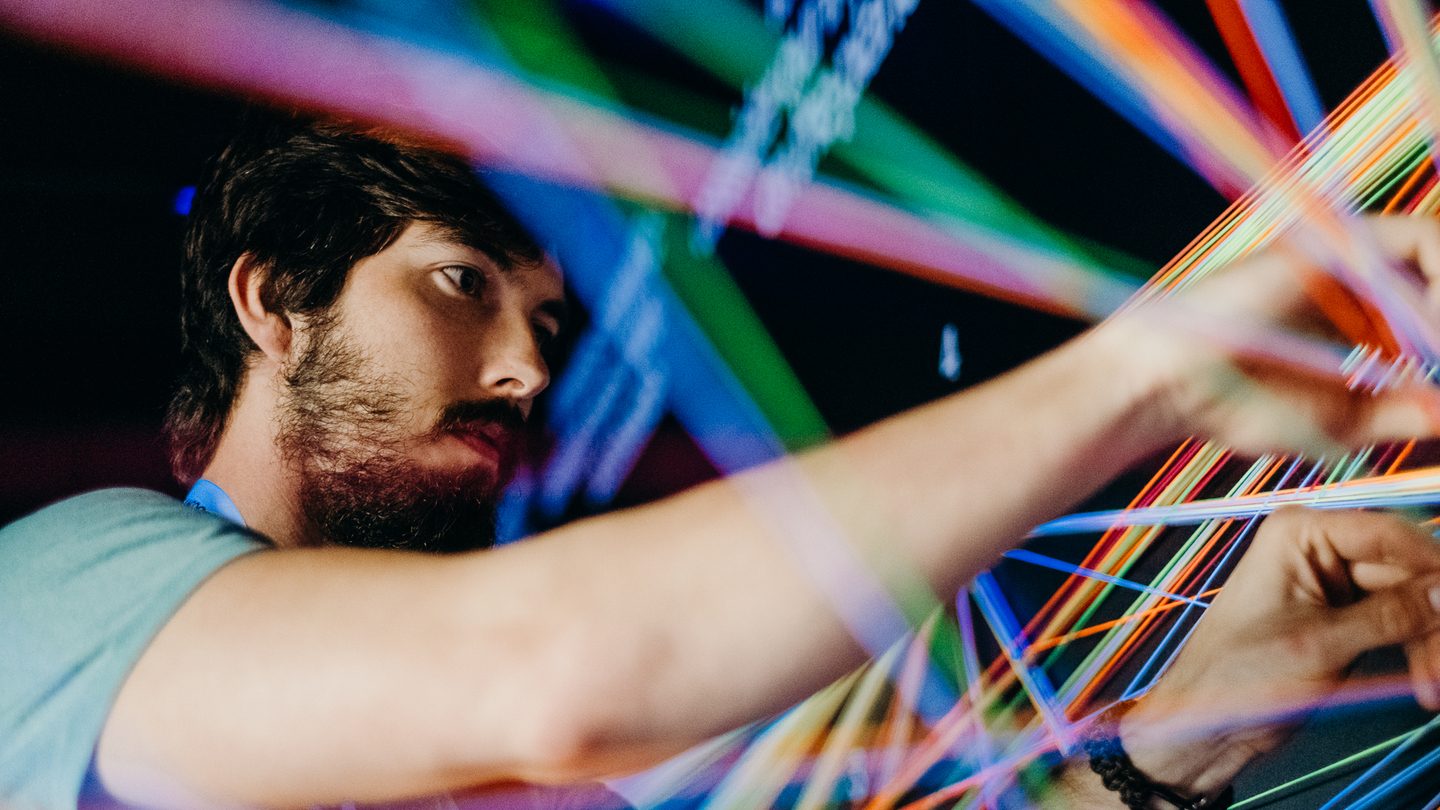 The final day of the 2018 me Convention has arrived but there's still a full day of conference talks, workshops, special events, and the out-of-this-world art installations.
Follow along with us this week for exclusive coverage through official @meconvention and @sxsw social media channels. Go behind-the-scenes of special events from the Startup Cities Track to premiere art installations and then head straight to the front row of performances and conference talks.
For Day 3, take a deeper dive into the impressive lineup of art installations and browse the grand finale of conference speaker programming.
Art Installation Highlights
Philharmonic Orchestra VR Sound Stage | Explore outer space with London's Philharmonia in Beethoven's Fifth, a VR film commissioned by Google Daydream in partnership with NASA. This eight-minute experience cuts together scenes from space, imagining where Voyager 1 is traveling now, with footage of principal conductor Esa-Pekka Salonen conducting the Philharmonia's performance of the symphony. Don't miss this and other immersive installations at Nacka Strandsmässan.

Symbiosity of Creation by Elvin Flamingo | Polish artist Elvin Flamingo presents his "Symbiosity of Creation" installation at the me Convention. The four-part and long-term project questions the anthropocentrism in mainstream art and is expected to run until approx. 2034.

Inside Tumucumaque | In this interactive virtual-reality installation, guests can immerse themselves in the lives of rain-forest dwellers and experience the unique ecosystem of the Tumucumaque National Park in northeast Brazil.

IBM: Bots and Blocks | A new world is emerging of intelligent robots and trusted communications using Blockchain. Participants can explore these technologies and understand how they might transform the way we work, rest, and play now and in the future.

MB Fashion: #WeWonder | For over two decades, Mercedes-Benz has been partnering with fashion (@MercedesBenzFashion), globally shaping developments in design and new takes on sustainability. The Mercedes-Benz EQ is our vision for the future of mobility – what are the visions for the future of fashion? In a VR world participants can draw up their ideas, visions, and thoughts on the future and show them off on Instagram using #WeWonder.

Digital Life: The Future of Work | As technologies evolve, a new way of working is emerging: one where employees are given agency in creating, organizing and leading, and where teams are being involved in the decision-making processes. The result: mutual trust, higher morale and increased creative output. Guests can future-proof themselves and join the discussion sharing insights into how breaking away from standard company structures allows innovation to thrive. Participants can find out how leadership is being revolutionized and get inspired to #createthenew.
Day 3 Snapshot: September 6
Browse the full schedule of conference speakers below representing pioneers across all industries as well as insight into some of tomorrow's most innovative technologies. Tune into our social media channels for exclusive coverage all day!
The wrap party takes place on Thursday night at the Mercedes Pop-up Store in the heart of Stockholm. TIDAL will provide a selection of cool sets while participants enjoy a relaxing atmosphere and look back together on three inspiring days at the me Convention.
What a week! Keep the me Convention dialogue moving – connect on Twitter and Instagram. Plus, stay tuned for our recap of the 2018 me Convention in Stockholm, Sweden complete with videos, photos, audio, and more in the coming weeks.
Thanks for following along with us! Good warmup for SXSW in March, eh? Register to attend the 2019 SXSW Conference & Festivals from March 8-17 in Austin, TX. We hope to carry on the conversation with you then!
Photo by Sara Strick