Join Us At Austin Design Week 2018: November 5-8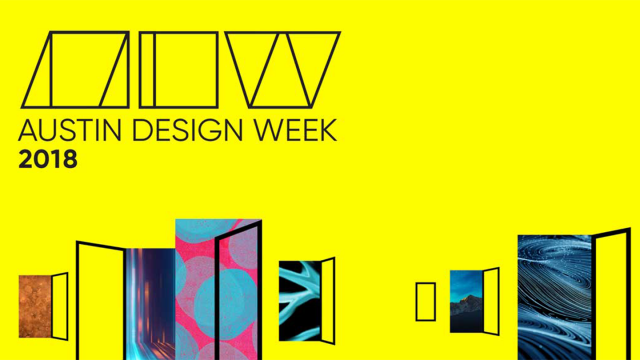 Attention all Austinites – Austin Design Week is just around the corner! Now in its third year, Austin Design Week has put together 100 diverse events hosted by local companies, agencies, organizations and design enthusiasts, showcasing the best in visual, interactive, web and mobile, product, industrial, architectural, and civic design our city has to offer.
SXSW is keen on design and provides a platform for designers of all disciplines to come together, share their findings, and discover new ways of practicing within the broader community of technologists and creatives who venture to Austin each March. From the Place by Design competition to our SXSW Conference Design Track, we see the power of design shape the way we interact with our world each year at SXSW. Design is a major part of our event, so we're proud to join our local design community in this celebration.
Beginning next week, meet the visionaries behind your favorite branding or architecture firm, get your hands dirty in a workshop, or participate in a rich town hall discussion about our community. Check out the full lineup and RSVP for events on the Austin Design Week website. Read on to discover a few of the events we're most excited about.
Austin Design Week is completely free to the community (with RSVP), and takes place November 5–9 in various locations around the city.
Austin Design Week Highlights
Design-a-thon
Monday, November 5 – Thursday, November 8, 4pm-6:30pm
Team up to design solutions to some of the city's biggest problems.
Austin Design Week Hub
Monday, November 5 – Thursday, November 9, 10am–5pm
Hang out in between sessions (there's wifi!), meet friends to head over to the next event, and explore art and design installations.
Design Your Best Self with a Personal UX Evaluation
Monday, November 5, 8:30am-10am
Join designer Laura Rillera for an interactive workshop that will take attendees through their own UX evaluation, using design tools to collect, sort and prioritize both personal and professional goals.
Please Talk in the Library: Redesigning Public Spaces for Collaborative Learning
Monday, November 5, 12pm-1:30pm
Join us for a hands-on workshop where you'll learn how to create collaborative learning environments based on user research, learning design principles, and library redesign trends.
How Digital Artifacts Help Us Process Death
Tuesday, November 6, 10am-11am
Learn how digital artifacts impact the way we remember and mourn the death of our loved ones.
Design for Civic Good
Tuesday, November 6, 6:30pm-8:30pm
Join us on election night for an evening of lightning talks about design for the civic good, hosted by Austin's Chief Equity Officer, Brion Oaks. We'll be announcing the polls as they come in, and engaging in civically-minded interactive stations throughout the evening.
Designing for Social Change
Wednesday, November 7, 12pm-1:30pm
This workshop will give an overview of design for grassroots innovation, local production and social change by examining two practice-based design research cases in Turkey and South Africa.
Stepping Through the Threshold of Design in Health
Wednesday, November 7, 4pm-6:30pm
The Design Institute for Health invites you to join us at the frontier of design in health for a thought-provoking presentation, a healthfully-designed happy hour and a tour of UT Health Austin's revolutionary clinics of the future.
Designing an Experiment: What can Designers Learn from a Scientist?
Thursday, November 8, 8:30am-10am
As designers, we craft surface level outcomes based on a deep understanding of the people, needs and processes we observe. In a world that increasingly values opinion over facts, how can we build products and processes in an evidence-based way? Find out in this workshop led by Professor of Biology at Austin Community College Stephanie Martin and Professor of UX Design at ACC Molly McClurg.
Designing for Gender Equity
Thursday, November 8, 7pm-9pm
Join us for a discussion about designing for gender equity, a thought-provoking exploration of the impact of gender aspects of design on our lives.
Browse the full lineup and RSVP for events on the Austin Design Week website.
Join Us in March 2019
Register to attend to experience more design-related programming and beyond at the SXSW Conference & Festivals in Austin, TX from March 8-17.