Discovery Stage Highlights: VR, Crytptocurrency, and the Feminine Revolution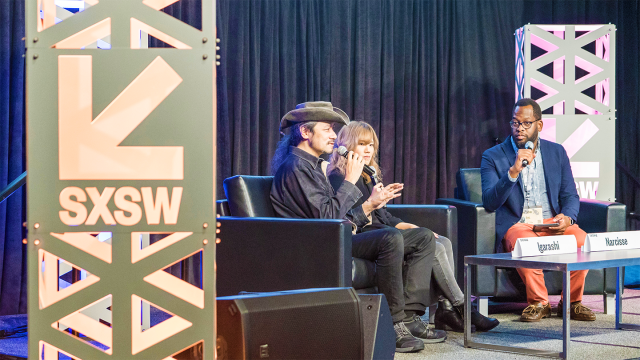 With the SXSW Trade Show quickly approaching, we're eager to announce the first wave of Discovery Stage programming highlights for 2019!
The Discovery Stage Presented by CommonGenius takes place within the Trade Show in the Austin Convention Center, Exhibit Hall 2, featuring daily curated content and unique sessions from a wide range of disciplines. A convergence of everything SXSW from Interactive to Film, Music, VR, and more, the Discovery Stage has something for everyone — no matter what you're in town for. Check out the highlights below for a preview of our Discovery Stage sessions.
---
Blockchain & Cryptocurrency Ask Me Anything
Speakers: Stephanie Hurder (Prysm Group) | Stephen Wolfram (Wolfram Research Inc.)
Join this Ask Me Anything format with leaders in the blockchain and cryptocurrency industry. You'll have a chance to ask Stephanie Hurder and Stephen Wolfram questions related to anything from the economic model of cryptocurrencies to the future of intelligent blockchain applications. Stephanie Hurder will answer questions for the first 30 minutes followed by 30 minutes with Stephen Wolfram.
---
The Feminine Revolution: Ignite Your Power
Speakers: Catherine Connors (Women Rising) | Amy Stanton (Stanton & Co.)
A provocative discussion that will confront twenty-one feminine qualities that are perceived as weak and reframe them as powerful tools that are the basis for lasting relationships, creativity, leadership and authenticity. Using their own personal journeys alongside historical research and analysis, the authors challenge societal misconceptions and make the case for a fresh look and a new approach to femininity, arguing why these traits are to be embraced rather than maligned. Attendees will be inspired to think differently and will leave with practical tools to tap into their power, their femininity, sensitivity, intuition, and even their tendency to cry.
---
So, You Want To Be A God? Building Virtual Worlds
Speakers: Wesley Allsbrook | Leah Hoyer | Ben Kalina | Chris Prynoski
Let's face it, you want to be a god... right? Well, what's stopping you?
You could just sit around and think about it while the other gods get the jump on you - OR you can get to it and create your very own world! How does one build a "world" though? Come to this panel to find out the many ways artists, writers and all sorts of creatives use VR to construct their own realms as we enter this new era of virtual deities!
---
Keep an eye out for more Discovery Stage programming updates in the coming weeks! To stay in the SX know, sign up for SXSW Event Updates and follow us in all the usual social spots for daily updates – Twitter, Facebook, and Instagram.
Programming descriptions are generated by participants and do not necessarily reflect the opinions of SXSW.
Photo by Stephen Olker