25 Years of SXSW Film Festival – Michael Showalter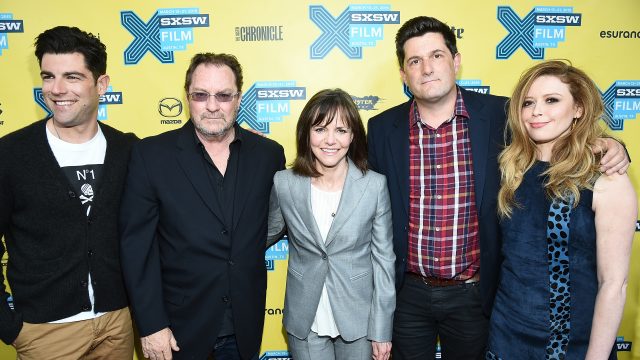 To commemorate the 25th edition of the SXSW Film Festival, we continue our weekly alumni spotlight on careers launched, artists discovered, powerful performances, and more with comedian, actor, directer, writer, and producer Michael Showalter.
Showalter's career started with the now cult classic, Wet Hot American Summer. He wrote the ensemble comedy with David Wain and acted the role of Gerald "Coop" Copperberg and Alan Shemper. The film went on to spawn a prequel and sequel series on Netflix.
In 2015, after an active career writing, performing, producing and directing episodics, Showalter brought his second directorial feature to the SXSW Film Festival, Hello, My Name Is Doris, starring Academy Award Winner Sally Field in the title role. The film received the Audience Award in the Headliners category. Hello, My Name Is Doris was praised for its defiance of elderly stereotypes and for Field's comical and emotional performance.
Showalter co-created the dark, comedy series Search Party with Sarah-Violet Bliss and Charles Rodgers. The show had its episodic world premiere at SXSW 2016 and the series has been renewed for a second season which airs on November 19, 2017 on TBS.
This past SXSW, Showalter directed one of the most exciting and buzzed about screenings at the festival, The Big Sick, which played in the Festival Favorites category and earned the Audience Award. The film was produced by SXSW alum Judd Apatow and Barry Mendel and co-written by Emily V. Gordon and Kumail Nanjiani. The Big Sick has received widespread critical acclaim and is one of the highest grossing and most successful independent films of 2017. Watch coverage from the event here, you won't want to miss the surprise appearance by comedian Hannibal Buress.
We are proud to share Michael Showalter's #SXSWFilm25 story with you.
"SXSW changed my life by giving my movie Hello My Name Is Doris an amazing launching ground. I remember so vividly the electricity in the audience that night. After the screening, we all knew something special had transpired and we all hugged each other and cried happy tears in the dark as we waited for the lights in the theater to come back up so that we ​could do our Q&A. This little film we'd all given our blood, sweat, and tears to had never been seen by audience before and to have it seen by such an enthusiastic and supportive audience, such a gorgeous theater, and in such a dynamic city like Austin was more than I, as a filmmaker, could have ever hoped for. That SXSW screening stands-out for me as a singular moment in my career. I will forever be indebted to Janet and SXSW for giving us that incredible opportunity."
Stay tuned to SXSW News each week for more 25th edition stories.
Join Us For SXSW 2018
Grab your Film Badge today for primary access to all SXSW Film events including world premieres, roundtables, workshops, and parties. Register to attend by Friday, November 17 and save. Book your hotel through SXSW Housing & Travel for the best available rates.
Follow us on Facebook, Twitter, Instagram, and SXSW News for the latest SXSW coverage, announcements, and updates.
See you in March!
The World Premiere of My Name Is Doris - Photo by Michael Buckner/Getty Images for SXSW