25 Years of SXSW Film Festival – Nancy Schafer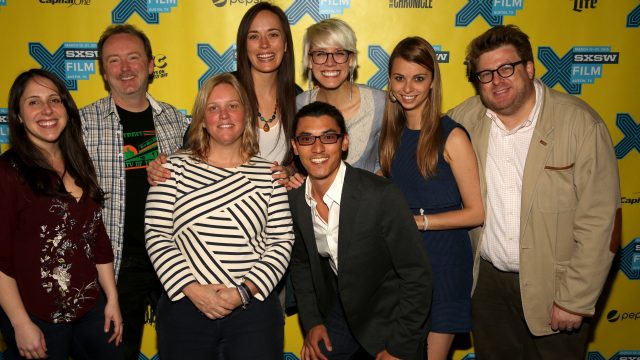 To commemorate the 25th edition of the SXSW Film Festival, we continue our weekly alumni spotlight with Nancy Schafer.
Schafer, along with Nick Barbaro and Louis Black, founded the SXSW Film Festival in 1994. Schafer was the Executive Producer of the festival from 1993-2000. She's produced several films that have screened at SXSW including Olympia (1998), Frame by Frame (world premiere, 2015), 7 Chinese Brothers (world premiere, 2015), Narrative Feature Competition Audience Award Winner, Transpecos (world premiere, 2016), Barracuda (world premiere, 2017) and 2018 Narrative Spotlight selection 1985.
We are pleased to share her #SXSWFilm25 story with you.
"My tenure was so long ago that the years kind of blend together… When we started the festival in 1994, there wasn't a festival on every corner in every town… so we had to make it up as we went along. We cribbed what we could from how the music festival did things, and from Sundance.
The early years were a gathering place for a small group of highly talented filmmakers who had a love of Austin, and the SXSW Music Festival. I remember an after party once, in some basement bar on 6th street, after something Quentin [Tarantino] had presented at the festival. In the small banquette area we were sitting in was me, Louis Black, Quentin Tarantino, Rick Linklater, George Huang, Kevin Smith, John Pierson, John Sloss, Michael Barker, maybe Steven Soderbergh?, and Mike Judge. I remember saying to Louis that if a bomb went off in the bar independent film in America would cease to exist
SXSW wasn't the behemoth then that it is now, it always felt like film and interactive had about two nickels to rub together. I remember the year we presented Paradise Lost, by Joe Berlinger and Bruce Sinofsky, which came from Sundance and Berlin with tons of buzz behind it. It screened at the Dobie Theater (remember that place??), and the bulb went out on the projector before we started the film. Scott from the Dobie was called to come over and put in a new bulb, but in the meantime, instead of doing just an intro, Joe and I went on to do a 2 hour q&a PRIOR to the start of the film. No one from the audience left, even with the massive delay. I chalk that up to the eagerness of the audience to see the film more than the song and dance that Joe and I lead them through."
See You in March!
Check out the 2018 SXSW Film Festival Lineup and start mapping out your film adventure!
Take a look at our handy Film Venues Page to figure out the quickest route to each theater.
Our Attendee Service Hub has everything you need to have a successful SXSW experience. Register to attend the 2018 SXSW Conference & Festivals from March 9-18 in Austin, TX.
Follow us on Facebook, Twitter, Instagram, and SXSW News for the latest SXSW coverage, announcements, and updates.
World Premiere of Frame by Frame - Photo by Hutton Supancic/Getty Images for SXSW