Cirque du Soleil, Pop Ups, Space & More: Experiential Storytelling Track Sessions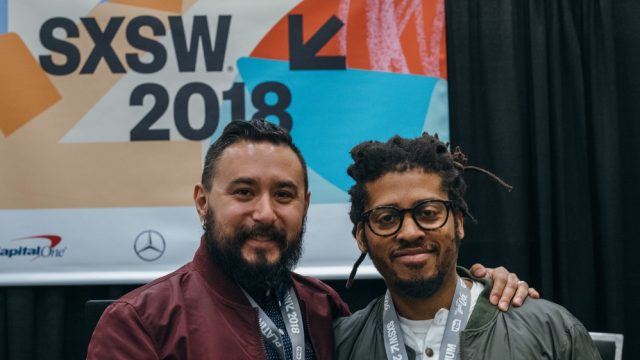 The Experiential Storytelling Track investigates how experimental strategies are redefining the ways in which audiences experience their world. This SXSW Conference programming track investigates how a new generation of creatives are using these ideas to redefine how audiences experience their world while keeping sight of the continued relevance and flexibility of more traditional methods and principles.
"Experiential Storytelling is as much about bending and stretching the parameters of storytelling as it is about finding other ways to embrace audience engagement, whether that's dance, architecture, museums, pop-ups, or even planetaria," said Film Programmer Jim Kolmar. "We're in an age of messiness and everyone has their own notion of 'story'. With this track, we're seeking to embrace, articulate, and illuminate that creative chaos."
Take a closer look into Experiential Storytelling Track below as we shine a light on different sessions that showcase digital-based storytelling, museums, space, and more. Experiential Storytelling Track sessions are held March 8-10 with primary access to all SXSW Badge types.
Experiential Storytelling Session Highlights
Defining Awe: The Science Behind Cirque du Soleil
Speakers: Beau Lotto (Lab of Misfits) and Diane Quinn (Cirque du Soleil)
In 1984, Cirque du Soleil reimagined the circus experience, mystifying, mesmerizing and beguiling millions of fans. Now, more than 30 years later, the audacious visionaries at the largest theatrical company in the world are not just evoking awe, they're measuring it. In this panel discussion, neuro-scientist and Lab of Misfits founder, Dr. Beau Lotto will share the captivating story behind one of the most ambitious studies ever undertaken in the world of theatrical entertainment. Dr. Lotto will explore the technological wizardry and inventive brain science used to understand a word that has been used to describe everything from the seven wonders of the world to the high-flying acts of the most breath-taking theatrical experiences on the planet.
How Theatres Inform Digital Based Storytelling
Speakers: Ian Stickland (Charcoalblue LLP)
Whatever the content or communication medium, all stories require the teller to somehow share time and space with their audience. Whilst some mediums achieve this by allowing the reader to escape into their story remotely, most immersive stories exist in a physical space. With XR/VR/AR/MR etc. there are more opportunities for immersive experiences to be shared by audience members who are in physically different places. As designers of performing arts buildings we understand how to create auditoria that are optimized for storytelling and are now applying the same core principals to digital immersive experiences. This presentation will use examples from some of our completed buildings to explore how the analogue techniques translate to the digital domain.
Mummies to Manet: Immersive Experiments in Museums
Speakers: Dia Felix (San Francisco Museum of Modern Art), Andrea Montiel De Shuman (Detroit Institute of Arts), Jennifer Snyder (The Art Institute of Chicago), and Leslie Wolke (MapWell Studio)
What can we learn from recent experiments in immersive technology and contextual storytelling in art museums? We'll take a look at the current landscape of immersive experiences at art museums all over the world—from bespoke handheld devices and mobile apps to gallery-sized experiences. Dive deep into case studies from the Detroit Institute of Arts, San Francisco Museum of Art, and the Art Institute of Chicago with the creators of AR/VR/MR and audio experiences at these institutions. We'll retrace the path from concept to launch and the decisions along the way that defined the user experience. But most importantly, we will consider these experiences from the visitor's perspective, discovering how people get the most out of their museum visit when they are aided by innovative technology.
PopUps: Designing for Emotional Experiences
Speakers: Jim Barczak (ShowClix), Christoper Voss (Brooklyn Museum), and Teresa Welch (Happy Place Records)
Pop-Ups are the fastest growing segment in the consumer space to test innovative concepts and products with an experience driven generation, playing an integral part in connecting people to brands through unique hands on environments. Pop-Up Museums are drawing hundreds of thousands of fans to their attractions annually by marrying music, art, VR and more. We will bring together creators of the most successful (and imitated) Pop-Up Exhibitions in the market today. We will explore: Creating an emotional journey in 12 rooms or less, elements of designing a successful experience (space, location, content),marketing tactics to draw attendees and incorporate brand partners
Reimagining the Cinema Experience
Speakers: Shari Frilot (Sundance Institute), Max Rheiner (Somniacs AG), Nicola Ruffo (swissnex SF), and Tobias Weber (CtrlMovie Ltd)
How can non-profit organizations harness the power of VR/AR technology to promote social good? Join tech and human rights expert Brittan Heller as she discusses breakthroughs in VR/AR with innovators from Kineviz, Artie, and The Field Museum. Hear about their new technology and public interest projects addressing civil and human rights. Through these conversations, discover how your organization can use VR/AR/XR partnerships to promote justice and fair treatment for all.
Browse Experiential Storytelling Sessions
Join Us For SXSW 2019
Register and book your hotel now for great savings! Follow us on Facebook, Twitter, Instagram, and SXSW News for the latest SXSW coverage.
Black Gotham: Immersive Storytelling & Technology - Photo by Bianca Hooks