2019 Film Tracks: Making Film & Episodics, Entertainment Influencers and More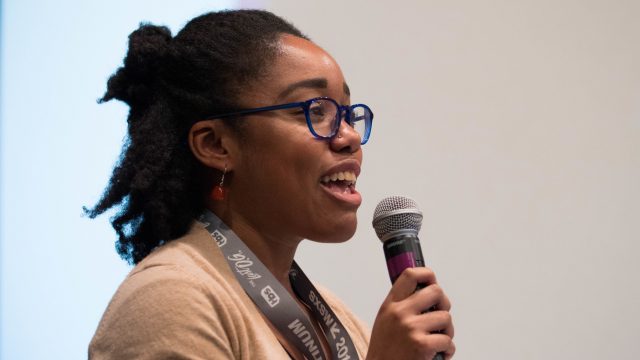 Browse 2019 session proposals PanelPicker®, leave comments, and vote to help shape SXSW Conference programming during Community Voting from August 6-30. Stay tuned for 2019 announcements throughout the season.
2019 Film Tracks
March 9-12 | The Entertainment Influencers Track features inspirational talks from thought leaders, experts and innovators, including conversations with high-profile speakers from around the entertainment, film, and TV industries. A common theme within these talks: how can independent artists lead creative lives?
March 9-12 | Explore the current and future states of film and television through the independent lens. Sessions in the Film & TV Industry Track cover topics such as distribution, financing, representation, technological advancements, and the ever-changing nature of film and television.
March 9-12 | Do you have questions about how to develop and craft your project? Topics in the Making Film & Episodics include casting, sound design, and post production just to name a few. You can also find in-depth, hands-on workshops that dive deep into topics like editing, screenwriting, and VR filmmaking.
PanelPicker Proposal Information
PanelPicker proposals can be entered in variety of session formats including panels, solo presentations, workshops, and more. Visit the SXSW PanelPicker page for more information.
In the mean time, take a look back at 2018 Film sessions and explore the breadth of our programming.
Choosing Film Lenses for Emotion – Matthew Libatique (Making Film & Episodics Track) – Cinematographers have been using various focal lengths of lenses in creative ways for over a century in order to evoke emotion. Certain lenses pull you into a character, some lenses can scare you, while others capture a breathtaking action sequence. Why are there so many choices, and how are focal lengths used in cinematic photography? During this workshop format, Matthew "Matty" Libatique, the cinematographer of Mother!, answers these questions.

An Asian American Lens on Diversity in Film (Film & TV Industry Track) – A panel of top independent Asian American film professionals discuss the shifting landscape of Asian American cinema, unique challenges faced by underrepresented filmmakers from idea to distribution, and the winding path towards true inclusion in the film industry.

Audience Engagement: The New Path to Green-lighting (Film & TV Industry Track) – The "watch instantly" culture gives new data as to what millennials want to see, expanding content to match new audiences across traditionally underrepresented demographics. This panel explores the newest methods of film and TV development and distribution between digital platforms and the Hollywood studio system. Key players share their unique positions with online data and what they are looking for in creating feature films and TV from digital platform beginnings.
Read the PanelPicker FAQ for important information about SXSW, the PanelPicker entry process, and valuable tips. Propose 2019 SXSW session ideas through PanelPicker® before the final deadline on Sunday, July 22 at 11:59pm PT.
Join Us in March 2019
Don't forget that film submissions, showcasing artist applications, Interactive Innovation Awards, SXSW Pitch, SXSW Art Program, and Place By Design are now open – learn more about how you can apply to participate here.
Mark your calendars for August 1 when registration and housing opens for the 2019 SXSW season. In the meantime, get inspired by previous Keynotes, Featured Sessions, Red Carpets, and Q&A's on our YouTube Channel.
Follow us on Facebook, Twitter, Instagram, and SXSW News for the latest SXSW coverage.
See you in March!
Pre-Woke Watching: Why Your Faves Are Problematic – Photo by Will Blake