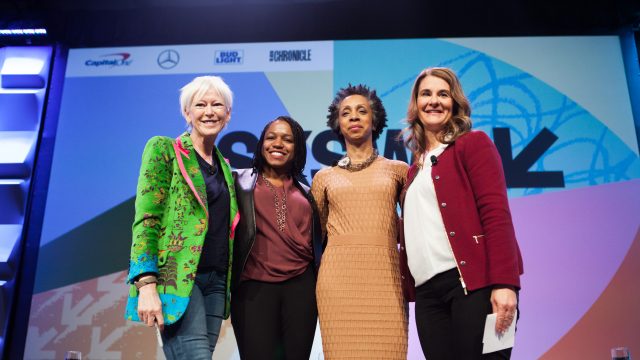 The Future Workplace Track explores topics ranging from career development, work-life balance, co-working, diversity, inclusion, HR issues, and employee rights in an ever-changing working environment.
"The Future Workplace track brings professionals, management, researchers and innovators together to explore the ever evolving technologies and workplace philosophies that drive collaboration and productivity in ways that accommodate a multi-generational workforce," said SXSW Programmer Casey Slater. "Attendees will walk away from Future Workplace sessions with tangible takeaways on how to improve workplace experiences for themselves and for their organizations as well."
Dive into the Future Workplace Track to learn about topics like Inclusive Work Environments, Erasing Institutional Bias, Company Culture, and more. Future Workplace Track sessions take place March 8-12 with primary access to Interactive and Platinum Badges; secondary access to all other badges.
Future Workplace Session Highlights
Employees as Catalysts for Corporate Change
Speakers: Ben Delk (Salesforce), Mercedes Jenkins (Google), Nabeela Virji (Dropbox), and Valerie Williams (Stripe)
The U.S. is in an unprecedented period of individual activism and social change. How do those causes translate into the workplace and what is an employer's role in fostering change on issues their employees care about? Should our workplaces become venues for catalyzing social change? This panel of diversity and inclusion leaders will discuss on how employers can create inclusive, safe and productive environments that enable employees to cultivate change around the social movements they care about. Topics will include how employee resource groups can be an effective way to connect employees around shared interests to encourage action and how allowing time for volunteerism at work can contribute to employee wellbeing as retention.
Going Beyond the Gender Binary in the Workplace
Speakers: Liz Byrne, Lisa Kenney (Gender Spectrum), and Rebecca Sherer (Google LLC)
Perceptions around gender are changing - rapidly. The majority of millennials see gender as a spectrum, rather than a binary, and 56% of Gen Z know someone who uses a gender-neutral pronoun. This research tells us that for companies, creating gender inclusive environments isn't just about being inclusive - it's a competitive advantage. Companies must understand how to navigate this universe, but that's easier said than done. We live in a binary world, and the many of us who identify as trans, non-binary or gender-expansive are hyper aware of this. Drawing on research, anecdotes and concrete examples, the panelists will help explain what gender is (and isn't) in the first place and address how companies can apply a gender-inclusive lens to every aspect of their business.
Home is Where HQ Is: How to Scale Your Culture
Speakers: Arden Hoffman (Dropbox)
Our world is becoming increasingly global and as we do that businesses need to realize that they need to have more than one touch point in order to build communities and culture within their organization. Many companies have built their brands on a distinctive company culture, whether that is the tech company that allows dogs at work or the finance giant that looks for feedback in all aspects of their operations. These known entities translate easily based on the set of core values that are inherent in American workplace culture. But how do you infuse an American company's core values to satellite offices away from the headquarters? Arden Hoffman, VP, Global Head of People, of Dropbox, provides a toolkit for the challenges and opportunities of expanding your corporate culture beyond the coasts.
So You Want to be a Change Agent: A Survival Guide
Speakers: Carmen Medina (MedinAnalytics LLC)
Most organizations are designed to preserve good ideas and implement them at scale. It should be no surprise then that organizations are horrible at nurturing new ideas and embracing the future. This is why it's so difficult for individuals with new ideas to advance them effectively inside organizations, or even within a team. This presentation, by a veteran change agent who brought meaningful change to CIA, will give you the practical skills to not just overcome organizational obstacles, but to prosper and succeed as a change agent. You will learn how to prioritize your change ideas, refine your proposals, gain important allies, and master important meetings when your ideas get a hearing.
Erasing Institutional Bias
Speakers: Ashley Diaz Mejias (TMI Consulting Inc.) and Tiffany Jana (TMI Consulting)
Dr. Tiffany Jana and Ashley Diaz Mejias will work to help participants identify and address the systemic and institutional bias that results from pernicious and often unconscious biases to which we are all vulnerable. This session covers what systemic bias is, how it is perpetuated and how you, as an individual, can disrupt its mechanisms. Research and exercises in this session will help you challenge your assumptions and open up to encountering people, cultures, and ideas outside of your comfort zone. This session is based on their book, Erasing Institutional Bias: How to Create Systemic Change for Inclusive Organizations.
Browse All Future Workplace Sessions
Join Us For SXSW 2019
Purchase your SXSW Badge and reserve your hotel today to experience these sessions along with 10 days of screenings, showcases, exhibitions, networking, and more this March 9-18 in Austin, TX.
Follow us on Facebook, Twitter, Instagram, and SXSW News for the latest SXSW coverage.
(Above) Keynote Speaker Melinda Gates with Joanna Coles, Nina Shaw, and Stacy Brown-Philpot– Photo by Samantha Burkardt; (Teaser photo) Women + The Power of Community SXSW 2018 session with Alyssa Mastromonaco & Audrey Gelman - Photo by Steven Snow