LGBTQ+ Pride and Power at SXSW 2019 – Series of Sessions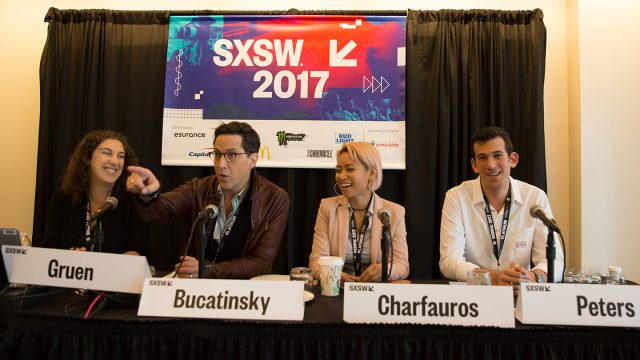 Through the years the Queer community has endured various hardships and persevered while still remaining relatively invisible to mainstream culture. In the Social & Global Impact Track at the SXSW Conference, we are shining a light on the beauty, strength, and power of the Queer community by celebrating with an LGBTQ+ Series.
Join us in the JW Marriott, Salon 4 on March 8-10 for a celebration of the community: where we've been, where we are now, and where we're headed.
LGBTQ+ Series Session Highlights
The Future of Gender Identities in Art and Media
Join the young LGBTQ Director and Creators behind Adolescent Content as they open up for an honest conversation about gender identities and how they see gender norms shifting around them among their Gen Z peers concerning masculinity and femininity. Their digitally native perspective is building a generation that is emboldened by the power of their technology and art to share all sides of themselves on the internet. Meet Hobbes Ginsberg, Photographer and Filmmaker, Myles Loftin, Photographer and Artist, and Ramaa Mosley, Founder and Executive Creative Director as they dive into traditional societal norms of masculinity and femininity, openly discuss the systemic issues that generate short-sighted, stereotypical images of marginalized individuals in the media, and what the creative industry can do to inspire and support LGBTQ+ artists and perspectives.
RIP Lesbian Bars: Creating Spaces For LGBTQ+ WOMXN
As the world seems to open up more and more to allow the LGBTQ community more acceptance, the spaces that are dedicated to the community, and more specifically for womxn, seem to dwindle away. Though equality is the ultimate goal that we fight for every day, we don't want to be homogenized into the greater public – this makes us less visible and thereby less accessible to those seeking their community. At the rate that lesbian bars are closing, we need to develop new ways for community to form without solely depending on the physical space of a bar. In this panel Michelle Daly, Co-Founder of Lesbutante & The Boss, Anita Dolce Vita, Owner & Creative Director of dapperQ, Sarah Marloff, Co-Founder of Where The Girls Go ATX, and Kelly Frances West, Event Designer at Lesbutante & The Boss, will discuss why it's important to cultivate these spaces even without having a brick and mortar location, why the "temporary" separation is necessary, and why cities with womxn focused events have a significantly higher attendance during Pride celebrations.
Standing with the Queer Community in a Deep Red State
The Queer people in your life need you to stand up and be an ally in the fight for equality. Since the Supreme Court ruled that LGBTQ people have the same rights to marry as everyone else, opponents of equality are pushing back full force and are aggressively pursuing strategies to reassert the old laws. They have pivoted to claim "religious liberty" as a cover for discrimination and they have demonized transgender people in the bid to reclaim their momentum. Not only do they do this in our workplaces, schools, hospitals, and places of worship – they do it in perhaps the most influential place of all, the court of public opinion. Join Rachel Gonzales, Education & Resource Coordinator for Equality Texas, Jade Lenore Leduff, Volunteer at Black Transwomen Inc. and Chairwoman of the EmpowerHER Program, Rebecca Robertson, Chief Program Officer of Equality Texas, and Lou Weaver, Transgender Programs Coordinator for Equality Texas, to learn about the emerging threats to equality and what straight, cisgender allies can do to stand with Queer people in the workplace and beyond.
Does Queer Media Have a Future?
Zach Stafford, Editor-in-Cheif of The Advocate, will discuss the future of media for Queer people in a frank conversation. After a year of difficult changes across the media landscape, the editor-in-chief will share his experience within the space, discuss the outlet he created – INTO – and what his new position at The Advocate means to the broader landscape.
The Category is: Trans Resilience
The FX show POSE features the largest cast of trans actors in series regular roles in history. The show is set in the '80s at the height of the AIDS crisis, but if you fast forward to 2019 – the trans community is still struggling. The host of #KikisWithLouie, a YouTube series for Queer youth, will moderate a discussion between a trans activist who has been working on trans liberation will before her community was shown on TV, and a trans youth activist displaying the collective power of young people. Join Jennicet Gutiérrez, Community Organizer for Familia Trans Queer Liberation Movement, Louie Ortiz-Fonseca, Director of LGBTQ Health & Rights at Advocates for Youth, and Aidan Williams, a student dedicating his career to the Queer community, for this panel of powerhouse voices.
Browse More LGBTQ+ Series Sessions
Attend SXSW 2019
Get your SXSW Badge and reserve your hotel today to attend SXSW 2019 and experience these Conference sessions along with 10 days of screenings, showcases, exhibitions, networking, and more this March 8-17 in Austin, TX.
Follow us on Facebook, Twitter, Instagram, and SXSW News to stay current with all things SXSW.
Featured Image by Rob Augustynowicz