Meet the 2019 SXSW Place by Design Finalists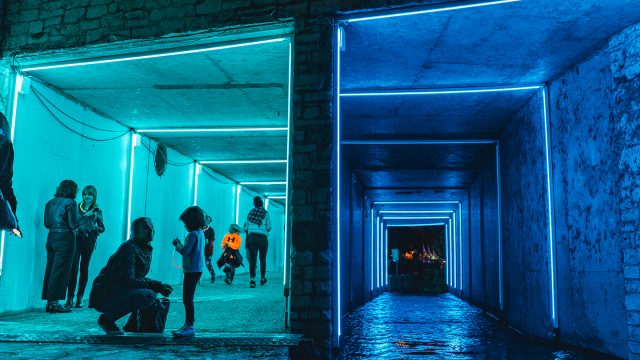 We're excited to introduce you to the 2019 Place by Design Finalists! These finalists will participate in a fast-paced pitch competition showcasing their public space design that explores the intersection of art, technology, and design. Join them during the Design Track of the SXSW Conference on March 11 at 3:30-4:30pm in JW Marriott Salon 5.
Each finalist was selected for their transformative work with public space that rethinks the way that humans interact with the space around them. The competition allows a platform for artists, designers, architects, and urbanists of all levels to submit their scalable solutions for improving our shared landscapes.
Finalists for Place by Design 2019
HARM TO TABLE is a table that travels the country to serve food made of plants and natural resources of that local area that will be in major decline or extinct over the next 20-40 years due to the changing climate.
Creek Show, produced by the Waller Creek Conservancy, is an annual event featuring nine nights of light-based art installations that are commissioned from local artists and are designed to combine the artistic with the natural.
The Play Pod™ with it's simple, portable cube structure, is a pilot initiative for turning dark, urban spaces into places that are safe and vibrant; that welcome and encourage community participation – something all cities strive for.
Pocket Patios challenge the dehumanization of today's car-dominant environment with people-centric urban streetscapes and dynamic green infrastructure that results in measurable social, economic, and environmental change.
MICRO is a six-foot-tall science museum that meets visitors in their daily lives, transforming unexpected public spaces from transit hubs to hospital waiting rooms into places of interaction, insight, and play.
Come see these finalists pitch live March 11 at 3:30-4:30pm in JW Marriott Salon 5.
Add to Your Schedule
Attend SXSW 2019
So, are we going to see you in March?
Get your SXSW Badge and reserve your hotel today to attend SXSW 2019 and experience these Conference sessions along with 10 days of screenings, showcases, exhibitions, networking, and more this March 8-17 in Austin, TX.
Follow us on Facebook, Twitter, Instagram, and SXSW News to stay current with all things SXSW.
Featured Image by Roger Ho