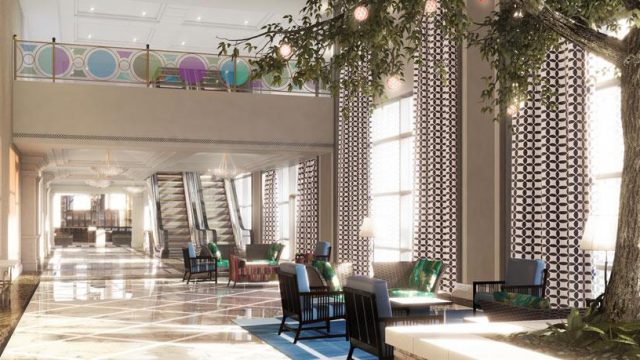 Special Rate Offer! SXSW Housing & Travel is excited to announce an exclusive low rate at the brand new Fairmont Austin. When you book a room before the end of 2017, the rate at this elegant 5-star property has been reduced to just $399 to check-in March 14 and $349 for March 15-18. These rates are perfect if you're looking to experience Music, Flatstock, Gaming, VR/AR, and more! Check out the SXSW Timeline to see all that's happening the second half of SXSWeek®.
Fairmont Austin - Opening November 2017
New to SXSW, the Fairmont Austin is a towering icon, uniquely located amid the lush greenery of Palm Park and Waller Creek and directly connected to the Austin Convention Center. This 37-story luxury hotel features richly appointed guest rooms and suites with picturesque vistas of Lady Bird Lake, a dramatic cityscape, and the State Capitol. Indulge in exquisite dining, a pampering spa, and state-of-the-art meeting facilities. Fairmont Austin engages guests with the city's famed music scene, as well as Austin's celebrated cuisine and diverse artistic lifestyle.
Have you already booked the Fairmont? Extend your stay or access this rate with ease at a price you can love by emailing us at housing@sxsw.com.
Do you plan to arrive before March 14? Not a problem, you can still access the lowest rate available for the Fairmont by booking with SXSW Housing & Travel.
Looking for something different? Check out our Hotel Availability page. Enter your check-in and check-out dates to see all currently available hotels with SXSW Housing & Travel.
More Questions? Email housing@sxsw.com or give us a call at 512-467-7979.
Photo Courtesy of the Fairmont Austin