SXSWfm 2018 Showcasing Artist Interview: Gus Dapperton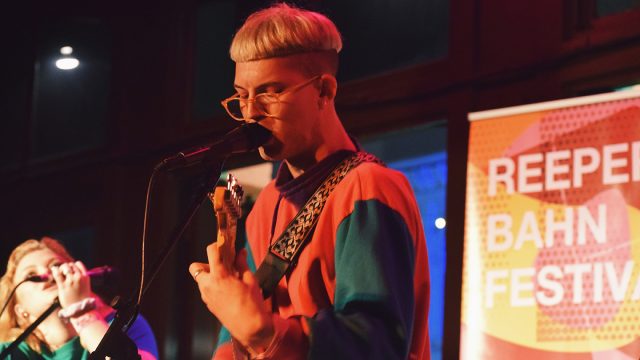 During SXSW 2018, SXSWfm interviewed solo artist Gus Dapperton, who has taken the indie pop scene by storm with his iconic bowl-shaped haircut. They sat down to talk about his busy year with the release of two EP's, his reaction to being interviewed by Vogue, and a children's book in the works. Read an excerpt of the interview below, and listen to it in full on our Mixcloud.
Listen to SXSWfm Interview with Gus Dapperton
Gus Dapperton Interview Highlights
How many times have you been [to SXSW]?
Gus: I've never been to South By.
First time – Welcome! Why was it important for you to come?
G: I've just heard from all my friends that it's a good time. It just gives everyone an opportunity to perform, not just big artists. It gives everyone an opportunity to showcase their talents. And there are so many artists playing, and so many shows. I just think it's a really good time.
I read you grew up in a very small, farm town. Tell me about that – how you got from that to where you are now.
G: So I grew up in this town called Warwick and it's very beautiful, but it's the worst. Everything revolves around varsity sports and everyone sucks at sports. But it still revolves around that. And then everyone goes to college in New York, comes back, and teaches. I'm not hating on anyone because my mom did that and she's a teacher. But she's awesome though. I grew up skateboarding and stuff, and me and those kids were more inclined to be creative just because that originally made us more outcasts. I started making music with my friends in eighth grade. I was mainly producing hip hop music, and my friends rapped. Then when I was 17, and I put in a lot of hours, I just started making stuff that was more natural to me.
When did you start experimenting with fashion and this haircut of yours that is iconic now?
G: When I was a toddler, I had this haircut, and I think I was much prettier as a toddler. So I figured I would go back to the bowl cut. Also wore very similar clothes. So basically, everything just roots back to my first inspirations growing up. My sound too, what my parents were listening to growing up. Basically just embracing my pure youth, which is kind of weird.
You released Yellow and Such in August 2017, and then You Think You're A Comic in early February of this year. Was it important for you to have that quick turnaround...to get more content out?
G: Yeah, definitely for me, I'm pretty focused on putting content out. But I'm very casual about whenever I feel songs are done and it's finished, and I'll put it out. It easily could have been shorter or longer, but I felt like they were done and I should put it out right away.
And why not wait for the album? The "step by step" is you put out singles, then EP, then an album. Why not wait and do more?
G: I'm definitely going to put out an album next at some point. I would hope early fall. I make all the music and mix and master it, so whenever I have time to finish recording the songs, I'll put it out.
What's next for you? You said album in the fall. What can we expect?
G: Lots of random projects in between. I wrote a children's book and it's kind of advanced, but it's in the style of a children's book. I'll put that out at some point to sell it as merch or something. And then a couple more videos. Just constant random projects.
Tune in to hear the full interview with Gus Dapperton below. Keep checking our Mixcloud page in the coming weeks as more interviews with 2018 SXSW Showcasing Artists are released. You can listen to SXSWfm 24/7 via our online station.
Listen to SXSWfm Interview with Gus Dapperton
2018 Showcasing Artist, Gus Dapperton – Photo by Shelby Magness