Announcing the 2018 SXSW Hackathon Winners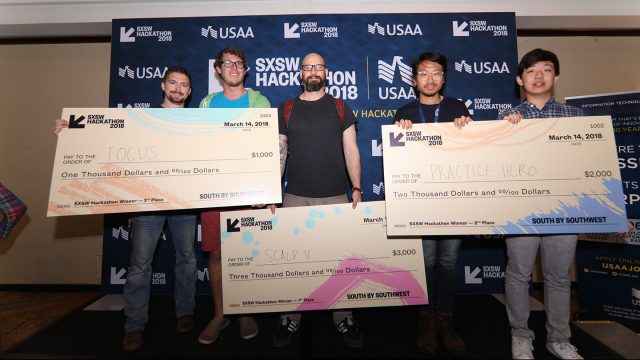 The SXSW 2018 Hackathon is a wrap! Over 100 hackers from the US, Japan, Germany, Belgium, Romania and more spent 24 hours furiously collaborating, coding and creating new solutions in the music, tech, VR, AI and blockchain world. The three winning teams were awarded $12,000 in prizes and then spent the next three days working with industry mentors to fine-tune their creations.
The Winners
First place: scalpV, which leverages emerging technology to solve a major problem with fraud in the live event space.
Second place: Practice Hero, which uses Amazon's Alexa to make practicing easier with voice commands.
Third place: Focus, which increases signal quality by teaching computers to hear like people.
"This was the year SXSW's Hackathon and Incubator came into its own, with the winning teams all going on to becoming real startups after five days of rapid prototyping and incubation," said Travis Laurendine, who has facilitated the event for the last five years.
"Only during the magic of SXSW could the stars align for Capitol Music Group to launch its innovation lab and announce its own hackathon series at the Capitol Tower alongside industry-leading tech like Amazon Web Services and Alexa, Facebook Live and Messenger, blockchain powerhouse Consensys, and the cloud power of Cloudinary. We tip our hats to USAA for for being such a great presenting sponsor (they matched the cash prizes so the winners prizes were doubled!) and to our grand prize winner, who happens to be a veteran and card carrying USAA member! Also, shout-outs to our artists-in-residence Mark Martin and Kaila Mullady, the reigning North American and World Beat Box Champions!"
Photo by Randy & Jackie Smith