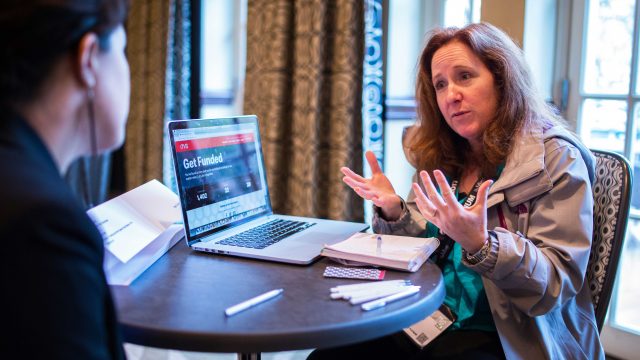 SXSW Mentor Sessions, Round Table Sessions, and Workshops are now open for RSVPs. These sessions are a great opportunity for Interactive, Film, and Music registrants to meet with industry professionals for quick one-on-one talks that focus on advice and guidance in a particular field. Not only do attendees get the opportunity to learn from industry experts, but also from the questions and experiences of their peers. Specific areas of expertise are listed on the schedule, so make sure to browse them all to find a good match. Advance sign-up is required and access is limited to badge type.
Mentor Sessions and Round Table Sessions will take place daily from Friday, March 9 – Saturday, March 18, in various locations throughout downtown Austin. Workshops will be held Friday, March 9 – Wednesday, March 14, in the Fairmont, Driskill, and the JW.
Sign up to speak with one of our 440+ mentors and more across all of the 24 Tracks of programming through the online schedule or via the SXSW GO mobile app. A limited number of spots will be reserved for onsite RSVPs, but don't delay and secure yours today.
Mentor Sessions
Mentor Sessions offer one-on-one coaching with professionals from all aspects of the music, film, and interactive industries. Within the 75 minute duration of Mentor Sessions, there will be five one-on-one meetings lasting 15 minutes each. Advance sign-up is required and access is limited to badge type.
Film Round Table Sessions
Round Tables, exclusive to Film, bring together three industry experts and SXSW attendees for an informal and enlightening discussion on a specific topic. Industry insiders will spend 20 minutes at each table before switching. Advance sign-up is required and access is limited to badge type. Learn more about these participants in our three installments of Film announcements.
View 2018 Round Table Sessions
Workshops
Hands-on, in-depth workshops offer advanced level information that revolves around a particular topic or skill and enable SXSW registrants to gain more expertise in their particular area of interest. Workshops vary in length ranging from one and a half hours to three hours, depending on the particular session. Advance sign-up is required and access is limited to badge type. Primary badge access only; Convergence Track workshops are open to all badge types.
Register to experience these exciting Mentor and Round Table Sessions and more during the 2018 SXSW Conference & Festivals from March 9-18 in Austin, TX.
Follow us on Facebook, Twitter, Instagram, and SXSW News for the latest SXSW coverage, announcements, and updates.
Photo by Kit McNeil