Spacecraft, Contemporary Art, Ethics, and More: VR/AR/MR Track Sessions for SXSW 2019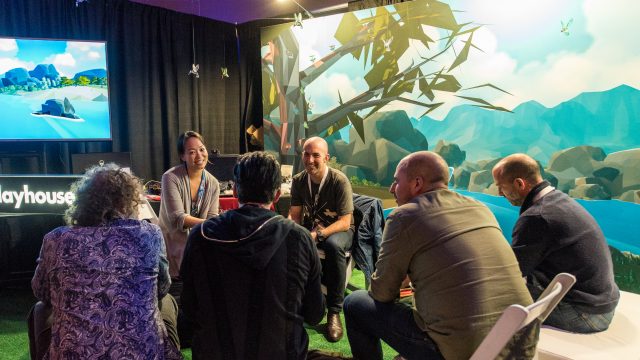 Virtual reality, augmented reality, and mixed reality are pioneering new ways to dramatically enhance how we experience the world around us. In the VR/AR/MR Track learn about our current capabilities with these interfaces as well as where these systems are heading in the next few years.
"The immersive arts continue to embed themselves more and more into our everyday lives even without us noticing," said VR Programmer Blake Kammerdiener. "The VR/AR/MR Track is where to go to find out what's happening behind the sphere and to see where all of the future realities are headed."
Take a deep dive into the VR/AR/MR Track below as we showcase different sessions that highlight contemporary art, civil rights, space, and more. VR/AR/MR Track sessions are held March 11-13 with primary access to all badge types.
VR/AR/MR Session Highlights
3, 2, 1: Blast Off! Building Spacecraft with AR
Speakers: Eric Kamont (Microsoft), Scott Montgomerie (Scope AR), and Shelley Peterson (Lockheed Martin)
In a $10 billion space program where it takes years to build a spacecraft, but only seconds to launch it, teams work in a high stakes environment daily to ensure spacecraft are built with the highest precision and accuracy. Hear from leaders at Lockheed Martin, Scope AR and Microsoft HoloLens on how augmented reality (AR) is not only being used to build spacecraft like Orion, but improve the accuracy, efficiency, and quality with which they're built. Learn how AR is also reducing training time, making it easy enough for summer interns to develop and follow work instructions. The panel will also explore how the introduction of 6DOF headsets and the integration of AI capabilities will impact the future of AR in space programs.
Ethics in the Age of Virtual Humans
Speakers: Drew Diamond (Entertainment Technology Center @USC), Brian Frager (Technicolor), David Hanson (Hanson Robotics Inc), and Amanda Solosky (Rival Theory)
Leaders in virtual human capture and AI/machine learning community discuss the state of this blossoming industry and the underlying ethical questions at the heart of this new innovation in technology and storytelling. From Deep Fake to exploiting personal data for machine learning we discuss the Pandora's box of ethical concerns surrounding the character capture, underlying ownership of information, and public mass consumption of these virtual characters.
Immersive Marketing: Beyond the Instagram Palace
Speakers: Justin Fix (Just Fix It Productions), Taylor Katai (Giant Spoon), Dasha Kittredge (Metaforyou), and Niyia Mack (Delusion)
The rise of experiential marketing has been a game changer over the past couple of years, engaging fans with properties on a whole new level. But what if you could go even deeper? We talk to some of the best minds working in immersive and experiential today about moving beyond the Instagram palace, and how a brand can incorporate immersive engagement in order to create unique, memorable and life changing experiences.
A New Wave: VR/AR's Impact on Music
Speakers: Sophia Dominguez (SVRF), Tom Impallomeni (TribeXR), Amy LaMeyer (EnteringVR), and David Liu (AFVR Co)
A panel of media, music and XR experts discuss immersive & spatial music. From the creators of AeronautVR, Cannes Lions winner, to TribeXR, an immersive DJ learning experience, panelists dig into a new wave of tech that is changing artist/fan relationships. Showing the reach of VR/AR, SVRF powered 35M+ camera/web/VR experiences with musicians like Nicki Minaj and Zedd. VR concerts can now reach fans of all ages/locations. Panelists will speculate on future content & tech from artists & creators.
VR/AR Save the World! Emerging Tech & Civil Rights
Speakers: Sony Green (Kineviz), Brittan Heller (Berkman Klein Center for Internet & Society at Harvard University and MIT Media Lab), Armando Kirwin (Artie), and Patricia Novick (The Field Museum)
How can non-profit organizations harness the power of VR/AR technology to promote social good? Join tech and human rights expert Brittan Heller as she discusses breakthroughs in VR/AR with innovators from Kineviz, Artie, and The Field Museum. Hear about their new technology and public interest projects addressing civil and human rights. Through these conversations, discover how your organization can use VR/AR/XR partnerships to promote justice and fair treatment for all.
Join Us For SXSW 2019
Register and book your hotel now before prices go up!
Follow us on Facebook, Twitter, Instagram, and SXSW News for the latest SXSW coverage.
Virtual Cinema at SXSW – Photo by Merrick Ales