SXSW Exhibitors: What's Next After Getting Your Trade Show Booth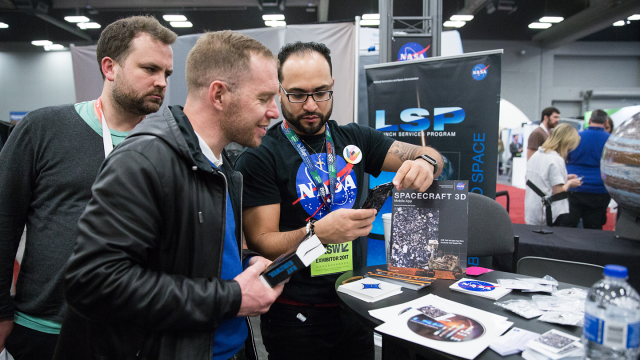 We're excited you decided to join us for the 2019 SXSW Trade Show! We want you to get the most out of your SXSW experience, so we're dropping some tips you may not have considered to ensure your success this year.
Initial Planning for Your Show
• Confirm the dates and times of the show as well as the load in and load out prior to making any travel arrangements or booking accommodations.
• Confirm your production budget. Beyond the standard setup, strongly consider spending extra on customizing your booth — a well-designed booth will help set you apart, stand out, and draw more people in. Check your Exhibitor Portal for more information and quotes on local vendors that can help reduce shipping and storage costs.
Marketing, Design, and Production
• The most important factors for successful exhibiting are the experience and engagement you offer attendees — location and booth size aren't everything, so get creative! Don't just rely on your good looks and business cards. Design an inviting space and be proactive: demo products, offer snacks, photo opportunities or merch. Provide interactive or one-off experiences unique to your business and promote your booth via social media and SXSW Social to create a buzz.
• Everyone loves merch! Promotional t-shirts, earplugs, phone cases, and portable chargers are popular ways to attract people to your booth, but why stop there? Be creative with your promotional efforts — high-end daily giveaways, such as tablets, wearable tech, headphones and gadgets, etc., can create a stir and get people talking about your booth.
• Booth Designs for 20'x10' booths and larger are due by January 11, 2019. Please make sure all booth dimensions are included — booths are placed on the show floor once the design has been reviewed and approved. The sooner you get the design in, the better your chances to secure a great spot.
A Few Quick Reminders
• A certain number of hotel rooms are available for exhibitors. Once we have your signed contract and booth payment, you'll get an exhibitor coupon code to redeem your SXSW Registration and to book your hotel room through our Housing Department. Exhibiting companies will also have access to a limited number of non-downtown hotel rooms for booth workers without a SXSW Registration. For any issues or questions about your booking, contact housing@sxsw.com.
• Downtown parking, especially near the Austin Convention Center, will be limited and street closures make it difficult to get around. We strongly recommend using public transportation where possible, or carpooling. No parking spaces will be reserved for exhibitors. Refer to the Arrival Guide in your Exhibitor Dashboard for maps and more about parking.
• Don't forget about insurance! You'll be required to upload a current certificate of insurance (COI) that meets the SXSW minimum requirements. Many exhibitors can easily obtain this from their own agency, but if not, SXSW can connect you to a preferred vendor that offers temporary event insurance (typically around $100).
• Exhibitors are required to staff their booths during operating hours of the show. Booths left unattended or vacated early will receive a violation and potential fine, so plan ahead and staff accordingly.
Refer to your Exhibitor Portal for more details, or if you have any additional questions, please contact exhibitions@sxsw.com.
Photo by Alexa Gonzalez Wagner