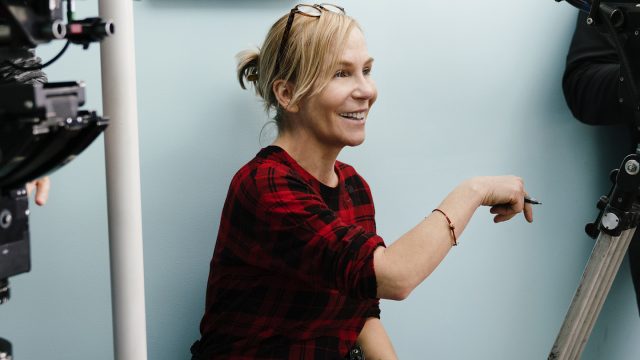 SXSWorld® magazine sat down with Marti Noxon for a riveting Q&A where she revealed her inspirations in film as well as her creative process. Noxon is a 2019 SXSW Film Keynote.
Read on for an excerpt from the interview, Marti Noxon Has Been Taking Hollywood By Storm (For a While).
"The writing draws from a very internal and personal world; sometimes I really need to be alone to work out the kinks in something I'm developing." – Marti Noxon
Alicia "Plum" Kettle. Rachel Goldberg. Camille Preaker … These are some of the women whose stories Marti Noxon wanted to share with the world, so she brought them to life in Dietland, UnREAL, and Sharp Objects. By showing their flaws, their vulnerabilities, their anger and their determination, Noxon has jumped head first into their inner thoughts to have women's collective voices heard through her sharply penned characters.
Noxon is one of the most prolific writer-producers in television today. Over the course of her impressive 20 year career, Noxon has worked on some of the most beloved and critically acclaimed series of the past two decades, including Buffy the Vampire Slayer, Mad Men, Grey's Anatomy, Brothers & Sisters, and Glee. And, as if that wasn't already an impressive resume, her most recent credits as a creator include HBO's high-profile hit Sharp Objects, AMC's critically acclaimed Dietland, Bravo's Girlfriends' Guide to Divorce, and the Peabody Award winning UnREAL for Lifetime.
In 2017, she made her directorial debut with the powerful and deeply personal To The Bone, for which she also wrote the screenplay. Loosely based on her own experiences with eating disorders, the film premiered in competition at the 2017 Sundance Film Festival and is currently available on Netflix.
Click below to continue reading the full interview by Neha Aziz.
Explore SXSWorld Magazine
Check out the SXSWorld® magazine is your portal to an in-depth look and extended coverage of the SXSW Conference & Festivals. Exclusive articles are published online throughout the year, with three print issues made available to SXSW registrants. The February issue is printed and mailed out to registrants alongside the digital publication. Two issues of SXSWorld are printed and distributed on-site during the March event and reach professionals working in all aspects of the creative industries while they are attending SXSW.
Marti Noxon – Photo by Patrick Harbron, AMC