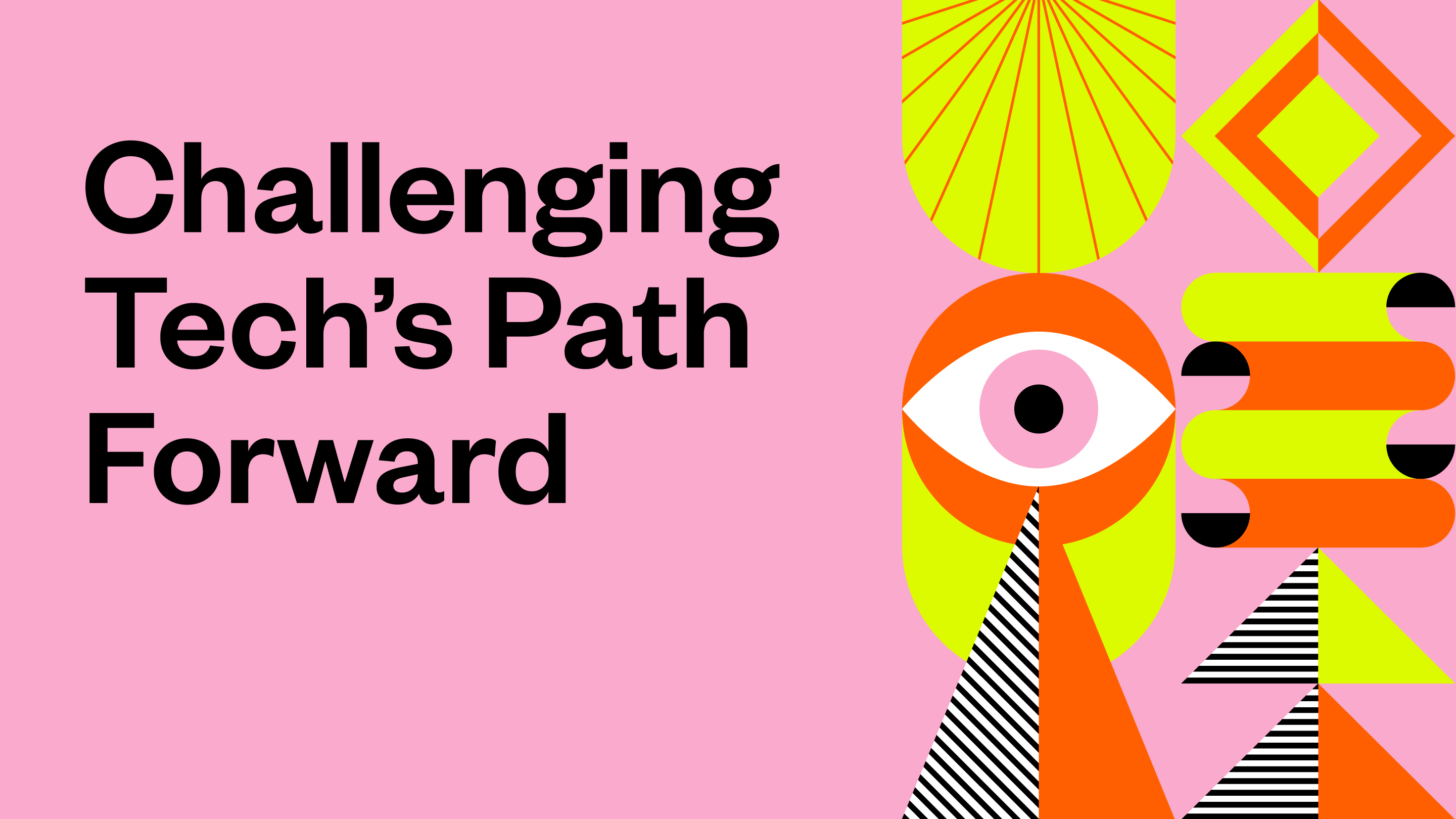 2021 SXSW Online ushers in a new digital experience for everyone part of the SXSW community. From March 16-20, our Conference programming covers over 230 sessions that will explore music, film, tech, and much more.
Community-sourced sessions span across seven programming themes for the 2021 event. The Challenging Tech's Path Forward theme explores ways to leverage the tech industry to be forces of positive change.
If we are to achieve real change as a society, then the many ways in which the tech industry impacts our lives must be leveraged as a positive force. To build a better tomorrow, what lessons can an industry integral to our existence learn from its current failings?
Browse Challenging Tech's Path Forward highlights below and click through to explore the complete list of 2021 SXSW curated sessions.
With more than 2 billion users, it became increasingly clear to Facebook that it shouldn't be making so many decisions about speech and online safety on its own. The Oversight Board was created to help Facebook answer some of the most difficult questions around content moderation. Given the binding authority to review Facebook's content decisions, the Board needed to set up an institution to support people's right to free expression and ensure human rights are being adequately respected. The Board will have heard several cases by March 2021 and the panelists will discuss the challenges and opportunities posed when creating an institution to address some of the toughest issues to upholding human rights online. Join us to learn more about the Board's progress and what's next.
Panelists for this session include Head of Communication, Oversight Board, Dex Hunter-Torricke; Co-Editor-in-Chief, Just Security, Tess Bridgeman; Professor, Rio de Janeiro State University's Law School, Ronaldo Lemos; and Executive Director of Internet Sans Frontières, Julie Owono.
Venture capital has a bias problem. Only 3% of venture capital goes to companies with a woman CEO and less than 1% goes to BIPOC founders. The speakers on this panel will describe why, and what they are each individually doing about it. One of the speakers co-authored a recent Harvard Business Review paper, on how pitching is biased against women. Another drafted an Aspen Institute study highlighting the business case for diversity. A third works with VCs globally to encourage funding diverse founders. Examples will be given of VC funds who evaluate companies based on performance, not pitches, and end up funding 10x more women than the industry average - while potentially making more money.
Join Managing Partner, Loyal VC, Kamal Hassan; Founder and Managing Partner, Beyond the Billion, Shelly Porges; and Founder, Diverscity Ventures, Mariah Lichtenstern.
Consumers expect smart technology within every device - whether it's a toaster or coffee machine. Yet wheelchairs continue to see zero innovation or adoption of new technology. And it's not just the technology industry that has left wheelchair users behind, fashion and consumer products are also learning how to best include people with disabilities (PWD). In this panel moderated by Barry Dean, LUCI founder and Grammy-nominated songwriter, hear from voices across accessibility, fashion, and technology about the need for innovating for PWD. The panel will highlight how these individuals are creating a refreshing approach to photoshoot styling and inclusion, changing the technology landscape for PWD, and working to make sure those with disabilities are recognized as consumers.
Speakers for this session include Barry Dean, CEO, LUCI; Stephanie Thomas, Founder, Cur8able; Brook McCall, Director, Tech Access Initiative, United Spinal Association; and Jered Dean, CTO, LUCI.
What would your life be like without Google or Facebook? The Great Firewall has forced China's tech ecosystem to evolve without the influence of tech giants we interact with daily. Conglomerates like Tencent & Alibaba have chosen successful global services and retrofitted them to the Chinese audience. What began as copy-cats have morphed into huge "super apps" that function like operating systems. Call a car, order food, do your laundry, and more - all in one app. In this presentation, we'll explore how Chinese culture and government influence have affected UX and design trends within China. See how apps break western design conventions, learn how these apps have influenced China's COVID-19 response, and get a glimpse of e-commerce and entertainment within this parallel tech universe.
Be a part of this conversation featuring Jessica Shen, Experience Design Director, RGA.
Check out the seven conference themes and browse all Challenging Tech's Path Forward sessions.
Join Us for SXSW Online 2021
Register for SXSW Online, a digital experience from March 16-20, 2021. As part of our 2021 offerings, SXSW Online will feature conference keynotes and sessions, film screenings, music showcases, networking, and exhibitions.
Follow us on Twitter, Instagram, LinkedIn, and Facebook for the latest SX news.