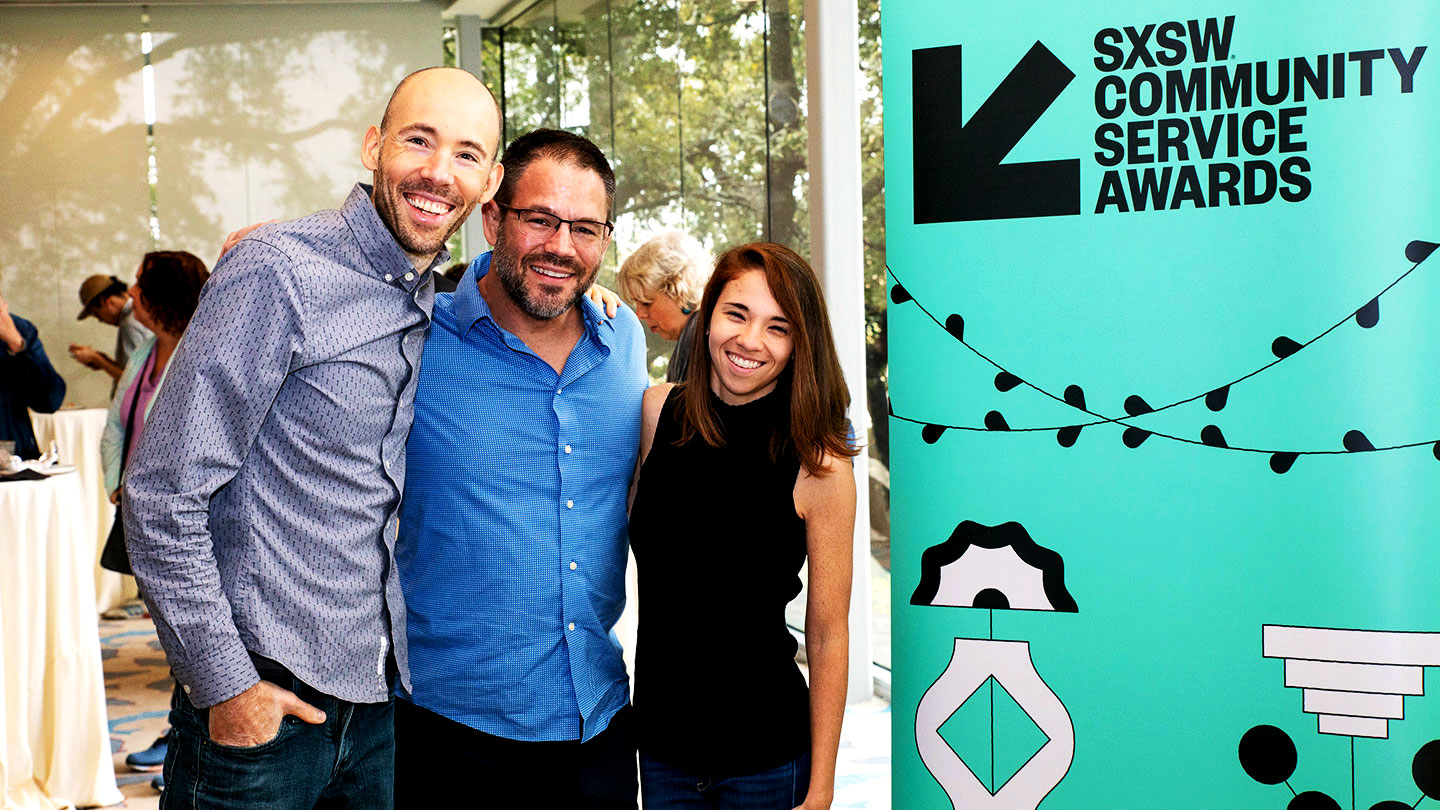 Now in its 23rd year, the 2022 SXSW Community Service Awards are proud to announce and celebrate the 2022 honorees. Throughout these past two decades, SXSW continues to focus on those at the grassroots level who work tirelessly to improve their local communities.
Six organizations have been selected for their commitment to everlasting change in their communities and these awards will present each honoree with a grant, complimentary entry to SXSW, and proper recognition for their exemplary service.
The 2022 SXSW Community Service Award Ceremony presented by Kendra Scott on Friday, March 11 at 4pm in The Hilton (Salon C) will honor these incredible organizations. Learn more about this year's honorees below and explore more about all SXSW awards.
2022 SXSW Community Service Awards Honorees
500 Women Scientists
500 Women Scientists is a grassroots organization started by four women who met in graduate school at CU Boulder and who maintained friendships and collaborations after jobs and life took them away from Boulder. Immediately following the November 2016 election, we published an open letter re-affirming our commitment to speak up for science and for marginalized communities in science. More than 20,000 women of STEM and supporters from more than 100 countries have signed in support of 500 Women Scientists, pledging to build an inclusive scientific community dedicated to training a more diverse group of future leaders in science and to use the language of science to bridge divides and enhance global diplomacy.
Beats Not Bullets
MC Bravado is an emcee/educator from Baltimore by way of New York. He's received noteworthy press across mediums, including but not limited to HipHopDX, FOX, CBS, ABC, SiriusXM Shade45, Billboard, Okayplayer, DJBooth, The Baltimore Sun, Baltimore Magazine, Earmilk, HotNewHipHop, The Source, and REVOLT TV. No stranger to performing on major stages (Vans Warped Tour, A3C, SXSW), MC B is showing and proving his way to rarefied air. That being said, the former Baltimore city high school English teacher still keeps a leg in the classroom as an instructor, program coordinator, and board member for extracurricular music programs like "Beats Not Bullets". He also empowers and educates other creatives as a publicist and social media consultant and is co-owner of Label Necklace, an independent record label in Baltimore.
Chemotherapy Coldcappers
Rebecca Munoz is a young adult breast cancer survivor and founder of Chemotherapy Cold Cappers, the first global peer-to-peer network to support individuals and their loved ones utilizing scalp cooling methods while undergoing chemotherapy. Rebecca, a recognized Patient Leader by WEGO Health, is passionate about serving the cancer community and her work focuses on patient research and advocacy. Rebecca holds a Master of Public Health from Baylor University and a BA in Organizational & Corporate Communication from the University of Texas at El Paso. In 2021, she participated in the Laxito Latino Cancer Research Leadership Training by the Institute for Health Promotion Research at UT Health San Antonio. She also serves on the Livestrong Cancer Institutes' Young Adult and Community Cancer Advisory Boards.
ConnectHer
Armed with the mission to authentically represent the voices and stories of women and girls around the world, ConnectHER launched an annual film festival in 2012 with the help of Harvard students Kerry Hammond, Ara Parikh and Kara Kubarych. Through the ConnectHER Film Festival, high school and college students submit original short films focused on critical women's issues such as girls' education, ending violence against women, poverty & economic independence, and authentic beauty/body image. We're thrilled with how the film festival is turning students into filmmakers—and filmmakers into activists.
The Dad Gang
The Dad Gang, founded by Sean Williams in November 2016, started as an instagram page focused exclusively on reflecting positive images of active black dads,shattering the negative stereotypes that has marred the image of black fathers for years. It has since grown into a conscious social community of dads on a mission to change the way the world views black fatherhood by hosting fun, socially impactful events centered around celebrating active dads and their children. These heavily attended events serve 2 main purposes: 1. To provide a safe space for young and old dads of color to bond with their children and each other. Creating a sense of brotherhood amongst fathers. 2. Provide The Dad Gang's creative team with original, genuine content that candidly captures the true essence of black fatherhood, which we then share with the world. They have been featured on many media outlets including the Today Show and Oprah.
Mobile Loaves & Fishes
Alan is the founder and CEO of Mobile Loaves & Fishes. MLF is a social outreach ministry committed to providing permanent, sustainable solutions for the chronically homeless while surrounding them with compassion, love and dignity. Those who know Alan best know that he is a man on a mission to relieve the struggles homeless individuals face in obtaining their basic needs of food, community and a place to call home. Since its founding in 1998, Mobile Loaves & Fishes volunteers have served more than 5 million meals with a side of hope to homeless men and women living on the streets of Austin. The organization has also spawned similar food truck ministries in other cities across the U.S. With the support of more than 19,000 volunteers, Mobile Loaves & Fishes is the largest prepared feeding program to the homeless and working poor in Austin, Texas. Graham is also the visionary behind MLF's Community First! Village is a 27-acre development that provides housing for the homeless.
Congrats to all of the honorees!
Join Us
Register for SXSW 2022 to access all of this year's exciting programming and networking opportunities across our Conference & Festivals from March 11-20 in Austin, TX and online.
To stay up to date with all things SXSW, follow us on Twitter, Instagram, LinkedIn, and Facebook.
Preview Image: SXSW Community Service Awards – 2019 – Photo by Errich Petersen