2023 SXSW Community Service Awards Honorees Announced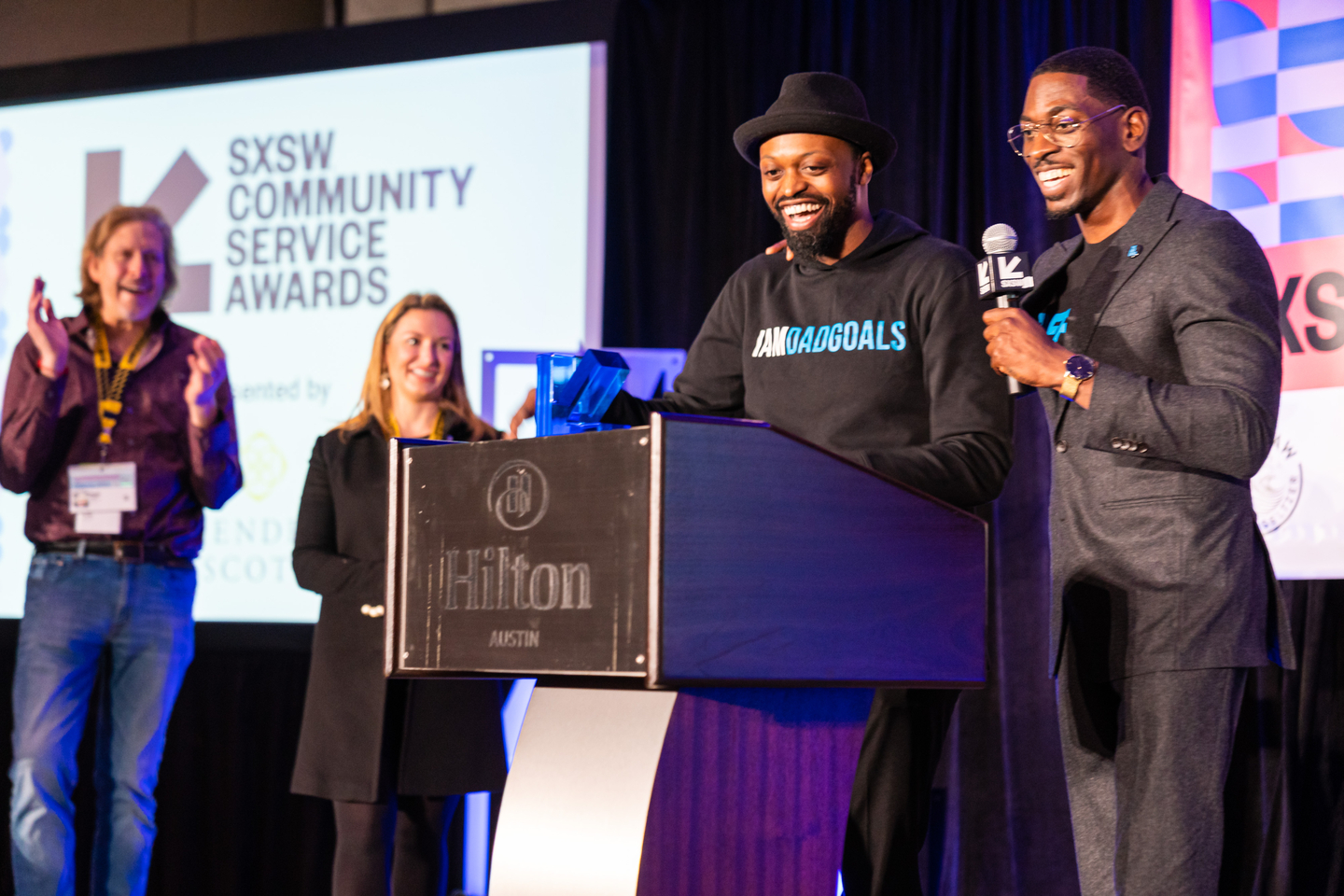 Community provides the foundation of so much of what we do at SXSW. From its launch in 1987, this event has reflected the creative community of musicians, artists, filmmakers, entrepreneurs, visionaries, innovators and thought-leaders who have traditionally flocked to and found a welcoming landing spot in Central Texas. As SXSW has grown over the last three decades, the incredible creative community that powers this event has expanded far beyond Austin and now extends to all corners of the globe.
The SXSW Community Service Awards are such a special part of March Magic because they speak to this ongoing focus on grass-roots solutions to some of the most pressing problems around us. Founded in 2000, this program initially honored the memory of SXSW Multimedia co-founder Dewey Winbune, who believed that technology could (and should) help level the playing field between society's haves and the have nots. A passionate teacher as well as a tireless entrepreneur, Dewey acted on this belief by tutoring at-risk teenagers in Austin with basic programming skills.
For 2023, the Community Service Awards honors five amazing leaders who represent the four main pillars of SXSW (Education, Film, Music, and Technology) – plus one additional award designated for an Austin-based organization. All five of these honorees have developed unique and forward-thinking solutions to address the challenges of the specific community they serve. Meet them and hear their incredible stories at the SXSW Innovation Awards Ceremony on the evening of Monday, March 13.
2023 Honorees
Alvin Irby | Barbershop Books | New York City, NY
Alvin Irby is an educator, author, comedian, and the founder of Barbershop Books, a nonprofit organization that creates child-friendly reading spaces in barbershops and provides early literacy training to barbers. Alvin hosts cultural competency workshops as well as Diversity & Inclusion training for school districts, library systems, and education organizations. His programs help educators better understand and address the systemic and personal challenges that inhibit children's motivation to read and learn. Alvin holds a Master's in Childhood Education from the Bank Street Graduate School of Education, a Master's in Public Administration from the Wagner School of Public Service at New York University, and a Bachelor's in Sociology from Grinnell College.
Joe Paul | Byte Back | Washington, D.C.
Joe Paul is the Chief Executive Officer of Byte Back, a tech nonprofit committed to closing the digital divide by providing under-resourced communities an equitable pathway into the digital economy. Prior to joining Byte Back, he served as the 29th Executive Director and Chief Operating Officer of Alpha Phi Alpha Fraternity, Inc. Before that, Joe founded Campus 2 Careers Strategies; a training organization dedicated to equipping individuals with essential skills to successfully navigate both personal and professional relationships. Joe is the immediate past Chief Operating Officer for The Stafford Foundation, a charitable organization committed to doing good around the world. He is the author of Morning Cup of Joe, Love Yourself, 100 Ways to Change the World, One Good Deed at a Time, and a devoted philanthropist. Prior to starting his own business, Joe worked with Management Leadership for Tomorrow where his strategies and tactics led to a 300% increase in overall outcomes - attracting and connecting high achieving, high potential underrepresented minorities to the nation's top business schools and meaningful career opportunities at Fortune 100 companies. Before joining MLT, Joe served as the Human Resources Officer for the District of Columbia government.
Meme Styles | Measure | Austin, TX
Meme Styles is the President and founder of an award-winning social justice nonprofit and has 15 years of experience working in organizational leadership, research, social science and community organizing. Meme is responsible for numerous social justice-focused programs and projects in Texas and California and is a powerful force in the ecosystem of diversity, equity and inclusion research as she uses her lived-experience and tireless energy to encourage others to be anti-racist. She is currently a Social Science Research Council, Just Tech Fellow solving for anti-racist technology. Mrs. Styles holds a Bachelor's of Science in Communications, Masters Of Public Administration with a concentration on National Security, a Certificate in Diversity, Equity and Inclusion from Cornell, certified in Performance Measurement through George Washington University College of Professional Studies and is currently a Doctoral candidate at Liberty university. She is also the wife of a US Veteran and the mother of four.
Sabaah Folayan | Firelight Media | Philadelphia, PA
Through screenwriting, filmmaking, and public speaking, Sabaah Folayan levels an optimistic yet unflinching gaze on the urgent questions of our time. Sabaah made her directorial debut at the 2017 Sundance Film Festival, with the feature length documentary Whose Streets?. Nominated for Peabody, Critic's Choice, Gotham and NAACP Awards, the film chronicles the experiences of activists living in Ferguson, Missouri when Michael Brown Jr. was killed. Whose Streets? was distributed theatrically by Magnolia Pictures, broadcast for Television by POV and is now streaming on Netflix. In 2021, Sabaah wrote the series finale of HBO's Betty, a critically acclaimed comedy series about a crew of young female skateboarders in New York City. Her second feature documentary LOOK AT ME: XXXTENTACION premiered at South by Southwest 2022 and is now streaming on Hulu. Sabaah was born in Los Angeles, raised in Hawaii and educated in New York City. She graduated from Columbia University as a pre-medical student. The desire to work at a larger scale evolved into a unique storytelling practice that is informed by principles of behavioral science and social justice. Sabaah specializes in blending care, nuance, and depth with entertainment and popular culture. She is currently the interim director of Firelight Media's Documentary Lab.
Yvette Griffith | Jazz re:freshed | London, England
Since joining the team 10 years ago, Yvette Griffith has solidified the foundations of Jazz re:freshed including securing long-term funding which enabled the team to expand their artist services and launch the game changing international initiative, JAZZ RE:FRESHED OUTERNATIONAL placing a global spotlight onto the young and culturally diverse and female talent bubbling away in the UK Jazz scene. Co-founder of GiveBLACK UK and Black Funding Network, Yvette is also focusing on galvanizing philanthropic giving for UK based Black not for profit organizations. For her work in contributing to changing the trajectory and profile of British Jazz, Yvette was awarded the H100 Award for Services to Music in 2019. 2023 marks 20 years of Jazz re:freshed and this not for profit continues to be a small but relentlessly determined organization. The core of their mission is globally elevating, amplifying and spotlighting the breadth of expression in UK Jazz, while breaking down the barriers for culturally diverse artists and audiences to access the music.
Join Us for SXSW 2023
Don't miss your last chance to save off the walk-up rate when you register by March 4 at 11:59pm PT for SXSW 2023! Get ready to celebrate the convergence of the tech, film, television, and music industries across a variety of programming formats and special events from March 10-19 in Austin, TX.
Keep up with us on Twitter, LinkedIn, Instagram, Facebook, and TikTok.
2023 Community Service Awards – Photo by John Feinberg