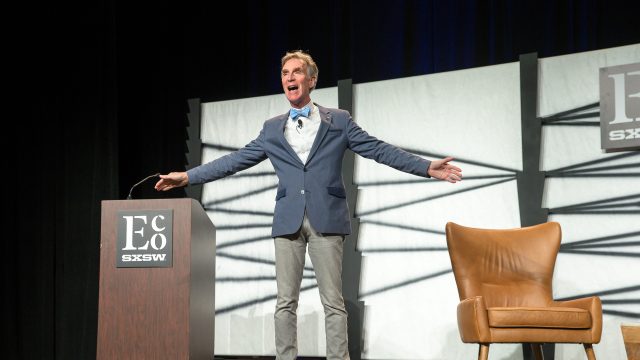 We need to talk about climate change. From renewable energy and fossil fuel alternatives to sustainable practices and plant-based foods there are many components to consider as weather patterns continue to shift and affect our planet.
Programming in the Climate Change track from March 10-13 covers the consequences of soaring temperatures and rising oceans, while also showcasing the most promising efforts on mitigating the effects of global warming.
The climate discussion extends across multiple tracks of SXSW Conference programming. Find out what this year's speakers have to say on the topic and join them at SXSW 2023 to discuss future-focused solutions for this growing global crisis.
Aimy Steadman - Brands Shaking Up Alcohol's Carbon Footprint
"What gives me hope are grassroots organizations coming together to have a large impact. Naturally Network is a group of consumer product businesses that are pushing each other to reduce carbon, invest in regenerative agriculture, and attain sustainability certifications. We don't have to wait for policymakers to take action as business leaders. We have the power to make a change now."
Chip Conley - Get Ready for a 100 Year Life
"If there was ever a societal problem that required a new generational compact, this is it. I'm encouraged by Bill McKibbin's Third Act initiative which is bringing seven generations to the table to tackle this existential problem."
David Dylan Thomas - Inclusive Design: A Bias-Informed Practice
"Almost every day I hear about new technologies and approaches that show promise or are actually delivering results. Did you know that almost 50% of Kenya's electricity comes from geothermal? What's missing is coordination and investment from nations and large corporations who stand to lose in the short term by doubling down on these approaches. It's not just new stuff that works. Indigenous solutions that were crushed during colonialism but show a resurgence now are also far more eco-friendly and sustainable."
Katica Roy - Why Post-Roe Gender Equity Starts in the Workplace
"Here's an untapped, overlooked, and extremely promising tool in our fight against climate change: gender equity. Women disproportionately suffer from climate change yet they are wildly underrepresented in climate discussions. Failure to include women in climate planning (literally) endangers the entire world because data proves that women's unique perspectives increase the efficacy and sustainability of climate solutions."
Steve Rosenbaum - What The Fuck Happened? The Great Media Reboot
"I remember being in a conference room in NYC as Al Gore presented Davis Guggenheim's powerful film An Inconvenient Truth. I thought: well, this is it, now people won't be able to ignore the facts, they are just so incontrovertible. That was 17 years ago. Today, slowly, media is beginning to talk about climate without falling into the broken 'both sides' format that has hampered public understanding and acceptance of the reality of what we're facing. So my optimism comes from growing media coverage, the engagement in green energy for vehicles, and power grid evolution."
Tara Rule - Chronically Corrupt: The Dark Undercurrent of Post-Roe Healthcare
"Some of the biggest contributors to the climate crisis are corporations, not individuals. The oil industry, factory farms, and other major contributors have known the impact they have on the planet yet they have continued business as usual. Unfortunately under capitalism, as it stands I think we are looking at a future where the planet becomes uninhabitable before these corporations will make adjustments. I hope I'm wrong, but I think capitalism will outlive us all."
Vickie Nauman - Music Licensing Beyond Web2
"Climate change is real. Let me say it again, climate change is real. And ALL OF THE SCIENCE is telling us that it is being exacerbated by humans and our industries. I think that we all must have an open mind, and a willingness to change our behaviors. However, we also need to have legislative support around the world on policy around agriculture, transportation, manufacturing, and general emissions such that we are all working towards a common cause."
Register for SXSW 2023
Check out Our Planets Future and What To Do About It for recommended sessions to get your SX climate change journey started. Other featured sessions addressing this issue range from 2050, Design, and Energy to Food, Tech Industry, and Transportation.
Taking part in SXSW sessions is a great way to network with industry experts, discover new ideas and trends, and get ahead of the curve. Don't wait — register now!
Keep up with the latest from SX – follow us on Facebook, Twitter, Instagram, TikTok, and SXSW News.