Focusing on How Tech Can Make Social Change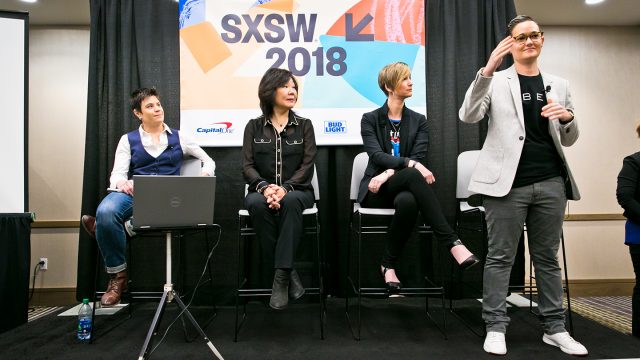 Advancements in technology have allowed us to reach farther and do more to not just do social good, but also to harm one another. In the Social & Global Impact Track, we're highlighting the ways that organizations are updating their processes in order to make the world better for everyone in it.
Join us in The Line, Onyx Ballroom 1 at 5:00pm-6:00pm for our new session format, Focus15s. These speakers will share a one-hour time slot and will speak on a similar theme or topic.
Tech in Social Change
A Mile Deep + 1" Wide: The Rise of Vertical Media
Publishers today are struggling to diversify revenue streams and consistent sources of audience amid sobering valuations. As the Internet becomes increasingly long-tail and scale becomes a commodity, vertical media brands delivering passionate audiences are having a moment. In this session, Co-Founder & CEO of Fatherly, Mike Rothman, will shed light on how Fatherly, the digital media brand for dads, redefines success in a tumultuous media landscape. As other publishers struggle with crises of identity, Fatherly zeroed in on a clearly defined and underserved audience of men who are spending more than ever on their responsibilities as parents. Mike will discuss the wisdom of drilling deep into a category and share best practices for how content creators can build true community with their readers.
Deepfakes: What Should We Fear, What Can We Do
Deepfakes! As more sophisticated, more personalized, more convincing audio and video manipulation emerges how do we get beyond apocalyptic discussion around malicious deepfakes and other AI-manipulated synthetic media? Join Sam Gregory, Program Director of WITNESS, as he focuses on WITNESS' collaborations with technologists, journalists, and human rights activists (wit.to/Deepfakes) we'll explore state-of-the-art usages and potential solutions (wit.to/DeepfakesSolutions) and how we fight the dark side of a faked video and audio future.
Divorce à la Facebook: Kids Trapped in the Middle
Ginger Gentile, Managing Partner of Erasing Family Films, LLC, investigates stories of families affected by divorce in her feature documentary, Erasing Family. She discovers a whole world of parents and children who went through the divorce courts and are hurt by this system. They take to social media instead, vent frustrations and seek justice. Children of divorce are using social media to reach judges and asking why they can't see their mom or dad. Abusive text messages from hitter exes go viral. Such posts have power in court proceedings and even create virtual mobs. On the other end, some use social media to search for and reunite with families estranged after divorce. This talk features real posts & tweets to illustrate how divorce impacts us all, and how we can make separations within families a healthier experience.
Treating Abused and Exploited Children: What Now?
Suzan Henderson, Director of Development & Marketing for the International Centre for Missing and Exploited Children, will speak on how her organization's Global Health Coalition (GHC) brings together healthcare leaders to address the impact of sexual abuse and exploitation on a child's physical and mental health. Currently the GHC advocates for international medical codes specific to sexual exploitation and developing training programs for healthcare providers and child-serving professionals. The goal to increase the number of adults who understand this issue are competent to intervene.
Explore other Focus15s across the other 25 tracks of programming and we'll see you in March!
Attend SXSW 2019
Get your SXSW Badge and reserve your hotel today to attend SXSW 2019 and experience these Conference sessions along with 10 days of screenings, showcases, exhibitions, networking, and more this March 8-17 in Austin, TX.
Follow us on Facebook, Twitter, Instagram, and SXSW News to stay current with all things SXSW.
Featured Image by Travis Lilley