Session Formats Guide for SXSW 2019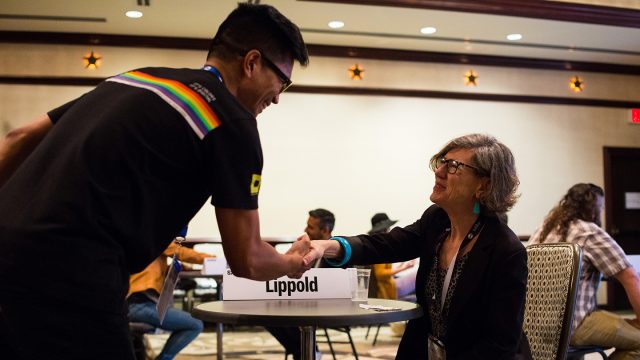 Navigating the SXSW Conference can seem daunting due to the extensive amount of programming held over nine days. No one knows that better than those of us here at SXSW, so we created this guide to help!
We're breaking down every Session Format that we offer during the Conference to help you navigate the SXSW Schedule so that come March, you can navigate the events downtown like a pro.
Use this guide as well as the Interactive Checklist to make sure you're ready for SXSW!
SXSW 2019 Session Formats
Book Readings and Signings
Hour-long Book Readings give the author of new book a chance to explore the themes or motifs present in their work. These sessions provide a great platform for everyone from veteran to first-time authors to present their latest work to a diverse audience and reach potential new readers. SXSW Book Reading sessions are followed by a Book Signing at the SXSW Bookstore.
Held at the SXSW Bookstore, Book Signings provide attendees an opportunity to meet their favorite authors, purchase their latest work, and return home with a signed copy.
Focus15s
Focus15s are solo presentations that feature a group of four presentations taking place in a one-hour time block covering a specific theme, topic, or trend. Imagine all the wisdom and experience of the SXSW community packaged together in successive, digestible presentations.
Keynotes and Featured Speakers
Keynotes are the center of the SXSW Conference and present some of the creative and tech industries' most inspired thinkers from Interactive, Film, and Music. These diverse visionaries cover a wide range of compelling topics and embody the spirit, ingenuity, and entrepreneurial drive that SXSW cultivates.
Confirmed 2019 Keynotes include Jessica Brillhart (Film), Bozoma Saint John (Convergence), Joseph Lubin (Interactive), Shirley Manson and Lauren Mayberry (Music), Marti Noxon (Film), Mike Krieger and Kevin Systrom (Interactive), and Olivia Wilde (Film).
Spanning all 25 Conference tracks, SXSW Featured Speakers brings together some of the biggest and brightest names across various industries. Featured Speakers give mind-expanding presentations that touch on some of the most transformative ideas of today that are shaping our future.
Meet Ups
Meet Ups present a fundamental and relaxed way to make connections within the SXSW community while mixing and mingling. Thousands of registrants from across the globe come to SXSW looking for new ideas, new collaborators, and an opportunity to create essential connections – Meet Ups facilitate the forging of these connections!
Mentor Sessions and Rounds Tables
These one-on-one coaching sessions provide the chance for registrants to schedule face time with professionals from all aspects of the music, film, and interactive industries. Registrants will be provided the opportunity to sign up for one of five one-on-one meetings, lasting 15 minutes each, within a 75 minute duration window. Advance sign-up is required, and access is limited to badge type.
Round Tables bring three industry experts from the Film and Music industries together with SXSW attendees for an informal and enlightening discussion on a specific topic. Industry insiders will spend 20 minutes at each table before switching. Advance sign-up is required and access is limited to badge type.
Sign-up information will be released for bother Mentor Session and Round Tables in February so stay tuned! Explore the first and second rounds of Film Mentors already announced for SXSW 2019 as well as the first and second round of Music Mentors. Stay tuned for more announcements coming soon.
Pitch Events
SXSW Pitch (formerly SXSW Accelerator), Place by Design, SXSW Release It, and other pitch events offer companies the chance to showcase their cutting-edge product or service to a panel of judges and the SXSW audience in a competitive format.
Podcast Stage
The SXSW Podcast Stage will feature podcasts covering all aspects of life including music, film, technology, comedy, politics, and more on an intimate stage that will be recorded in front of a live audience from Friday, March 8 - Thursday, March 14. Stay tuned for the podcast programming coming soon.
Solo / Dual / Panels
The vast majority of our Solo, Dual, and Panel programming is sourced through PanelPicker®.
Solo and Dual presentations offer a more in-depth look into specific topics. Panels typically have one moderator and up to three additional industry experts who represent different perspectives and opinions in a related field – making for a spirited discussion. Each of these formats lasts one hour.
Browse Solo Sessions Browse Dual Sessions Browse Panels
Workshops
Workshops offer hands-on, in-depth, advanced level information that revolves around a specific topic or skill and enables SXSW registrants to gain more expertise in their particular area of interest. Workshops last anywhere from one to three hours, depending on the particular session. Advance sign-up is required and access is limited to badge type. Sign-up information will be released in February so stay tuned!
Attend SXSW 2019
So, are we going to see you in March?
Get your SXSW Badge and reserve your hotel today to attend SXSW 2019 and experience these Conference sessions along with 10 days of screenings, showcases, exhibitions, networking, and more this March 8-17 in Austin, TX.
Follow us on Facebook, Twitter, Instagram, and SXSW News to stay current with all things SXSW.
Featured Images by Kit McNeil