The Jazz of the Music Biz with Talib Kweli and More at the 2017 SXSW Conference [Video]
"I have to be me. It seems like it's taking a chance, but it's really being safe . . . It's really doing the most efficient thing to just be yourself. If I tried to play it safe, that would be taking a chance or taking a risk that's not worth taking." - Talib Kweli
The Jazz of the Music Biz session at the 2017 SXSW Conference provides a dialogue on how the ethos of jazz music has been preserved in the modern music industry. Jarret Myer, Cofounder of Uproxx and Rawkus Records, moderates the conversation between iconic hip-hop artist Talib Kweli, Grammy-nominated composer and trumpeter Christian Scott aTunde Adjuah, and Grammy-winning record producer Om'Mas Keith.
Moderator Jarret Myer cofounded Rawkus Records, Uproxx, and Big Frame. His relationship with Talib Kweli stems from their work together through Rawkus Records, the label that released his early albums. Kweli is also an activist for reforms to the U.S. Justice System. Christian Scott aTunde Adjuah is a celebrated and prolific jazz composer and trumpeter who began studying music at a young age in New Orleans and honed his art at the Berklee College of Music. As a record producer, Om'Mas Keith has worked with many influential musical artists including Kweli, Frank Ocean, Erykah Badu, and many more. Keith's was awarded a Grammy Award for Producing Frank Ocean's channel.ORANGE.
"We always learned that jazz was a synonym for blues . . . I don't mean blues as in melancholy 'woe is me' music. I mean blues like the human being's most sincere expression. Them excavating what is really going on within, and trying to project that as a means of communicating something and creating a relationship." - Christian Scott aTunde Adjuah
The conversation centers around how jazz has stayed relevant in the modern music industry. The Featured Speakers identify musical trends that are in dialogue with jazz styles, they discuss the musical ethos of some of the major players of the style, and they make a case for jazz becoming even more prevalent in future music industry trends.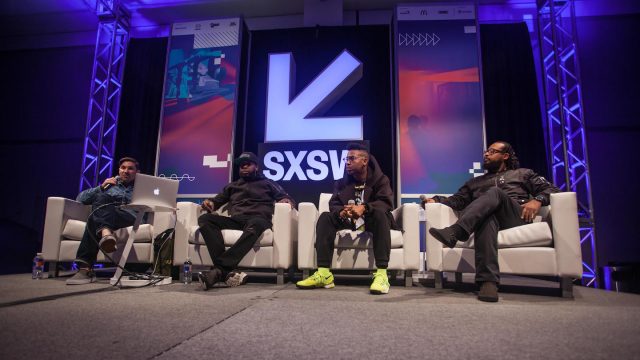 Watch the video above for the full 2017 SXSW Conference Session The Jazz of the Music Biz. Interested in being a Showcasing Artist at SXSW 2018? Read the 5 Reasons to Apply to Showcase at SXSW 2018.
Follow us on Facebook, Twitter, Instagram, and SXSW News for the latest SXSW 2018 coverage, announcements, application tips, and updates.
Jarret Myer, Talib Kweli, Christian Scott aTunde Adjuah, and Om'Mas Keith - Photo by Tim Strauss