SXSW Music Weekly Round-Up: The Lemon Twigs, Jamila Woods, Mannie Fresh Conversation, Austin Music Awards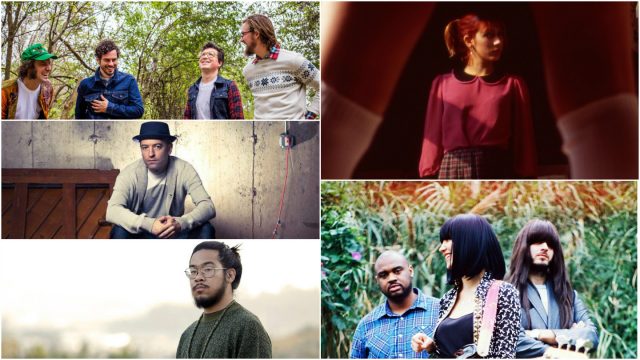 With only a few weeks left, SXSW is coming up fast! We want you to get the most out of your SXSW experience, so let's make sure you know who to look out for once March gets here.
This week we're happy to announce the addition of two new sessions for you to enjoy at SXSW! For all aspiring DJs out there, stop by our How to Remain Relevant as a DJ panel and hear from renowned speakers Mannie Fresh and Tony Neal. They'll tell you everything you need to know about keeping up in today's world of mixing. We're also introducing a panel of speakers, including Monterey International Pop Festival co-founder Lou Adler, to discuss the success of music festivals like Monterey Pop and Coachella.
On top of that, we're hosting our fourth annual SXSW Hackathon! Apply to participate and join the excitement, while receiving help from our Creatives In Residence, such as digital artist Andrew Jones and VR director and writer Josema Roig.
Onto this week's Showcasing Artist announcement! Highlights include the sick psychedelic sounds of Christian Bland & The Revelators, as well as New York's favorite indie rock brothers, The Lemon Twigs. If rock isn't your style, check out Khruangbin, FRENSHIP, Jamila Woods, and the full list of 150 new Showcasing Artists below.
Why read about the artists when you can listen to them? Be sure to find them on our Spotify playlist and our radio channel SXSWfm.
There are only a few weeks until the festival, so secure your place and register for a SXSW Music Badge. Not only will you gain access to legendary speakers and performers, but you'll also have the networking experience of a lifetime!
New 2017 Conference Additions (Music)
From Monterey Pop To Coachella: Conversation With Lou Adler and Paul Tollett
How to Remain Relevant as a DJ
New 2017 Showcasing Artist Additions
CC Adcock + The Lafayette Marquis (Lafayette LA)
Amplified Heat (Austin TX)
Sudan Archives (Los Angeles CA)
Birdlegg (Austin TX)
Christian Bland & The Revelators (Austin TX)
Born Cages (New York NY)
Boxinbox&Lionsize (Barcelona SPAIN)
Brookfield Duece (Oakland CA)
Jane Ellen Bryant (Austin TX)
Buckwheat Zydeco Tribute w/ Ils Sont Partis and Special Guest (Lafayette LA)
Wink Burcham (Broken arrow OK)
The Burning Peppermints (Birmingham AL)
CAPPA (Nashville TN)
Captain Jack Watson (Dallas TX)
Justin Caruso (Los Angeles CA)
Dave Cavalier (Los Angeles CA)
Cerise (Los Angeles CA)
Kasey Chambers (Copacabana AUSTRALIA)
Champagne SuperChillin (Nashville TN)
Miles Chancellor (Philadelphia PA)
Charlie Heat (Woodbury NJ)
Cheap Fur (Austin TX)
Chynna (Philadelphia PA)
Suzanne Ciani (San Francisco CA)
Colours (Sarasota FL)
Constant Gardner (London UK-ENGLAND)
Coyote Kisses (Lakeland FL)
Crazytown (Los Angeles CA)
Crystal Thomas (Shreveport LA)
Daddy Long Legs (New York NY)
Andrea Dawson (austin TX)
The Dead Deads (Nashville TN)
DJ Harrison (Richmond VA)
DJHerShe and the Circus (Boston MA)
DJ TradeMark (Austin TX)
Dretussin (Milpitas CA)
Eastside Kings (Austin TX)
Flint Eastwood (Detroit MI)
Ekali (Vancouver CANADA)
Anothney "A-Game" Elllis (St Louis MO)
EZA (Nashville TN)
Flying Turns (Austin TX)
FRENSHIP (Los Angeles CA)
Friendly Greg (Philadelphia PA)
Geotheory (New York NY)
Gods Way (El Paso TX)
Stefan Goldmann (Berlin GERMANY)
Max Gomez (Taos NM)
Shiela "Shiela" Gonzalez (Austin TX)
grav3y (Austin TX)
Xan Griffin (Apple Valley CA)
Tree "Tree G" Grundy (Austin TX)
James Hall (Brooklyn NY)
James Hersey (Vienna AUSTRIA)
Matt Hollywood & the Bad Feelings (Los Angeles CA)
Kwaidan re-scored by Troller, Michael C. Sharp, Antoni Maiovvi & Timothy Fife, Missions (Austin TX)
Hot Sugar (New York City NY)
Illenium (Denver CO)
Alex Izenberg (Los Angeles CA)
Jack and the Ripper (Mexico City MEXICO)
Noa James aka Young Orca (Fontana CA)
Jarrell (San Antonio TX)
Kami (Chicago IL)
Khruangbin (Houston TX)
Shunetra "BillieB" Kincheon (Austin TX)
King Rocker All Star Band (San Francisco CA)
Dante Klein (Amsterdam NETHERLANDS)
Kolars (Los Angeles CA)
The Kraken Quartet (Austin TX)
Lachane (Austin TX)
Lady Lotion (Dallas TX)
Langhorne Slim (Nashville TN)
Austin Lanier (Newport News VA)
The Lemon Twigs (Hicksville NY)
Loki (Austin TX)
Los Chinchillos del Caribe (San Juan PUERTO RICO)
Dustin Lovelis (Long Beach CA)
Luca Lush (New York City NY)
Manila Killa (Washington DC)
Marcus Strickland's 'Twi-Life' (Brooklyn NY)
EJ Mathews (Dallas TX)
MC Frontalot (Brooklyn NY)
Cookie McGee (Dallas TX)
Shannon McNally (Oxford MS)
Mallory Merk (Shreveport LA)
Ela Minus (Bogotá COLOMBIA)
Mndsgn (Los Angeles CA)
MOBIVSTRIP (Lima PERU)
Mondo Cozmo (Los Angeles CA)
Diego Money (Dallas TX)
NATE & the NIGHTMARES (Athens GA)
Night Drive (Austin TX)
Max October (Providence RI)
Conny Opper & Lizzie Paige (Berlin GERMANY)
Matthew "Orion the Third" O'Ryan Clark III (College Station TX)
Anthony Parasole (Brooklyn NY)
Peanut Butter Wolf (Los Angeles CA)
Jeff Plankenhorn (Austin TX)
POOOW! (Lima PERU)
Post Animal (Chicago IL)
Quinn XCII (Grosse Pointe MI)
Lou Rebecca (Paris FRANCE)
Orpheu The Wizard (Amsterdam NETHERLANDS)
Karriem Riggins (Los Angeles CA)
Rik & the Pigs (Olympia WA)
Ringo Deathstarr (Austin TX)
Elliot Root (Nashville TN)
Royal Teeth (New Orleans LA)
RSK TKRS (Brooklyn NY)
RVRB (Dallas TX)
Said The Sky (Denver CO)
Santa Muerte (Houston TX)
Nitty Scott (New York NY)
Screamin' J (Austin TX)
Kodie Shane (Atlanta GA)
Single Lash (Austin TX)
Skullcaster (Bertram TX)
Slim Gravy (Dallas TX)
Smoke Season (Los Angeles CA)
Solo Woods (Chicago IL)
Star Parks (Austin TX)
Juanita Stein (Sydney AUSTRALIA)
Andrew St. James (San Francisco CA)
Sunny Sweeney (Longview TX)
Sur Ellz (Denver CO)
Sweater Beats (Los Angeles CA)
Tarro (Los Angeles CA)
Tdot Illdude (Willingboro NJ)
Casper Tielrooij (Amsterdam NETHERLANDS)
The Tontons (Houston TX)
TRISHES (San Diego CA)
Two Feet (Harlem NY)
Unkle Funkle (Los Angeles CA)
Vaya Futuro (Tijuana MEXICO)
VedeTT (Angers FRANCE)
Jackie Venson (Austin TX)
Redd Volkaert (Austin TX)
Colter Wall (Swift Current CANADA)
Lindsey "Junior" West (Austin TX)
White Denim (Austin TX)
Wildflowers (Denver CO)
Moses "WrebleMuzik" Williams (Austin TX)
Jamila Woods (Chicago IL)
Tim Woods (Houston TX)
ye. (Syracuse NY)
Yokozuna (Mexico City MEXICO)
Mike Zombie (Willingboro NJ)

Everything subject to change
Photo credits, clockwise from top left:
White Denim photo by Drew Anthony Smith
Lou Rebecca photo by Daniel E. Patrick
Khruangbin photo courtesy of the artist
MNDSGN photo courtesy of the artist
Peanut Butter Wolf photo courtesy of the artist