Meet Music Industry Professionals at SXSW: Music Mentor Sessions Announced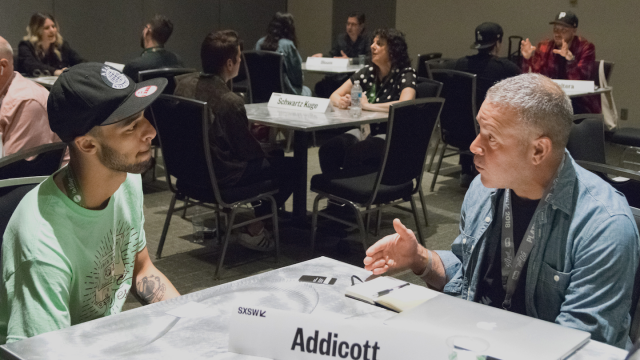 The SXSW Conference is happy to announce 50+ Music Mentors for 2019. Mentor Sessions offer participants a chance to get advice specific to their projects from revered professionals in their field.
Mentor sessions center around one-on-one meetings with music industry professionals ranging from experts in artist management, music production and brand partnerships to synch licensing, touring and booking, and more. Attendees can gain valuable industry insights, career advice or feedback on specific projects from these high-level mentors.
Stay tuned for Mentor Sessions RSVP system coming later this season. RSVP is required and access is limited to badge type.
Check out the initial list of participants below.
2019 Music Tracks Mentors
Alex Bruford (ATC Live)
Alicia Yaffe (Spellbound Group)
Andrea Minze (Universal Music Publishing)
Ben Kramer (YouTube)
Ben Morris (Domino Records)
Brian Bauer (Bauer Entertainment Marketing)
Brontë Jane (Third Side Music)
Cherie Hu (Forbes/Billboard)
Chris Rewak (YouTube)
Daniel Sena (Interscope Records)
David Price (Votiv)
Diana Rodriguez (Criteria Entertainment)
Dilini Weerasooriya (Merrill Lynch)
Elizabeth Cawein (Signal Flow PR)
Ellen Truley (ETC)
Eric Samuelson (Interscope)
Heather Trussell Butsch (Memory Lane Music Group)
Ian Imhof (Xavier Industries)
James Cheney (Spirit Music Group)
Jenni Sperandeo (Dangerbird Records)
Jesper Skibsby (WARM)
John Sepetys (North Star Media)
John Strohm (Rounder Records)
Jon Moshier (Doner)
Jordan Burger (Madison House)
Joseph Sivick (Missing Piece Group)
Julian Wettlin (Doner)
Kevin Douch (Big Scary Monsters)
Kristen Agee (411 Music Group)
Laura Jones (Little Underground Management)
Leigh Henrich (Sweets & Pop)
Liz Pfriem (Ghostly International)
Mark Needham (MAN Entertainment)
Melissa Woods (Thirdside Music)
Michael Addicott (Pandora)
Michael Heidemann (WGN Radio)
Peter Sotos (Epic Proportions Tour)
Rachel Stoewer (Cooking Vinyl)
Rahul Rumalla (Paperchain)
Rebecca Grierson (SixtyFour Music)
Rebecca Lee Rienks (NBCUniversal)
Roze Braunstein (Thirty Tigers)
Rupert Orton (Rockin' Good News)
Russell Nygaard (Defend Music)
Scott Pappas (Hollywood/Walt Disney Records)
Simon Pursehouse (Sentric Music)
Sonali Mehta (YouTube)
Stephanie Hudacek (Soundly Music)
Stuart Rau (Composer)
Tom Lee (Arcade Songs)
Tristan Carosino (Votiv)
Walter Tucker (Live The Biz)
William Church (ATC Live)

Join Us at SXSW 2019
Interested in attending SXSW 2019? Register early to save on the walk-up rate and book your hotel using SXSW Housing & Travel for the best rates and locations close to the action.
Sign up for SXSW Event Updates and read SXSW News for announcements, deadline reminders, programming features, and beyond throughout the 2019 season.
Follow us in all the usual social spots for daily updates – Twitter, Facebook, and Instagram.
2018 Music Industry Mentor Session - Photo by Katie Marriner