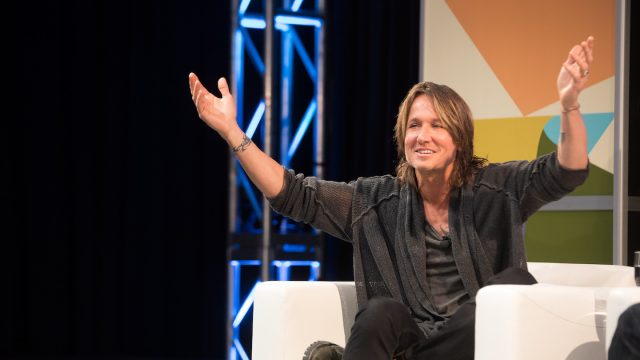 The Touring & Live Experience Track explores emerging topics such as micro-festivals, opportunities on Broadway, the immersive experience tech of the future, and more.
"In Touring & Live Experience, you'll hear the world's top experts discuss innovation and tips on today's festivals, live music, and immersive experiences. While this track focuses mainly on music experiences, these trends transcend just festivals and clubs and represent the future of live gatherings and the emergent tech behind them," says SXSW Programmer Bobby Nall.
Dive into the Touring & Live Experience Track, where topics relating to the evolving live performance industry will be explored by some of the best in the business. Touring & Live Experience Track sessions take place March 12-16 with primary access to Music and Platinum Badges; secondary access to all other badges.
Touring & Live Experience Session Highlights
Converting Streaming Success to Touring Success
Speakers: Edward Castillo (Scoremore), Risha Chesterfield (Reflection Music Group), Chad Horton (Rapzilla), and Derek Minor (Artist)
How do you convert those listeners into a deeper relationship? On this panel, we plan to discuss how to go from streaming success to touring success. In this age of the DSP, there's a lot of focus on growing your monthly listeners and getting on as many playlists as possible. But once you reached that milestone of your career, what do you do next? For the past 20 years, touring has been one of the most reliable revenue streams for artists. That's how you build longevity in this music game. But it can be tough for independent artists to understand what touring can do for their career without the backing of a major label. This panel will lay out the rulebook for artists to follow to turn their thousands of monthly listeners into customers.
Film & Music Collaborating on Broadway
Speakers: Dori Berinstein (Dramatic Forces) and Marisa Sechrest (Paramount Pictures/Altair Entertainment)
From Hollywood studios and Indie filmmakers to pop music composers and performers, Broadway is trending towards collaboration across many entertainment sectors. Panelists will discuss how to approach live stage opportunities for industry participants outside the Broadway world, and how Broadway insiders are collaborating with the film and music industries. What are the challenges and benefits of this new trend? From expanding your brand to generating ancillary revenue streams, learn how you can jump into this space and best prepare for the unique execution of live story telling in a Broadway musical. Hear from women in film, music and Broadway who have been among the most successful in pulling these entertainment categories together.
Small is the New Big: Why It's All About Micro-festivals
Speakers: Brooke Burt (Vans), Biasha Mitchell (Eventbrite), and Marc Ribak (TT Productions)
Going to a mega festival was often seen as a coming of age moment, but as attendee trends change and festival lineups look more and more similar, people are leaning towards smaller, more intimate experience-led (vs. lineup-led) festivals. Attendees are tending towards traveling less and favoring local events, and events that establish a true community are seeing more long-term success. What is it about smaller festivals that are pulling people in, and what strategies can festival producers engage to ensure success for them and the ecosystem they work with?
The Future of Live Experiences
Speakers: Matt Lawler (AEG) and Luke Ritchie (Nexus Studios)
The future of live experiences such as sports, concerts and theatre venues is radically changing. The rollout of 5G will trigger a revolution in AR and spatial mapping technologies. Nexus Studios, a leader in immersive storytelling, and AEG, the world's leading sports and live entertainment company, are working closely to enhance live experiences with immersive technologies. By creating a highly accurate digital overlay of the venue that can be accessed via your phone's camera, venues will soon offer an array of new services to offer customers. In this session, we'll explore the opportunities within this digital infrastructure, and cover new ways for brands to engage with customers.
Indie Venues Band Together: Forming a Community
Speakers: James Moody (Mohawk) and Rev Moose (Marauder)
The American launch of Independent Venue Week helped bring international attention to local venues across the country. Through a combination of marketing and media involvement, the event created a showcase of independently owned businesses in the live music sector. Participating venues were able to use this initiative as a platform to elevate their individual presence and metaphorically open their doors to a national audience. This is a frank discussion on how independent venues are working together in a rapidly consolidating marketplace, the complementary role of regional media, and the importance of having these spaces as part of the music industry's ecosystem.
Browse All Touring & Live Experience Sessions
Join Us For SXSW 2019
Register and book your hotel now to save on the walk up rate. The Music Badge will provide you primary access to all showcases, Music and Convergence tracks at the SXSW Conference, and Comedy Festival Showcases and Events, as well as secondary access to Film programming and Interactive tracks, Keynotes, and Featured Speakers.
Follow us on Facebook, Twitter, Instagram, and SXSW News for the latest SXSW coverage.
2018 SXSW Featured Speaker Keith Urban - Photo by Michael Caufield