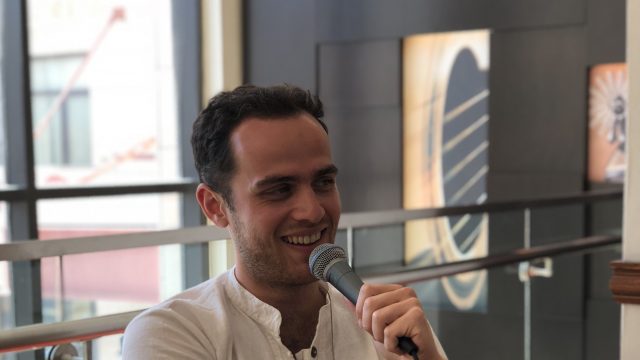 At SXSW 2018, SXSWfm interviewed soul R&B artist Jordan Rakei. They sat down to talk about his recent release Wallflower, his favorite collaborations, and his time touring the world. Read an excerpt of the interview below, and listen to it in full on our Mixcloud.
Listen to SXSWfm Interview with Jordan Rakei
Jordan Rakei Interview Highlights
How many times have you been to SX? Is this your first time?
Jordan: This is my first time, yeah.
Wow, welcome!
Jordan: It's crazy. It's a crazy place.
Why was coming to SX so important for you?
Jordan: I think it's important for all artists. It's sort of like a right of passage for all artists to come through here while they're trying to grow their careers. So it's great to play to loads of new fans. There were loads of fans at my show yesterday where they had never heard me before, so that was really sick.
You released your second album in September of 2017. Six months later you are here touring the US and now at SX, how does that feel?
Jordan: It's exciting! It's cool to be able to play new music to such a world wide audience. I went to Australia, I went to Japan, I went to Korea, and now America. They've been massive supporters of me since my first EP, so it's amazing to finally be able to tour a lot of cities for the first time. It's been amazing.
I read an article that called you an "Introverted Multi-Instrumentalist." How does that make you feel? Do you agree?
Jordan: Yeah, I would say I play multiple instruments and I'm introverted, so it perfectly sums it up I think.
Does that correlate to your album title, Wallflower?
Jordan: Yeah, so Wallflower is about me observing the world from the outside and sort of, coping with it as I grew up and dealing with social anxiety and stuff like that. So wallflower's usually someone who is sitting on the walls of the party, sort of observing from within.
So what's next for you? You have the album [out] six months ago, what's going on?
Jordan: So I released the album, and I've pretty much toured the world except for two continents, excluding Antarctica but I don't know if anyone tours there.
You should be the first.
Jordan: I'll play to the polar bears. But yeah, I think I want to write again. I've got a few festivals in Europe over the summer, but other than that, it's really chill. I'm just going to start writing. That's sort of where I'm at at the moment. As soon as I get back - I'm flying back tonight and going back to London tomorrow - I've got a session the day after and I'm going to crack on and start writing again. I'm inspired at the moment to write another album.
Tune in to hear the full interview with Jordan Rakei below. Keep checking our Mixcloud page in the coming weeks as more interviews with 2018 SXSW Showcasing Artists are released. You can listen to SXSWfm 24/7 via our online player.
Listen to SXSWfm Interview with Jordan Rakei
2018 Showcasing Artist, Jordan Rakei – Photo by Shelby Magness