SXSW Music Weekly Roundup: Gia Margaret, XXX, Drab Majesty, and More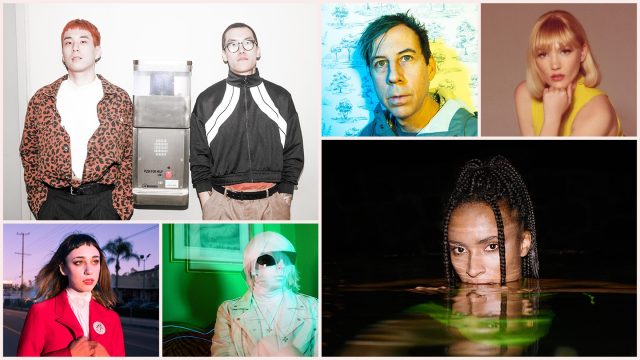 Today marks our first Weekly Roundup for the 2019 SXSW Music Festival, March 11 - 17, 2019. Moving forward, we'll be sharing all the weekly additions each week on Thursday morning to keep you in the know – so mark your calendars!
This week's Roundup adds 120+ Showcasing Artists from 22 countries to the lineup for March. Highlights include Captured Tracks singer-songwriter Gabriella Cohen, LA-based esoteric post-punk act Drab Majesty, Costa Rican party-starters Sonámbulo Psicotropical, Afficials label head and rapper $tupid Young, and Mexican dream pop act sailawway. Further additions include experimental South Korean hip-hop duo XXX, self-described "sleep rock" artist Gia Margaret, San Francisco singer-songwriter and producer John Vanderslice, Australian electro pop singer Holiday Sidewinder, and Ghostly International sultry house producer/DJ Ouri.
It's been a busy week at SXSW HQ. Yesterday the SXSW Film Festival announced their 2019 Features and Episodic Premieres, and on Tuesday the SXSW Conference shared their latest Keynote and Featured Speaker additions. Featured Speakers for Music tracks include Chance the Rapper's manager Pat Corcoran, a conversation between iconic songwriter David Crosby and award-winning filmmaker Cameron Crowe, Lola Media Group CEO Lola Plaku, Happy Place Founder Tara Razavi in conversation with Forbes' Cherie Hu, and more!
Discover Showcasing Artists
Register to Attend
Don't miss a beat! Registering to attend SXSW 2019 by the January 18 deadline will save you $200 on the walk-up rate. Book your accommodations through SXSW Housing & Travel and you will save between 35%-50% using SXSW Housing's contracted hotel rates compared to direct bookings and online travel agencies.
Music badgeholders receive primary access to all showcases, Music and Convergence Tracks at the SXSW Conference, and Comedy Festival Showcases and Events, as well as secondary access to Film programming and Interactive Tracks, Keynotes, and Featured Speakers.
Sign up for SXSW Event Updates and follow us on social media to stay in the loop – Twitter, Facebook, and Instagram.
2019 SXSW Showcasing Artists
Everything subject to change.
Abraham Alexander (Fort Worth TX)
Amy Wilcox (Arlington VA)
Anchorsong (London UK-ENGLAND)
Aramide (Lagos NIGERIA)
Belén Cuturi (Montevideo URUGUAY)
Bladee (Stockholm SWEDEN)
Buenos Diaz (Austin TX)
Calliope Musicals (Austin TX)
Casii Stephan and the Midnight Sun (Tulsa OK)
Cayucas (Los Angeles CA)
Chelsea Williams (Los Angeles CA)
Cherry Pickles (Birmingham UK-ENGLAND)
Cigarette (Washington DC)
Claire Morales (Denton TX)
Close Talker (Saskatoon CANADA)
Cosmic Botanica (Los Angeles CA)
Country Cousins (Austin TX)
Curse Mackey (Austin TX)
Da Chick (Lisbon PORTUGAL)
Darren Eedens & the Slim Pickin's (Cardiff UK-WALES)
David Wax Museum (Charlottesville VA)
Deaf Poets (Brooklyn NY)
Drab Majesty (Los Angeles CA)
Drivin N Cryin (Atlanta GA)
Ella Vos (Los Angeles CA)
The Elwins (Keswick CANADA)
Esther Black (Sacramento CA)
Fatai (Melbourne AUSTRALIA)
Florry (Philadelphia PA)
Fripps & Fripps (Sydney AUSTRALIA)
FRITZ (Newcastle AUSTRALIA)
Future Museums (Austin TX)
Gabriella Cohen (Brisbane AUSTRALIA)
Gia Margaret (Chicago IL)
Gina Chavez (Austin TX)
Go Fever (Austin TX)
Graham Reynolds (Austin TX)
Graham Reynolds & Golden Arm Trio (Austin TX)
Gymshorts (Providence RI)
High Waisted (New York NY)
Holiday Sidewinder (Sydney AUSTRALIA)
Jackie Cohen (Los Angeles CA)
Jackie Mendoza (San Diego CA)
Jared & The Mill (Phoenix AZ)
Jarryd James (Brisbane AUSTRALIA)
Jean Caffeine (Austin TX)
John Paul White (Florence AL)
John Vanderslice (San Francisco CA)
Karen Jonas (Fredericksburg VA)
The Kernal (Jackson TN)
La Ronera (Bogotá COLOMBIA)
Late Night Laggers (Los Angeles CA)
Laura Stevenson (Hudson Valley NY)
Lauren Morrow (Nashville TN)
line upon line percussion (Austin TX)
Lunaem (Guadalajara MEXICO)
Maudlin (Minneapolis MN)
Maxx Gallo (Monterrey MEXICO)
Meernaa (Oakland CA)
Menino Bulle (Mexico City MEXICO)
Merry Jane & The Fondas (Austin TX)
minihorse (Ypsilanti MI)
More Or Les (Toronto ON)
MOÜGLI (Bogotá COLOMBIA)
The Munsens (Denver CO)
The Night Thief (Los Angeles CA)
Nayome (Tyler TX)
Norma (Paris FRANCE)
NOTS (Memphis TN)
Ouri (Montreal CANADA)
Pacific Jam At My Apartment (PJAMA) (Saltillo MEXICO)
Parrot Dream (Brooklyn NY)
Pat Byrne (Borris IRELAND)
PAWS (Glasgow UK-SCOTLAND)
The Pinheads (Wollongong AUSTRALIA)
Polaroid (Bologna ITALY)
project .44 (Chicago IL)
Proper. (Brooklyn NY)
Quin NFN (Austin TX)
Ramblin' Deano (of Waco Brothers) (Milwaukee WI)
Ramesh (Austin TX)
The Ramona Flowers (Bath UK-ENGLAND)
Ratking (Perth AUSTRALIA)
Really From (Boston MA)
red steppes (Brooklyn NY)
Red Wanting Blue (Columbus OH)
The Rembrandts (Los Angeles CA)
Rod Melancon (Wright LA)
Roots of Thought (Tulsa OK)
sailawway (Monterrey MEXICO)
Samia (New York NY)
San Saba County (Austin TX)
Shady Bug (St. Louis MO)
Sharkmuffin (Brooklyn NY)
Shubzilla x Bill Beats (Seattle WA)
Sick Morrison (Monterrey MEXICO)
Sidney Gish (Randolph NJ)
Sis (San Francisco CA)
The Small Glories (Winnipeg MB)
Sonámbulo Psicotropical (San Jose COSTA RICA)
Spooky Mansion (San Francisco CA)
$tupid Young (Long Beach CA)
Stuyedeyed (Brooklyn NY)
St. Woods (Madrid SPAIN)
SUSTO (Charleston SC)
Thee Idylls (Los Angeles CA)
Tony True and the Tijuana Tres (Monterrey MEXICO)
Tunic (Winnipeg CANADA)
Twanguero (Valencia SPAIN)
Vanessa Zamora (Tijuana MEXICO)
The Vegabonds (Birmingham AL)
Wake Island (Montreal CANADA)
War Cloud (Oakland CA)
Wieuca (Athens GA)
Wild Ponies (Nashville TN)
XXX (Seoul SOUTH KOREA)
YOUNG13DBABY (Maqu CHINA)

Everything subject to change.
Photo credits, clockwise from top left:
XXX - Photo courtesy of the artist
John Vanderslice - Photo by Sarah Cass
Holiday Sidewinder - Photo by Thom Kerr
Ouri - Photo by Maiko Rodrig
Drab Majesty- Photo courtesy of the artist
Jackie Cohen - Photo by Anise Lew

(Teaser photo) Jackie Cohen - Photo by Anise Lew