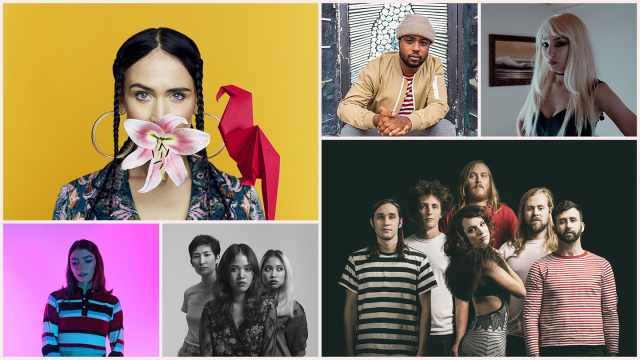 We're back for our second Weekly Roundup of 2019! This week we've added 100 Showcasing Artists from 18 countries to the SXSW 2019 lineup. Artist additions include Americana sibling duo The Cactus Blossoms, Australian avant-pop artist Kirin J Callinan, Austin garage-rockers Sweet Spirit, and 5Towns Records alt-pop singer Anna Shoemaker. Canadian indie pop act Helena Deland, Austin-based rapper Kydd Jones, and buzzy Mexican R&B singer Fer Casillas have joined the lineup as well.
Stay tuned for exciting showcase announcements in the coming weeks!
Discover Showcasing Artists
Register to Attend
Get lost in the music! Register to attend SXSW 2019 by the February 15 deadline to save $100 on the walk-up rate. Book your accommodations through SXSW Housing & Travel and you will save between 35%-50% using SXSW Housing's contracted hotel rates compared to direct bookings and online travel agencies.
Music badgeholders receive primary access to all showcases, Music and Convergence Tracks at the SXSW Conference, and Comedy Festival Showcases and Events, as well as secondary access to Film programming and Interactive Tracks, Keynotes, and Featured Speakers.
Sign up for SXSW Event Updates and follow us on social media to stay in the loop – Twitter, Facebook, and Instagram.
2019 SXSW Showcasing Artists
Everything subject to change.
Alih Jey & Cuñao (Los Angeles CA)
Anna Shoemaker (New York NY)
Aquila (Pecos TX)
Black Belt Eagle Scout (Portland OR)
Black Needle Noise (Los Angeles CA)
Blush'ko (FKA Blasko) (Melbourne AUSTRALIA)
Booher (Austin TX)
Boy Scouts (Oakland CA)
Branjae (Tulsa OK)
The Cactus Blossoms (Minneapolis MN)
Celeste (London UK-ENGLAND)
Cesar Santalo (Miami FL)
Christelle (San Antonio TX)
Collectif Medz Bazar (Paris FRANCE)
Coral Manton (Bristol UK-ENGLAND)
Crunk Witch (Presque Isle ME)
Curved Light (Austin TX)
Daddy Long Legs (New York NY)
Dan Luke and the Raid (Bowling Green KY)
DEVMO (Santa Monica CA)
DJ Grip (Austin TX)
Dre Prince (Austin TX)
Duncan Fellows (Austin TX)
Elaina Kay (Dallas TX)
Fer Casillas (Monterrey MEXICO)
Ghetto Warriors (Medellin COLOMBIA)
Gnarcissists (New York NY)
Goldmyth (Provo UT)
Greenbeard (Austin TX)
Greyson Chance (Oklahoma City OK)
Heart Bones (Minneapolis MN)
Helena Deland (Montréal CANADA)
Holy Boy / Helene Alexandra Jæger (Los Angeles CA)
Iguana Death Cult (Rotterdam NETHERLANDS)
Jake Lloyd (Austin TX)
Jocelyn & Chris Arndt Band (Albany NY)
John Jacob Magistery (Montréal CANADA)
JP Saxe (Toronto CANADA
K.C. Harris (Nashville TN)
Kirin J Callinan (Redfern AUSTRALIA)
The Kitsch (Bogotá COLOMBIA)
Kydd Jones (Austin TX)
La Chica (Paris FRANCE)
La Terza Classe (Naples ITALY)
Les Louanges (Quebec CANADA)
The Lonesome Heroes (Austin TX)
Löwin (Austin TX)
Luedji Luna & DJ Nyack (Salvador BRAZIL)
Luna Luna (Dallas TX)
Maréh (Cali COLOMBIA)
Martin Rivero (Montevideo URUGUAY)
MC Bravado (Baltimore MD)
Miki Ratsula (Santa Ana CA)
Moonshine (Montreal CANADA)
Mother Falcon (Austin TX)
MUSICOMEXP by Aurélie Ferrière (Stockholm SWEDEN)
Naïa Valdez (Lima PERU)
Night Glitter (Austin TX)
Nobody's Girl (Austin TX)
The Ophelias (Cincinnati OH)
OSOG (Tel Aviv ISRAEL)
Otis the Destroyer (Austin TX)
The Pantones (Los Angeles CA)
Quivers (Hobart AUSTRALIA)
Rachael Fahim (Sydney AUSTRALIA)
The Red Jumpsuit Apparatus (Jacksonville FL)
Redd Volkaert (Austin TX)
The Reputations (Austin TX)
Rizzoo Rizzoo (Houston TX)
Run River North (Los Angeles CA)
SAINT PHNX (Glasgow UK-ENGLAND)
Sávila (Portland OR)
Silvina Moreno (Buenos Aires ARGENTINA)
Skatenigs (Austin TX)
Small Houses (Austin TX)
Soran (Montréal CANADA)
SouthSide Hippie (Austin TX)
Super Doppler (Norfolk VA)
Sweet Spirit (Austin TX)
Taimane (Honolulu HI)
The Texas Gentlemen (Dallas TX)
Tinnarose (Richmond VA)
Topographies (San Francisco CA)
Tow'rs (Flagstaff AZ)
Trill City DJs (Austin TX)
Wood & Wire (Austin TX)
Y La Bamba (Portland OR)
Z (Nashville TN)
Zunis (Tulsa OK)

Everything subject to change.
Photo credits, clockwise from top left:
La Chica – Photo by Guillaume Malheiro
Kydd Jones – Photo by David Brendan Hall
Holy Boy / Helene Alexandra Jæger – Photo by Dylan Long
Sweet Spirit – Photo by Barbara FG
Yellow Fang – Photo courtesy of the artist
Anna Shoemaker – Photo by Eleanor Petry

(Teaser photo) Sweet Spirit – Photo by Barbara FG