SXSW Music Weekly Roundup: Pedro the Lion, Crumb, The Strumbellas, and More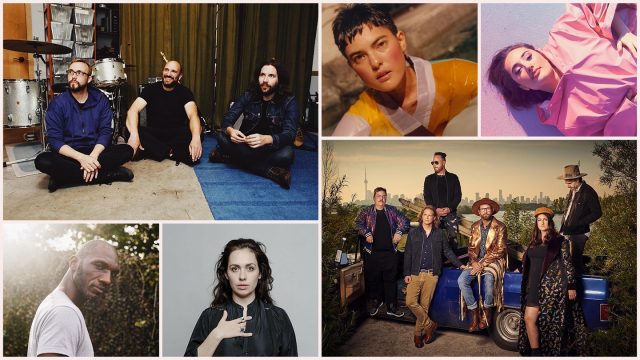 We're less than 30 days away from SXSW 2019, and the SXSW Music Festival has added another batch of 100+ Showcasing Artists to the lineup. Highlights from this week's additions include Polyvinyl indie stalwart Pedro the Lion, alt-folk collective The Strumbellas, psych-pop quartet Crumb, Terrible Records singer-songwriter Miya Folick, trippy Puerto Rican electro-pop act Balún, Merge Records garage-punk Mike Krol, 70s-riffing neo soul group Durand Jones & the Indications, and Loopy, nafla, Young West, niahn & DJ FLOJEE of LA/Seoul hip-hop label MKIT RAIN. Check out the full list below.
In addition to these great acts, we also added Official Showcases from A2IM featuring Sneaks and The Nude Party; Good Karma Club featuring Bad Sounds and Pip Blom; Panache featuring Amyl & the Sniffers and Bane's World; Dangerbird Records featuring Swervedriver and Criminal Hygiene; and more. Our colleagues working on the SXSW Film Festival released their second round of programming including Midnighters, Festival Favorites, Shorts, Episodic Pilot Competition, Virtual Cinema, Music Video and Title Design. More to come soon!
Discover Showcasing Artists
Register to Attend
It's go time! Register to attend SXSW 2019 by the February 15 deadline to save $100 on the walk-up rate. Book your accommodations through SXSW Housing & Travel and you will save between 35%-50% using SXSW Housing's contracted hotel rates compared to direct bookings and online travel agencies.
Music badgeholders receive primary access to all showcases, Music and Convergence Tracks at the SXSW Conference, and Comedy Festival Showcases and Events, as well as secondary access to Film programming and Interactive Tracks, Keynotes, and Featured Speakers.
Sign up for SXSW Event Updates and follow us on social media to stay in the loop – Twitter, Facebook, and Instagram.
2019 SXSW Showcasing Artists
Everything subject to change.
3000friends (Castle Hills TX)
3He (Chengdu CHINA)
AEM (Beijing CHINA)
American Grime (Miami FL)
Ari The DJ (Dallas TX)
Art d'Ecco (Gulf Islands CANADA)
The Artisanals (Charleston SC)
Austin Lucas (Bloomington IN)
Balto (Los Angeles CA)
Balún (San Juan PUERTO RICO)
Bizou (Los Angeles CA)
BLANG (Orange County CA)
Briston Maroney (Nashville TN)
The Brother Brothers (Brooklyn NY)
bülow (Toronto CANADA)
Castle (Joshua Tree CA)
Cedric Burnside (Ashland MS)
Chloe Lilac (New York NY)
Chris Canterbury (Nashville TN)
Chris Staples (Seattle WA)
Crumb (Brooklyn NY)
Del Water Gap (Brooklyn NY)
DJ Squake (Austin TX)
DJ Trill (Dallas TX)
Dossey (Austin TX)
Durand Jones & The Indications (Bloomington IN)
Dylan LeBlanc (Nashville TN)
Dynasty (Queens NY)
Edan Archer (Gainesville FL)
EFELANTE (Monterrey MEXICO)
Ehiorobo (Manalapan NJ)
Eli Raybon (Waynesboro VA)
El Mañana (Los Angeles CA)
Empath (Philadelphia PA)
Erin Durant (Brooklyn NY)
Esbie Fonte (Los Angeles CA)
Gold Cage (Los Angeles CA)
Golden Dawn Arkestra (Austin TX)
h2the (Los Angeles CA)
Halima (New York NY)
Harry Teardrop (New York NY)
Henrik Appel (Stockholm SWEDEN)
Hubert Lenoir (Quebec CANADA)
Huck (Brooklyn NY)
Inseclude (Austin TX)
Israel Nash (Dripping Springs TX)
Ivy Sole (Charlotte NC)
Jason Hawk Harris (Los Angeles CA)
J Brasil (Rio de Janeiro BRAZIL)
John The Martyr (New York NY)
Juiceboxxx (Milwaukee WI)
Karol Conka (Curitiba BRAZIL)
Killiam Shakespeare (Philadelphia PA)
Ladi Earth (Austin TX)
La Force (Montreal CANADA)
LIA LIA (Berlin GERMANY)
Marfa Crush (Austin TX)
María y Jose (Tijuana MEXICO)
Melanie Brulée (Cornwall CANADA)
Méne (Monterrey MEXICO)
Mike Krol (Los Angeles CA)
Miya Folick (Los Angeles CA)
Mkit Rain (Loopy, Nafla, Young West, niahn & DJ Flojee) (Gangnam SOUTH KOREA)
Monte Warden and The Dangeorus Few (Austin TX)
&More (Chill Moody & Donn T) (Philadelphia PA)
New Natives Brass Band (Lafayette LA)
Nick Allison and The Players Lounge (Austin TX)
NITE (Dallas TX)
Nonconnah (Memphis TN)
Numb.er (Los Angeles CA)
Oginalii (Nashville TN)
P2THEGOLDMASK (San Antonio TX)
The Palmer Squares (Chicago IL)
Palm Palm (Richmond VA)
Pedro the Lion (Seattle WA)
Photo Ops (Los Angeles CA)
Pike and Sutton (Austin TX)
Primo (Austin TX)
Quin Galavis (Austin TX)
RADS Krusaders (Houston TX)
Ray Boudreaux (Lafayette LA)
ReauBeau (Hilversum NETHERLANDS)
Republican Hair (Nashville TN)
Roddie Romero Trio (Lafayette LA)
SaulPaul (Austin TX)
Sawyer Fredericks (Albany NY)
Sedona (New York NY)
The Shackletons (Minneapolis MN)
SHAO (Beijing CHINA)
Shirt Off Fe (Austin TX)
Small Time Napoleon (Louisville KY)
ST.OL.EN (Chengdu CHINA)
The Strumbellas (Toronto CANADA)
Symphonic Cinema by Lucas van Woerkum (Amsterdam NH)
Tank Washington (Austin TX)
THERE (Tel Aviv ISRAEL)
Tim Woods (Houston TX)
Tony Bray (Austin TX)
Turbo Goth (New York NY)
The Upside Down (Chongqing CHINA)
Wand (Los Angeles CA)
White Denim (Austin TX)
World Music Unleashed (Austin TX)
Yak the Mack (Arlington TX)

Everything subject to change.
Photo credits, clockwise from top left:
Pedro the Lion - Photo by Ryan Russell
Miya Folick - Photo by Maxime Imbert
Esbie Fonte - Photo courtesy of the artist
The Strumbellas - Photo by Matt Barnes
La Force - Photo by Norman Wong
Cedric Burnside - Photo by Abraham Rowe

(Teaser photo) Pedro the Lion - Photo by Ryan Russell