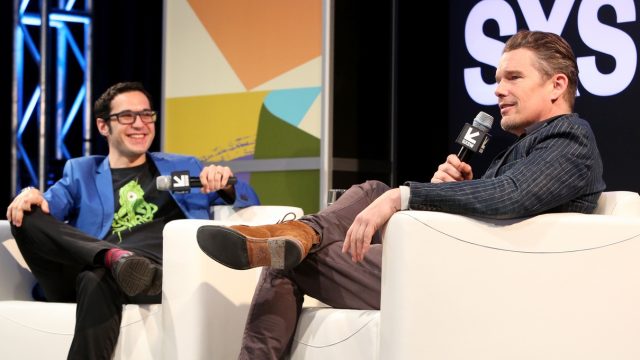 Dive deeper into the world of film, the industry's changing landscape, and visions of the future of movies. With speakers like four-time Academy Award-nominated actor and writer Ethan Hawke, Ready Player One author Ernest Cline and Hollywood veteran Joel Edgerton, the Future of Film playlist offers insights to spark conversation.
The speakers in this playlist make up just a fraction of the industry leaders and creative talent in attendance each year at the SXSW Conference. All of our programmed sessions seek to honor SXSW's original vision — by bringing people from diverse industries and backgrounds together to meet and exchange ideas, share inspiration and develop their careers, SXSW Film sessions help creative people achieve their goals.
Ethan Hawke | 2018
Ethan Hawke is a Tony Award nominee and four-time Academy Award-nominated actor and writer, with a diverse career as a novelist, actor, director, and screenwriter spanning more than three decades. Blaze is his most recent foray into directing, which he also wrote and produced with his production company Under the Influence Productions. His other directing credits include Chelsea Walls, The Hottest State, and the critically acclaimed documentary Seymour: An Introduction. His upcoming work includes Paul Schrader's timely political and environmental thriller First Reformed. After the film screened at the 2017 Venice, Telluride, and Toronto Film Festivals, it was acquired by A24 and is now on general release.
The Female Voices of Film Twitter | 2018
Fresh from the publication of her new book chronicling the past, present and future of women in the film industry, Backwards & In Heels, Fandango correspondent and author Alicia Malone helms a panel on the importance of the female voice in film commentary and social media. Jen Yamato, Monica Castillo, Jacqueline Coley, and Amy Nicholson join Malone to provide advice for both aspiring journalists and filmmakers seeking to break into this industry to tell their stories on the big screen.
Ernest Cline | 2018
In this session, Ernest Cline shares his insights on writing Ready Player One, recounts his experiences on the film set and offers an inside perspective into the journey from book to silver screen. Author of the novels Ready Player One and Armada and co-screenwriter of the Steven Spielberg adaptation of Ready Player One, Cline is an internationally best-selling novelist, screenwriter, father, and full-time geek. His books have been published in over fifty countries and have spent more than 100 weeks on The New York Times Best Sellers list. He lives in Austin, Texas, with his family, a time-traveling DeLorean, and a large collection of classic video games.
The Bleeding Edge: A New Generation of Horror | SXSW 2018
Horror is expanding not only storylines and casts, but also platforms. Join Leigh Whannell (Blumhouse/HUSH), Steven Susco (Blumhouse/HUSH), Vera Miao (Two Sentence Horror Stories/Stage 13), and Jason Blum (Blumhouse/HUSH), for a forward-looking panel on the rise of horror and how new audiences can connect to the genre anywhere, any time.
Joel Egerton | 2018
Joel Edgerton earned a 2013 Australian Film Institute Award for his performance in Baz Luhrmann's The Great Gatsby. His recent projects include starring roles in Black Mass, Zero Dark Thirty, Wish You Were Here, Ridley Scott's Exodus: Gods and Kings, Felony, Warrior, and The Gift, which he also directed, wrote and produced. He will next star in Jane Got a Gun and the Jeff Nichols drama Loving.
To see more videos from this playlist, subscribe to the official SXSW Youtube channel. Stay tuned to SXSW News for more SXSW playlist highlights. And don't forget to register to attend SXSW 2019 to experience inspiring sessions from Keynotes, Featured Speakers, and much more from March 8-17.
Ethan Hawke at SXSW 2018 – Photo by Travis P Ball/Getty Images