Tips to Book Your Hotel for SXSW 2019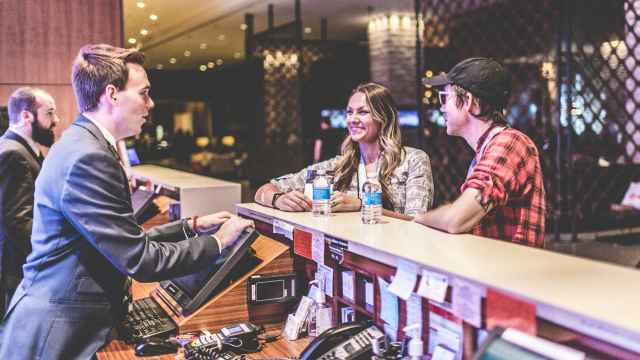 Housing and 2019 SXSW Registration are now open and the SXSW Housing & Travel team is here to help. Read our helpful tips and policies below as you prepare to book your hotel for the 2019 SXSW Conference & Festivals.
After you register, make hotel reservations through SXSW Housing & Travel. In 2018, the typical SXSW attendee using SXSW Housing's contracted hotel rates saved between 35%-50% compared to online travel agencies and direct bookings.
Hotel Booking Tips
Booking for an Individual
To ensure SXSW Housing & Travel hotel rooms go to SXSW attendees, each registrant is limited to one hotel reservation. Each reservation must be made separately through your SXSW shopping cart or SXSW Social.
Booking for Large Groups
To register and book hotels for multiple people in your organization, SXSW Housing & Travel recommends you purchase all your registrations in one SXSW shopping cart. After purchasing your registrations, book your hotel rooms by clicking the link to "Request Hotel" next to each registration located in your purchase history or using the SXSW Housing link in the SXSW drop down.
Helpful Hint: If your organization needs more than 5 rooms, it's often helpful to have multiple people purchasing registrations on launch day. Our local team of travel professionals is available to help you with your large group housing needs throughout the season.
Payment Policies
Be sure you have a valid credit card handy when booking your reservation(s). The card is only used to guarantee your reservation and no charges are made at that time. If your hotel requires a deposit, it is collected by the hotel in late February. Upon check out, your reservation is paid directly in full to the hotel.
Each hotel's deposit requirements are located with their amenities information on the Hotel Availability page, in the "hotel overview" section of the booking process, and in your reservation confirmation under "Reservation Agreement." Please keep in mind that deposits are often the first and last nights of the stay.
Credit Card Authorization
If you don't intend to travel with the card you want to use to pay for your reservation then you must fill out a credit card authorization form and submit it to the hotel directly prior to arrival. The hotel does not receive reservations made with SXSW Housing until the end of February.
After the hotel processes your reservation in late February, you will receive an email directly from the hotel which includes your confirmation number. Once you receive your confirmation number you are able to provide the hotel with the Pre-Authorization form. Forms will be made available on our Reservation Policies page in early February.
Penalty Fees & Deadlines
There are some cancellation penalties you should keep in mind before making your reservation(s). Please note that if you choose to book outside of SXSW Housing & Travel many downtown hotels require a non-refundable payment up front. We know plans change and have negotiated more flexible cancellation policies with our hotels.
SXSW 28 Day Penalty:
If you cancel or reduce your stay within 28 days of arrival SXSW Housing & Travel charges a $50 penalty.
Hotel Cancellation Policy:
Individual hotels also charge a penalty for cancellations within 7-30 days of arrival depending on your room type and hotel. You must agree to the hotel's reservation policy before finalizing your reservation. We recommend you add your cancellation deadlines to your calendar when you book to avoid penalties. Be sure to read your reservation agreement carefully to familiarize yourself with the hotel's policies.
Be sure to pay attention to:
Minimum Stay
Hotel Cancellation Penalties
Deposit Amount (usually equal to 1-2 nights stay)
Early Departure Fees
We also recommend that you save your reservation confirmation to reference later or to quickly reply to with questions. Keeping these policies in mind could potentially save you from incurring fees in the future.
Resources
The Hotel Availability page lets you select your dates and sort by available room types and rates. This page also includes steps on how to book through the SXSW Shopping Cart. To get an idea of the area of Austin that appeals to you the most, check out SXSW hotel locations by neighborhood.
If you have questions, please contact housing@sxsw.com or visit our FAQs.
Register & Book Today
Get ready for another exciting event March 8-17, 2019 in Austin, Texas. Registration and Housing are now open.
Photo by Dylan Johnson